Normally, I like to have a knitting theme somewhere within a post on the Knitting Squirrel. But I thought, I'd write a few posts to share photographs of our visit to County Kerry and Co Galway. This is the gorgeous day trip we had on the Dingle Peninsula. We not just enjoyed beautiful scenery but amazingly good weather too! This post is based on my holiday journal.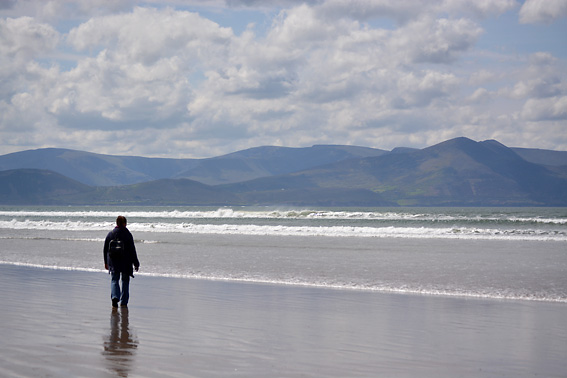 We left early for our visit to the Dingle Peninsula. Not long after we turned onto the peninsula, we stopped at Inch Beach.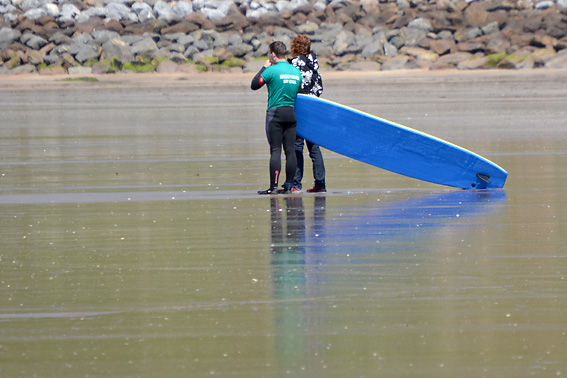 It is a beautiful sandy beach with lots of people surfing or learning to surf. Wonderful waves breaking on the shore. After a long walk we continued on towards Dingle.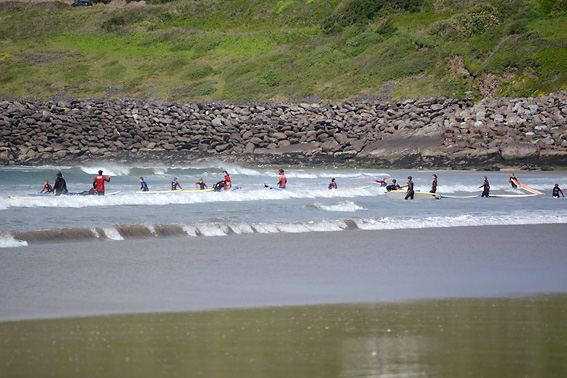 We parked in Dingle and walked along towards the Tourist Information. It was closed for lunch so we wandered in and out of a few touristy gift shops.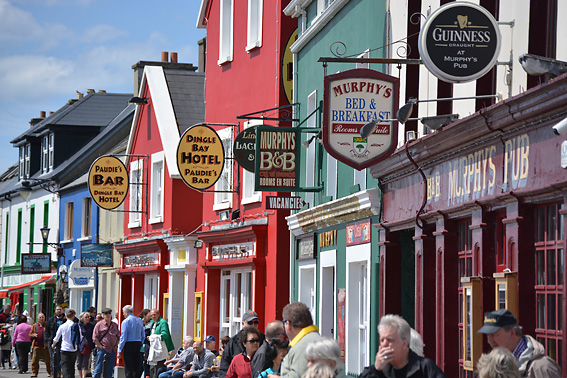 We stopped to listen to a busker who was playing traditional music on a tin whistle. I love listening to talented musicians. The music was wonderful and his two dogs and donkey were very cute.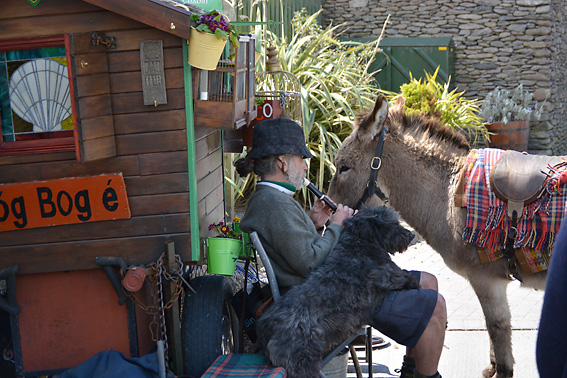 Couldn't resist a delicious ice cream each from Murphy's. I had brown bread ice cream while Neil opted for the honeycomb.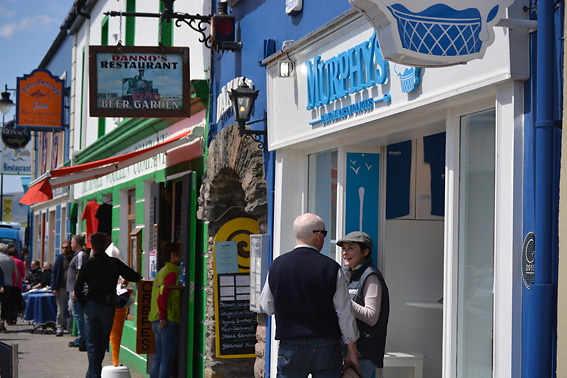 After deciding to follow the Atlantic Way route, our first stop was for a short visit at the Celtic & Prehistoric Museum. Mainly Scandinavian exhibits which were very interesting, particularly the woolly mammoth skull which was very large and rather impressive. As with many of the places we visited the Celtic & Prehistoric Museum it has a sense of being one collector's amazing  collection that is now open to visitors.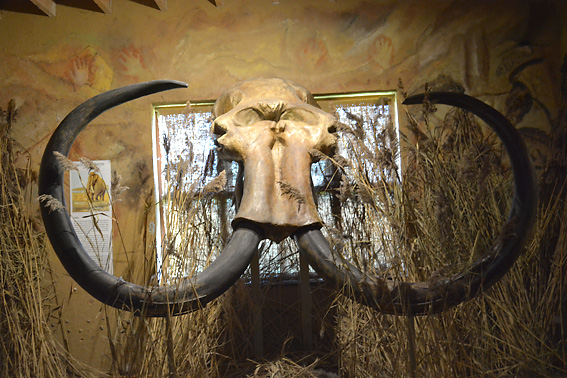 "Here you will come face to face with "Milly", the largest complete Woolly Mammoth skull and tusks in the world, accidentally discovered in a North Sea fishing trawler's net in 1999."
We came to a traffic jam due to roadworks and decided to park and walk down to Dun Beag Fort.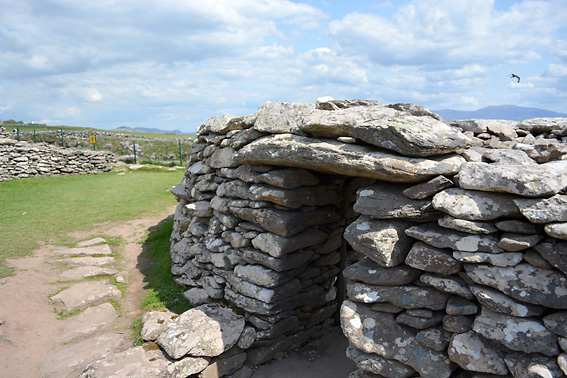 It was rather small and we couldn't walk through all of it as part of the main entrance had been undermined a couple of years ago after part of the rocky cliff below had fallen into the sea. Neil decided to go in to watch the audio visual whereas I opted to sit on a wall in the sun in the car park beside the cafe. It really was a very hot day! There were a lot of cars on the road even though it was early in the summer season. But filming was going on for Star Wars on the Dingle Peninsula! Lots of visitors wearing Star Wars t-shirts.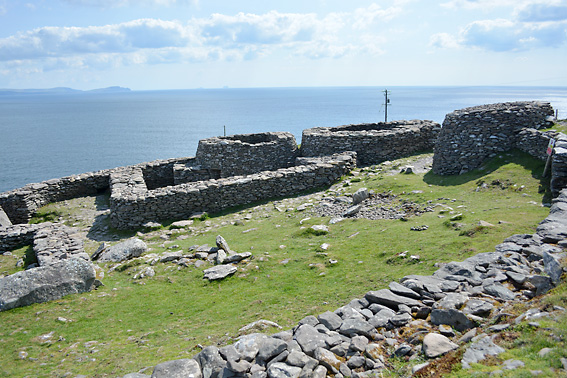 Our next port of call was the Beehive Huts which were amazing and similar to a ring fort in that there was a surrounding outer wall and the huts were inside.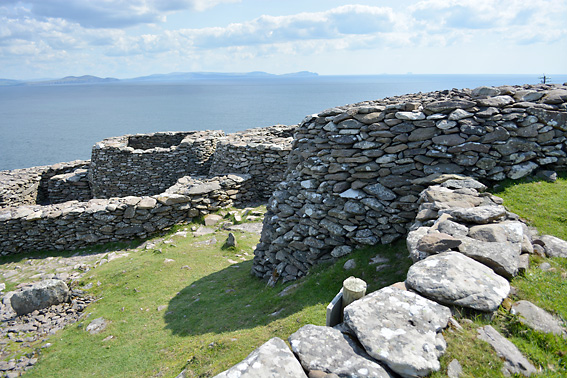 One beehive hut was fully intact, one without a roof and one at the base of the wall. We strolled around and through all the beehive huts whilst taking lots of photos!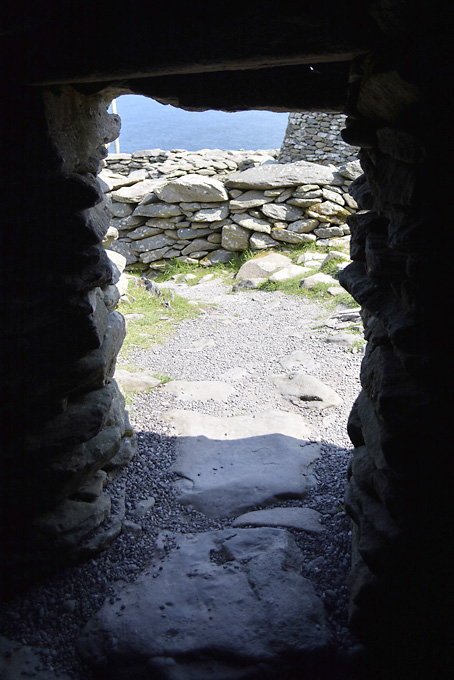 The Dingle Peninsula was the place I'd really wanted to explore.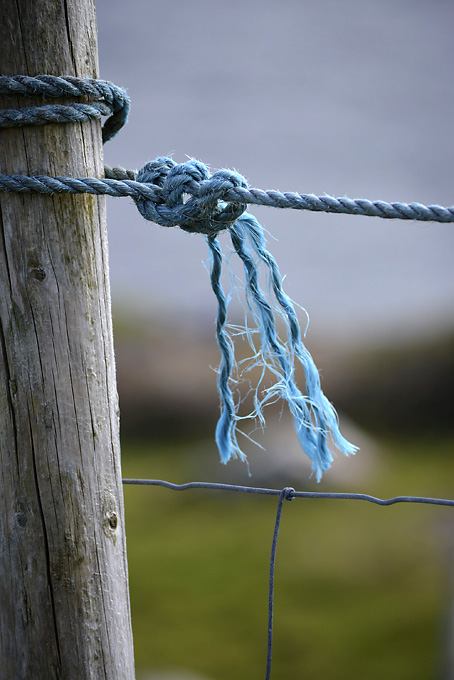 When we last visited County Kerry for our honeymoon a long time ago, we had left going to the Dingle Peninsula until the day before we left to go home so we'd only been able to drive to Dingle and then had to turn back. So I was really looking forward to this particular day trip.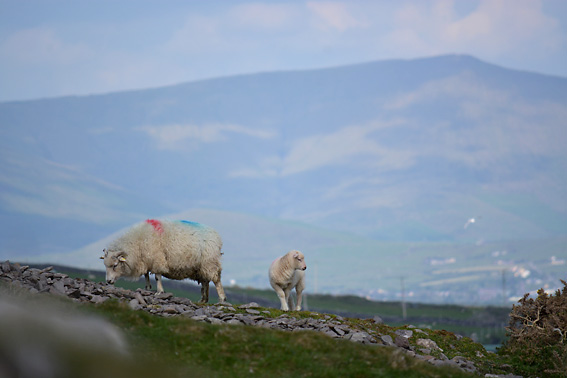 Really, you can't go on a day trip on the Dingle Peninsula, or actually anywhere in the West of Ireland without seeing sheep to photograph! We couldn't resist!!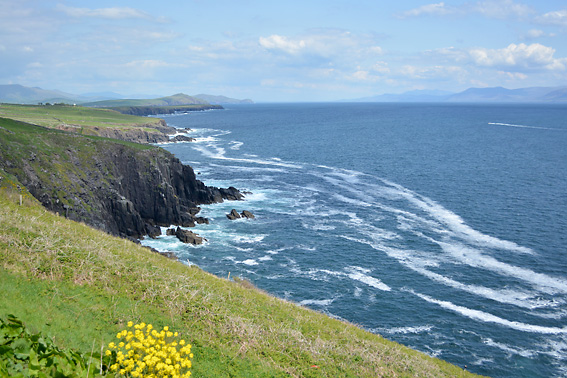 We drove on around the Dingle Way stopping to photograph the Blasket Islands from Slea Head.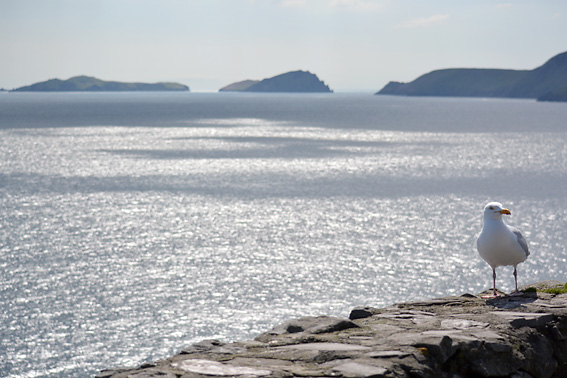 Our aim was to drive the very scenic Slea Head Drive. We were too late to visit the Blasket Island Centre as it was about to close.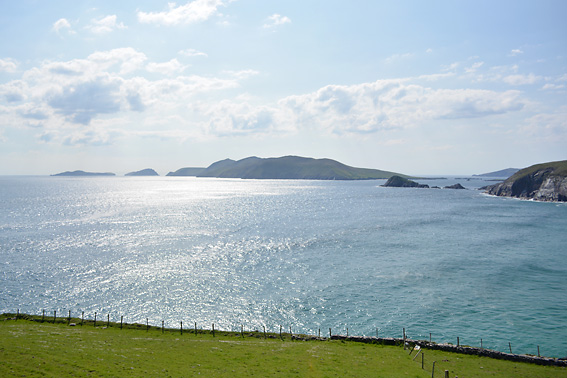 The mountains are very barren and the landscape reminded me very much of Shetland.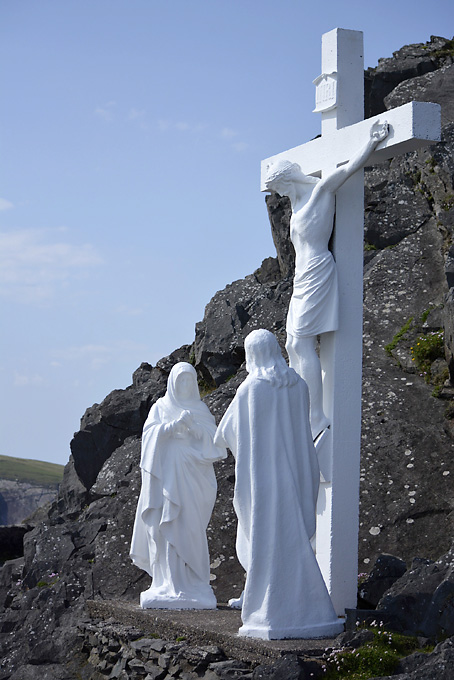 Of course, Star Wars is not the first film to be filmed in the West of Ireland. Inch Beach and Dingle Peninsula were both locations in the classic film Ryan's Daughter from 1970.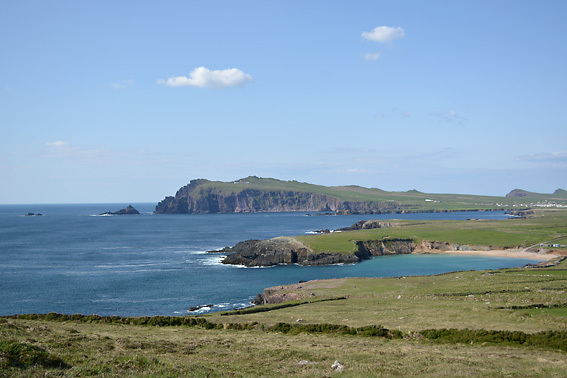 We pulled into the car park for Gallarus Oratory at 6:20pm and were delighted to find that it was still open for visitors until 9:00pm.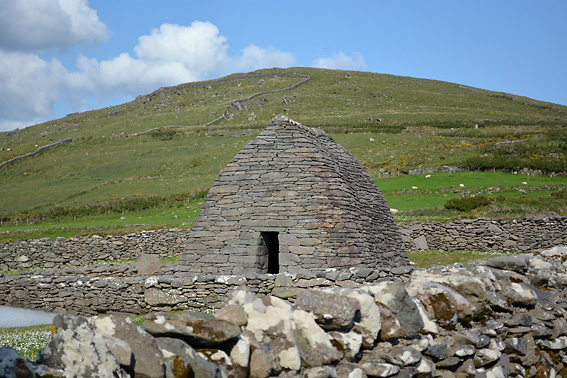 Gallarus Oratory was a beautiful, perfectly preserved early dry stone built church. The morning light shone through the tiny window at the back.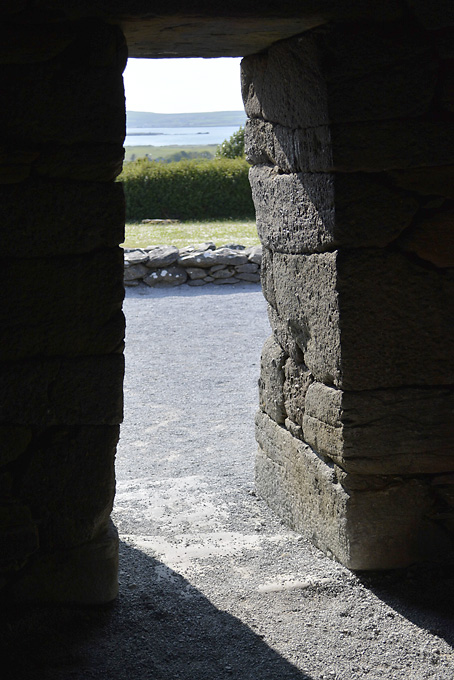 The evening sun shone through the open doorway and lit up the interior of the small building which had very thick walls.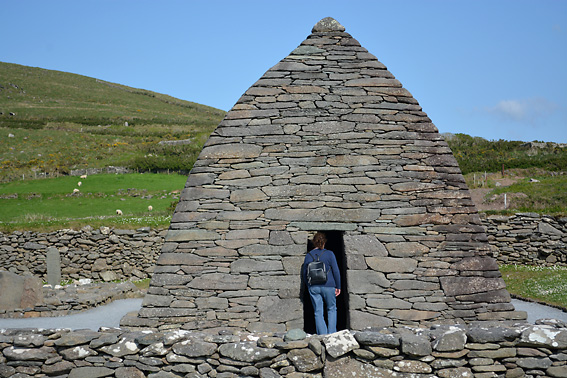 We were ravenous by the time we left Gallarus as it seemed like a very long time since we'd eaten our ice cream in Dingle. We looked at the map and decided to finish the scenic Slea Head Drive and thought we'd treat ourselves to fish and chips when we got back to Dingle.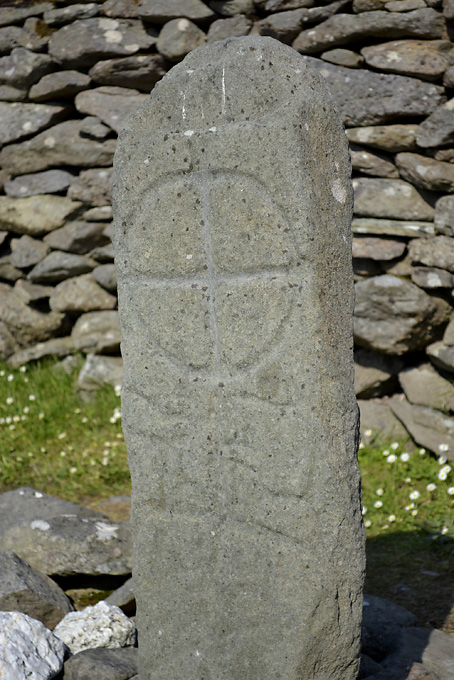 Neil went to order the fish and chips and returned with hake and chips as the cod and haddock (my favourite) was sold out! Have you ever noticed how yummy fish and chips are when you are really hungry? Nothing tastes quite as good!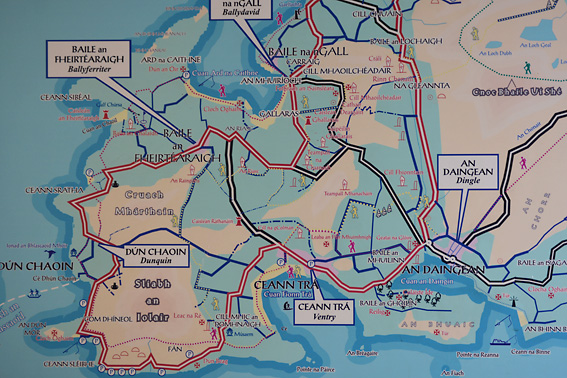 Neil was chatting to a coach driver while he was waiting for the fish and chips who was telling him that there was going to be a large Star Wars party, for the ending of their filming on Dingle, the next night! We wish!!! But our wonderful day on Dingle was at an end.