This beautiful slouchy fairisle hat is inspired by Wild Heather designed by Amanda Jones and published in Irresistable Christmas Gifts to Knit a free pattern booklet that came with a magazine.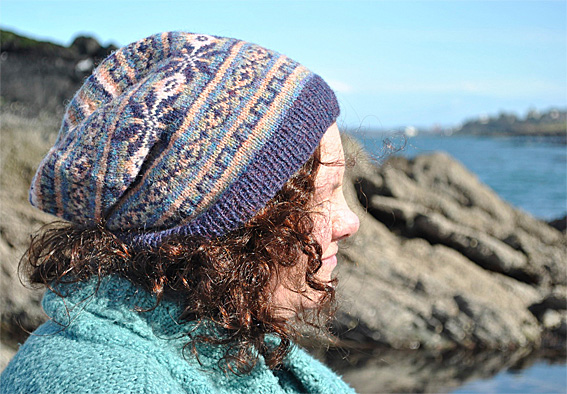 As usual I made changes as I am pretty much incapable of knitting a pattern without tweaking it.
Colour Inspiration
Choosing the shetland wool colours for a Fair isle hat is one of the big knitting pleasures in life.  It is always made easier if you choose a photograph either one you have taken, or one torn from a magazine, as your colour inspiration. You are choosing colours that look truly beautiful together and that appeal to you.  That is partly why using an image as inspiration really helps. It helps if you keep a colour folder of pictures where the colours really appeal to you.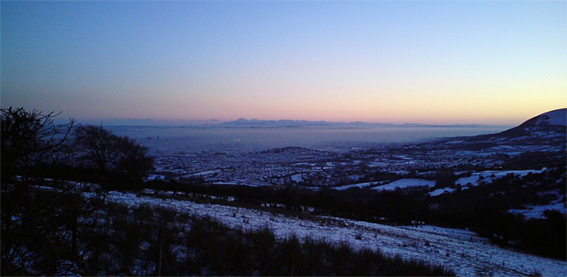 I used a combination of the Jamieson's Spindrift, Virtual Yarns 2ply Hebridean and Jamieson & Smith 2 ply Jumper Yarn, all of which knit to a 4 ply weight.  I don't know the exact shades I used as the labels are lost.  I chose colours that I thought looked lovely together.  The pattern asked for 4 colours.  I started by choosing dark purple for the rib brim and motifs, blue, sea green and dark peach.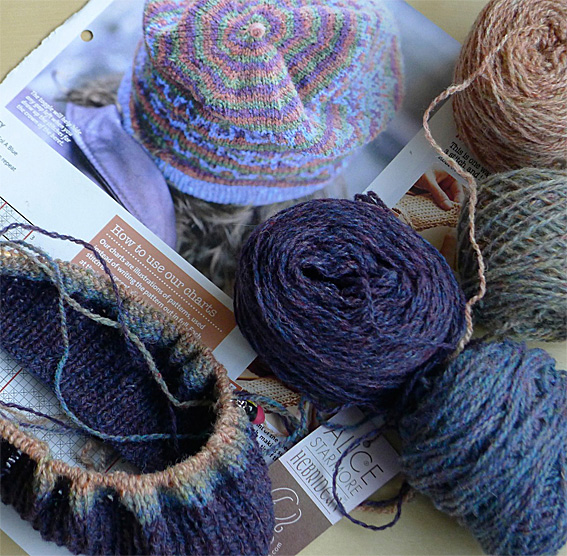 In the pattern the background colours were worked in a repeating stripe pattern:
2 rounds of blue
2 rounds of sea green
2 rounds of dark peach
What drew me to this pattern?  I'd wanted a new slouchy fairisle hat for a while, but new that I would make some changes to this one.  I loved the shape and style of the hat but wasn't so keen on the colour choice.
After working the first chart, I realised that I couldn't bring myself to create asymmetric repeating stripes.  I like my fairisle to be more traditional with symmetrical repeating stripes of background colour behind the motifs
After working the first two chart's I decided that the colour scheme needed some oomph… so while working chart C, I added two additional colours:
light pink
pale blush pink which was used for the centre round.
One of the joys of knitting fair isle motifs is watching the pattern develop and seeing how the colours are interacting with each other. If the effect isn't how you imagine it, always add additional colours to add a little more spark. When working Chart B for the second time, I used light pink instead of dark peach.
I worked the rib and all the chart motifs in dark purple (an effect that I loved in my inspirational photograph) and then did the first three rounds of stripes and found myself stopping and looking at the hat. Then I looked at the 3 chart patterns. I decided I wanted to reorder the chart patterns.  So I worked:
Chart A  (6 sititch pattern over 5 rows), then
Chart B  (10 stitch pattern over 7 rows), then
Chart C  (19 stitch pattern over 17 rows), then
Chart B, then
Chart A before the shaping of the crown began.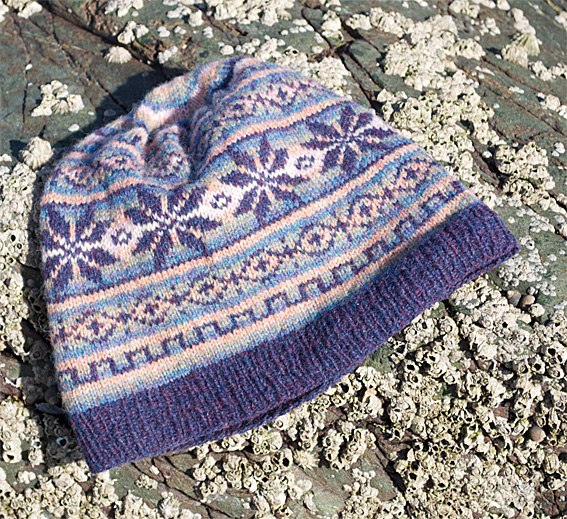 For the crown, I returned to the knitting pattern instructions to work repeating rounds of blue, sea green, dark peach, and light pink. The final change came when I decided I didn't like the little toggle and gathered the end tightly.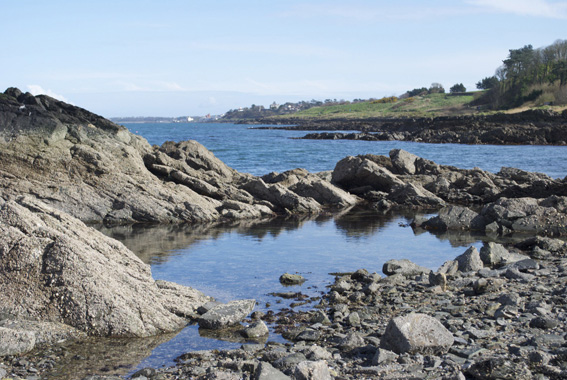 The day we were at the beach for photographing this lovely hat the tide was so far out, it allowed for wonderful views, and access to the barnacle covered rocks. I had never seen such a low tide before so it was an awesome experience.
The pattern is well written and easy to follow. This is one of my very favourite hats, wearable, warm yet light as a feather. Although if I was knitting it again, I think I would cast on less stitches for the ribbing and then increase for the fair isle elements. I think the ribbing is a little too loose.