Today is the first day of Autumn, the Autumn Equinox. And, suddenly, Summer feels like a long time ago. We had an amazingly busy fun-filled summer in Belfast.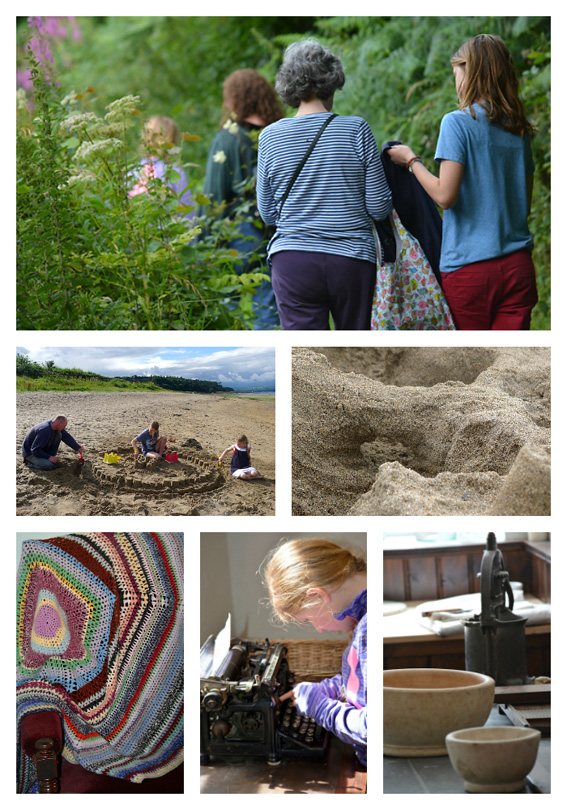 It wasn't particularly warm, we had plenty of wet days, but on dry, sunny or merely drizzly days, we took the opportunity to go out and delight in some Summer fun. My nieces were over from Brittany staying with their grandma (aka my mum) for 5 weeks and as usual, we cleared our schedules as much as possible and enjoyed ourselves. On the day they arrived, we went shopping for a journal for each of them to record their Summer 2016 in Belfast. They took lots of time carefully choosing the right journal and, as it turned out, there was a lot to journal about. There were visits to the cinema to eat popcorn and watch the BFG, Finding Dory and Swallows & Amazons. Their favourite movie was Swallows & Amazons which we saw just before they returned to Brittany.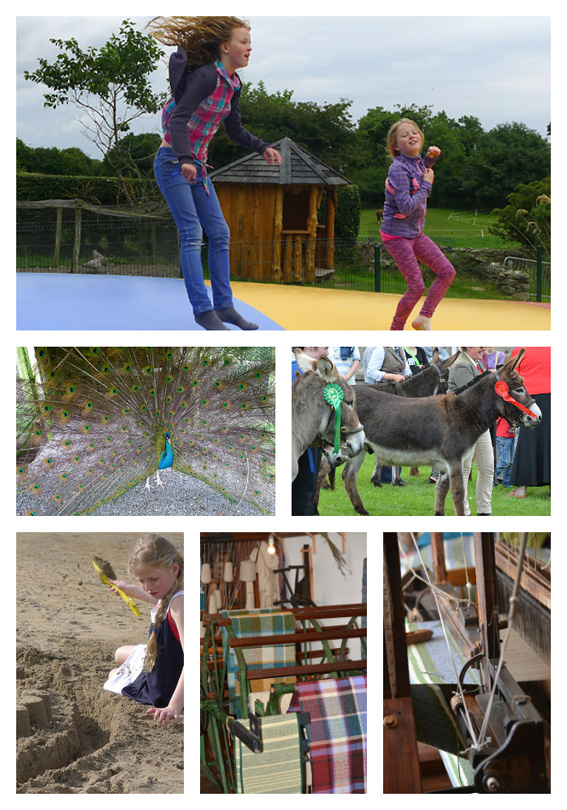 Excursions to the beach at Crawfordsburn and our old childhood haunt Ballycastle where we used to stay in a caravan and spend every day of summer on the beach. As you'll notice in the photos we all take building sand castles extremely seriously here!!! There are arches, turrets, villages outside the castle walls, battlements and moats. On sunny days we couldn't resist the lure of the delicious honeycomb ice-cream from Mauds Ice Cream parlour…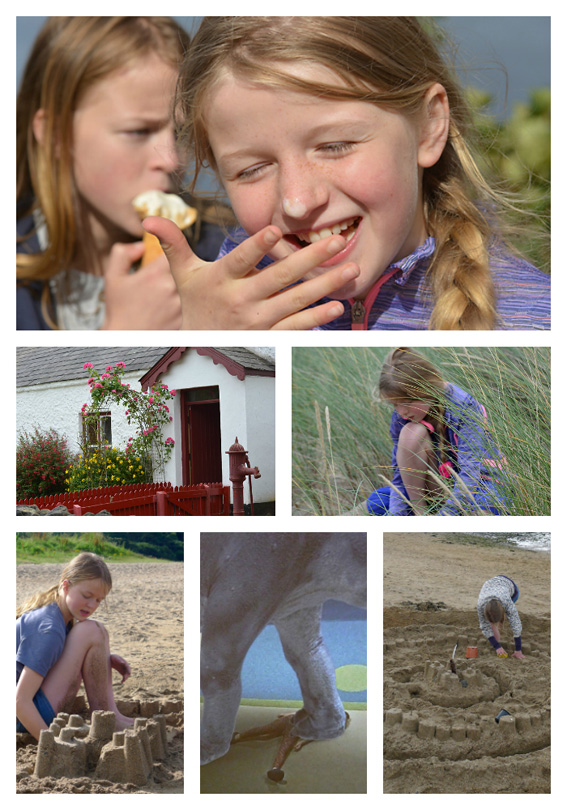 A visit to the Folk Park on Donkey Day was an absolute essential – I mean, who does not love a donkey? And, there were lots and lots of donkeys. The old farms, village, cottages and shops are wonderful to walk around. All have been moved from their original location somewhere in Northern Ireland and carefully rebuilt, giving a glimpse into our past heritage. We couldn't resist a visit to the old fashioned sweet shop and sucked lemon sherbets and pear drops as we wandered along narrow country lanes…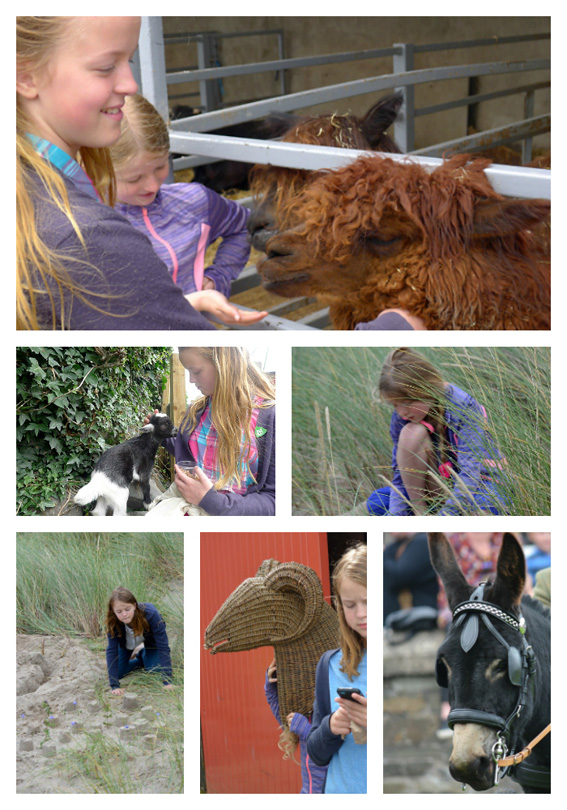 There was the annual trip to the Zoo. And to W5 at the Odyssey where Tara was stood on by a vegetarian dinosaur. Luckily she recovered quickly from the ordeal! Another old favourite is the Ark Open Farm near Bangor. So many animals to interact with. Tara was asked not to pick up the pygmi goat kids but it was tricky as if you stopped they practically jumped into your lap! Technically, they were supposed to be in a pen with their mother, but as small experienced escape artists, they crawled beneath the gate and wandered around introducing themselves to all the visitors. Another favourite at the Ark were the alpacas.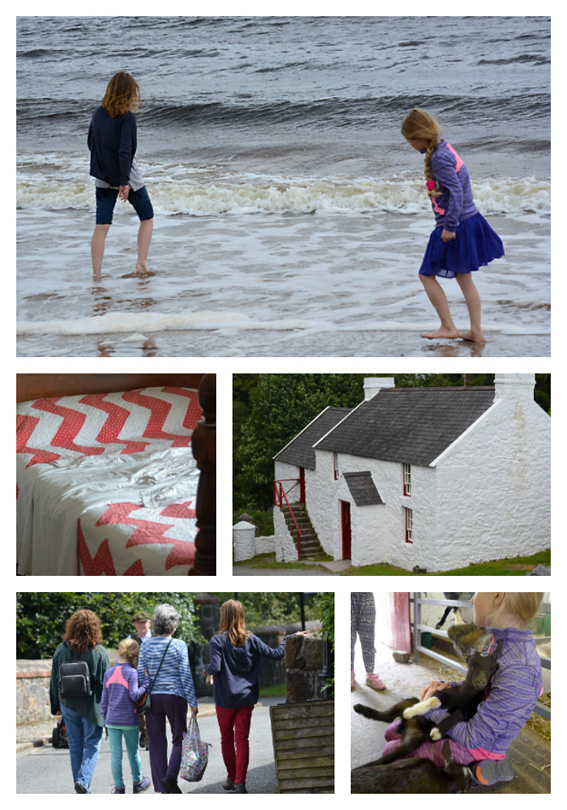 In between the visits to Groomsport, the Titanic Centre, Bangor Pickie Pool and Pizza Hut Summer 2016 became a binge of Harry Potter. Maya, Tara and grandma curled up on the sofa on wet days and disappeared into the mesmerising world of Harry Potter as read and brought to life by Stephen Fry in JK Rowling's final four books of the series… and the girls became walking Harry Potter encyclopaedias of knowledge.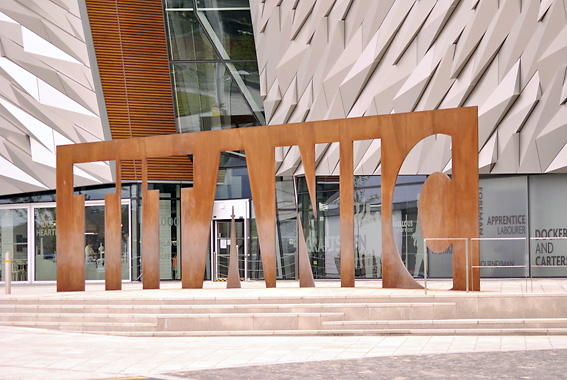 As we enjoyed the privilege of spending time with Maya and Tara, and seeing how they've changed and grown up in the last year, I found myself wishing that my brother was still here to enjoy being a part of the lives of his amazing daughters.