We are going on holiday this year to County Kerry and Connemara National Park in County Galway. So, of course, a multitude of ideas for summer holiday knitting projects are swirling through my mind.  What should I knit? Size of project? And the big question – how many projects?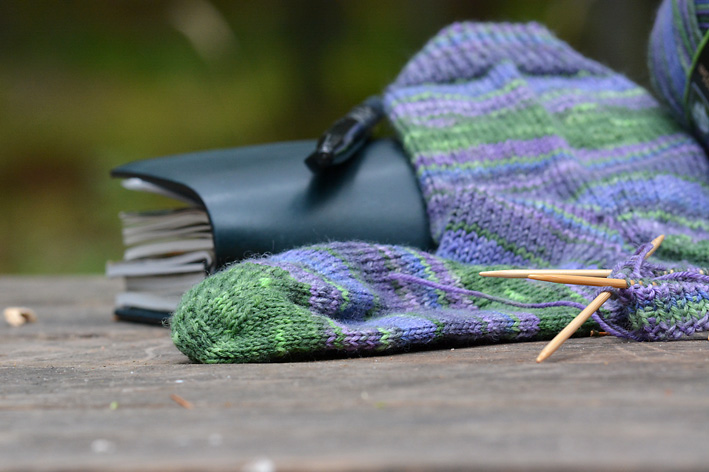 For me the ideal holiday project is easily picked up and put down – easily left in mid-round. Can be worked on while travelling in a car, sitting on a rock or stopping for lunch and doesn't require me trying to hold a pattern down with nearby rocks to stop it blowing away in the wind.
When we visited Shetland last Autumn I caught the fair isle knitting bug and my Shetland knitting was a fair isle tam… but there was also the wonderful opportunity of shopping for shetland wool in a myriad of colours. This was a bit more complicated than I would usually opt for as a vacation knitting project! But in the main, my knitting time on Shetland, was in the evening, after dinner while we relaxed in front of the TV watching a DVD.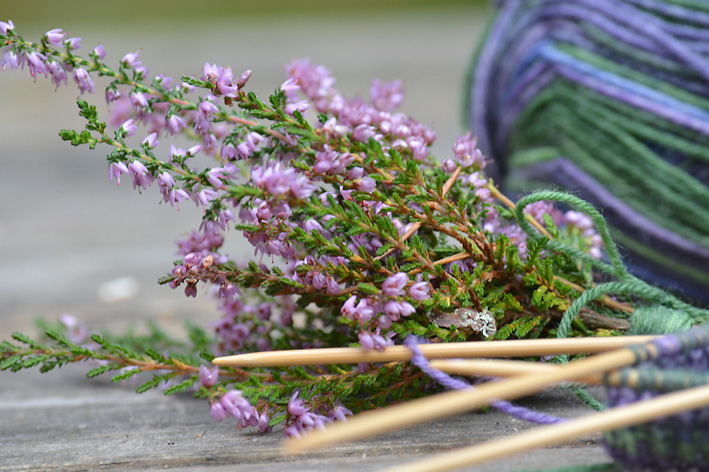 In the Cairngorms, surrounded by the pine forest, I enjoyed sitting at the picnic table knitting a pair of socks. These socks were knit in the gorgeous Secret Agent colour 8971 from Opal's Rainforest XI sock yarn collection (available in the Knitting Squirrel's yarn shop here). The colours were lovely to knit and I thoroughly enjoyed knitting these socks.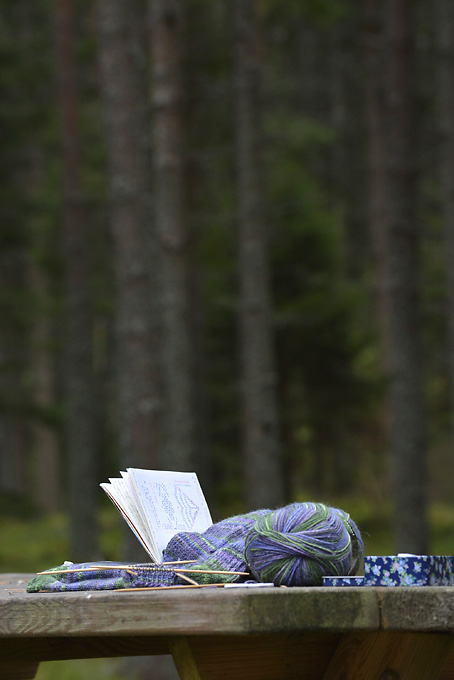 I always have my knitting notebook with me. I treated myself to a Midori Traveller's Notebook early last year and like how I can have a variety of different notebooks inside. I have a notebook where I journaled about our week on Shetland and in the Cairngorms, that was removed after we returned home. I'll do the same for this holiday. The system really works for me. I love it.
I used to make notes about my projects on scraps of paper, various notebooks, and then of course, by the time I came to writing about the project for the Knitting Squirrel, I would spend hours searching for all my notes. The main problem was that I used the same notebooks for my knitting projects, art journaling, ideas, inspiration and journaling, so to actually track down all the related notes for a project became annoying. I've never been particularly good at indexing my notebooks… Now I have lots of different notebooks all within the same Midori leather cover which is great!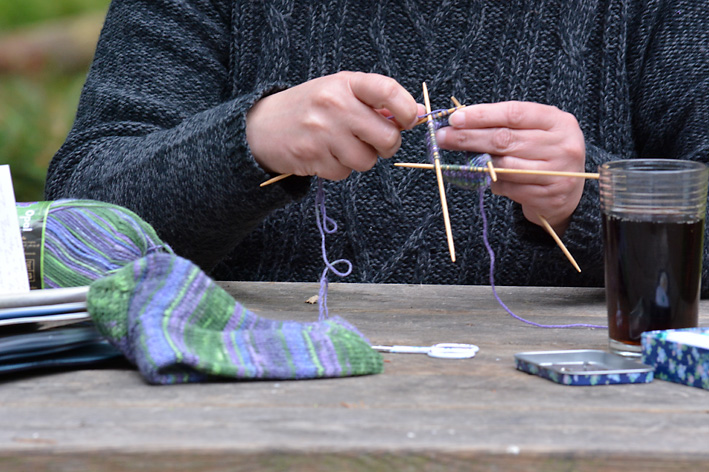 I have a small tin [6.25cm (2.5″) wide, 8.75cm (3.5″) long and 2.5cm (1″) deep] that contains my essential knitting notions – I bought some magnetic tape in a craft shop that I stuck onto the inside of the lid. I carry it in my bag, along with my knitting, everywhere I go.
My essential notions are all inside this tin. The magnetic lid has 3 tapestry needles, 2 paper clips and a safety pin. Inside the tin: is a small tape measure, a small scissors, 2 small stitch holders, a small crochet hook, a latch needle from a v-bed knitting machine that I've had since university days, and a small round tin containing assorted stitch markers.
These useful tools pretty much cover every eventuality from picking up a dropped stitch to sewing in the ends when I finish a project. It really is incredibly useful (of course, I'm not trying to take this notions box onto a flight in hand luggage)!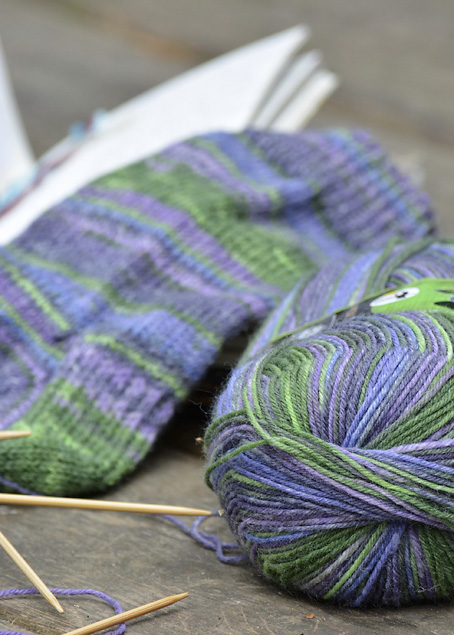 For my summer holiday knitting projects, I like knitting socks… okay, I love knitting socks all the time, but for holidays, they are particularly good.
They are light weight, easy to carry projects – the ultimate portable project that can be popped into my bag. They are relaxing to knit and not too taxing on the mind. I can easily knit a sock while enjoying a glass of wine, chatting and absorbing the ambience of where we are staying.
I have notes from knitting many socks, heels and toes, in my notebook, so I never bother carrying specific patterns with me. I just have fun knitting!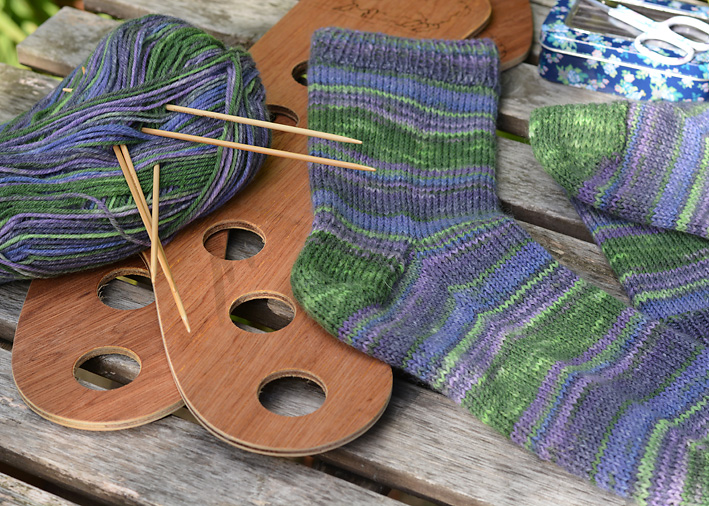 The other benefit of sock knitting is the sock yarn. It is tough – designed to be worn and washed often! It doesn't matter if it gets sandy, falls into a river (it dried out reasonably quickly), or gets a little bit battered looking! Most things even out wonderfully well when the finished socks are washed and blocked. But I always carry several sets of bamboo double pointed needles with me.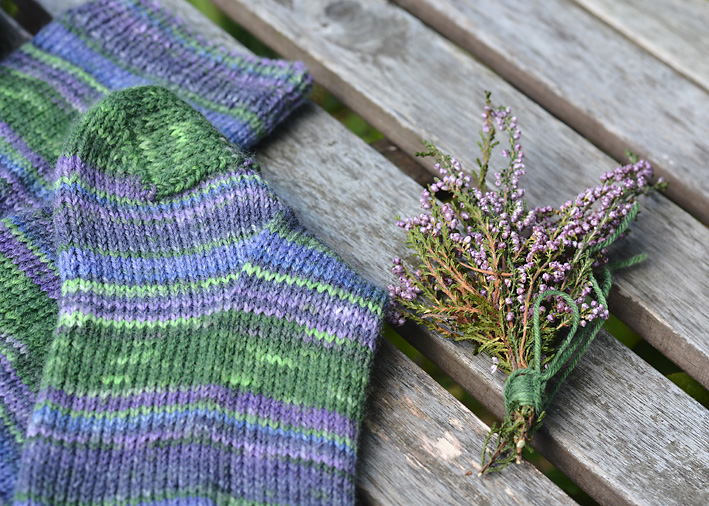 My main problem is not being sensible about how many projects I will be able to knit. I'm just too optimistic about the number of projects I need to bring with me. After all, we also like to sightsee, walk over hill and dale, relax reading an enjoyable novel, take day trips, have picnics on the beach, journal, spend time relaxing and just having fun! I always feel inspired on holiday and come home with lots of ideas, dreams and goals…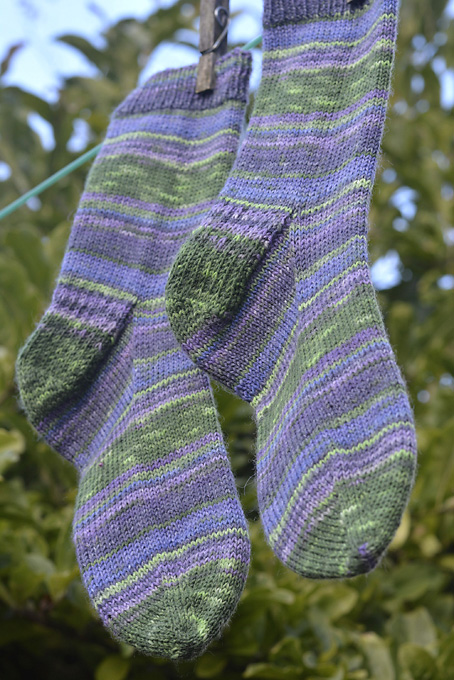 This year, I've been contemplating a different holiday knitting project – perhaps a garter stitch shawl or fingerless mitts? I do have some gorgeous sock yarn that I'd love to knit. I just haven't quite decided what I want to knit with it.
I'm thinking 3 projects might be a good number to pack. I think this should allow for some variety. I enjoy having some choice in which project I want to knit at any one time. It allows for me actually finishing a project and gives me a bit of wiggle room, for my own fickleness, sometimes, I just don't want to knit a particular project for a while!
How many knitting projects do you like to bring with you on your summer vacation?