I have a cousin's wedding coming up and I want an attractive lightweight shawl to wear with my aqua coloured sweater and black linen trousers. The Sunny Sail shawl looks perfect if I can have it finished in time.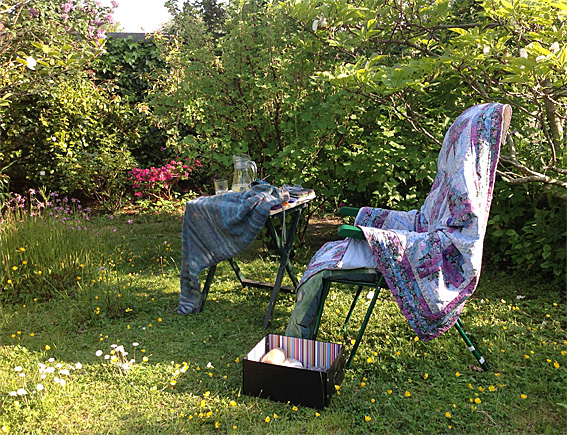 Part 1
Knitting in the Garden on a Summer's Day = Bliss
There is nothing quite more perfect than relaxing outside in the garden on a sunny day with my knitting and a large jug of chilled water near to hand. The garden is full of colour and perfume at the moment, with the sweet perfume of red rosa rugosa just coming out blending in the breeze with the powerful scent from the three lilacs.
Our garden is a bit of a mix. When we started it 15 years ago, we wanted to create a cottage garden. We have a small vegetable patch and a green house, the walls surrounding the garden have boysenberries, loganberries, blackberries and raspberries climbing on them. We have apples, gooseberries and herbs, alongside magnolias, lilacs, paeonies, witch hazel, camelias, roses underplanted with lamium, heathers, miniature periwinkles, violas and wild speedwell. We've given up on the slug fodder such as delphiniums and bedding plants as we don't use any poisons. Don't see any point in feeding the thrushes and blackbirds through the winter and then killing them with a poisoned slug or snail. Personally, I like snails, and it doesn't worry me when we have lacy leaves and plump caterpillars around the place. We do wage a losing war against bindweed which is frustrating.
We love the crazy mixture of cultivated plants and wild ones, our lawn has patches of ragged robin, daisies, creeping buttercup, clover, orchids, primroses, and cowslips growing through the grass. We've lots of wild visitors, goldfinches, sparrows, magpies, pigeons, long tailed tits, squirrels and foxes etc. We live in hope of seeing a hedgehog as we have lots of slugs for it to eat. It is wonderful to wake in the morning to the sweet melodies of the dawn chorus (normally), this morning we woke to a raucous argument between the pigeons and a young magpie who kept chasing them every time they landed on the ground. Back to the shawl.
Sunny Sail Shawl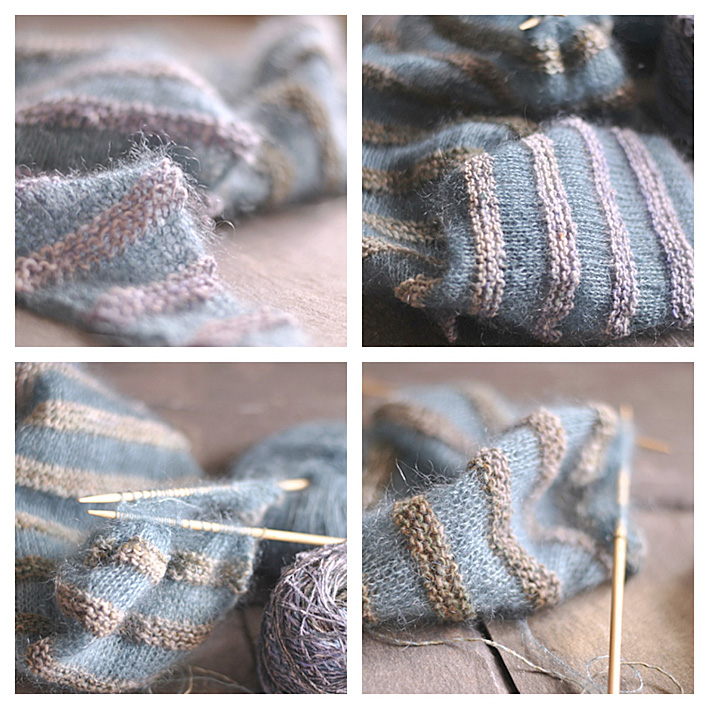 I found this wonderful pattern while browsing the patterns on Ravelry. I really liked the look of this gorgeous shawl but I am not completely sure that I like the pom pom. I think that I will opt for a tassel. I fancy making the tassel from both the kidsilk haze and the Noro Kureyon Sock Yarn but with the addition of some fine seed beads to the kidsilk haze.
Initially, I cast on with the teal kidsilk haze and a ball of zauberball but I really didn't like how the zauberball was working out, so switched to a gorgeous Noro Kureyon sock yarn instead. It is a beautiful colour scheme with greys, greens, taupe and turquoise – beautiful muddy shades of colour.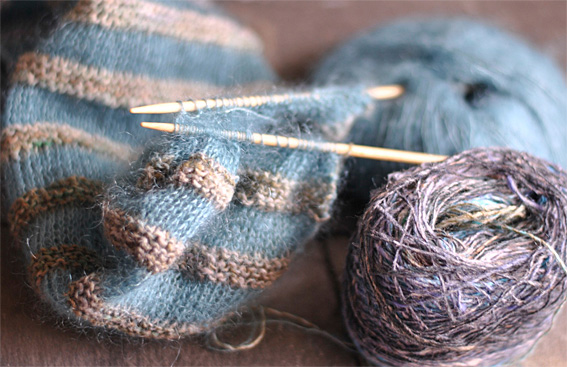 My one issue with the pattern is that apart from saying which yarn to start and finish with and where to do the increases, it gives no help with the approximate dimensions of the shawl, or even how many stripes, or the number of stitches I should have when I finish knitting the shawl.
I love how this beautiful ethereal shawl is turning out. It is truly gorgeous. I am definitely going to knit more than one of these. The first is in the soft teal Rowan Kidsilk Haze SH00582. I was hoping that 25g would be enough. The pattern asked for 230 yards and the ball band states a length of 229 yards. This wasn't the case, and after a massive rummage through my stash I unearthed a second ball of this lovely teal kidsilk haze, although in a different colour run. Hopefully, that won't be particularly obvious when the shawl is finished.
Progress has been slower than intended on this shawl mainly, due to unforeseen circumstances, I am rebuilding my Sasha Doll Style website using wordpress. I\'d thought it would be reasonably straight forward, but instead, I am having to resize every photograph, and just finding them has proved to be a mammoth task. Unfortunately, with the loss of my laptop and desktop computers within a couple of days of each other two years ago, I have some gaps in my photo archive, which is sad. The new Sasha Doll Style website is progressing slowly but steadily and I am delighted with how it is coming together. Do visit it if you have time and an interest in knitting clothes for dolls.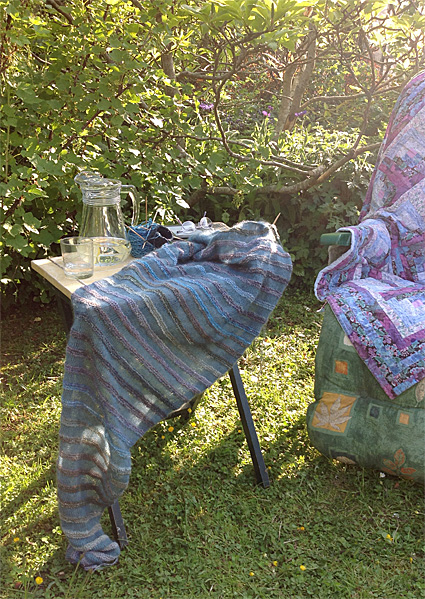 My problem is that the wedding I am wanting to wear this shawl to, is next Thursday… oh eeeek! So, with the lovely weather this weekend, I have been sitting outside in the shade of the Magnolia with my knitting, and my kindle, and a notebook, and the pair of socks I have just cast on so that I have some straight forward knitting when we are travelling on Thursday as it will take about 4 hours to get to the wedding and another 4 hours home that night and it will be nice to have a pair of socks to work on.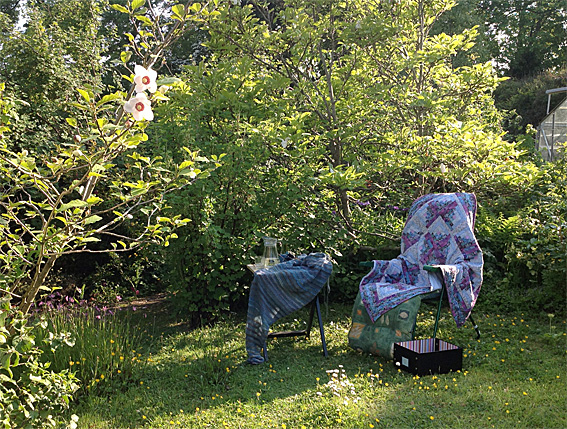 So here I am relaxing in the back garden knitting the Sunny Sail Shawl in a shady space beside the Magnolia with the scent of the lilac blossom wafting around the garden. It is lovely here today, already 24 degrees Celsius which is pretty hot for us. We are used to cooler temperatures and varying degrees of rain.
Part 2
Sunny Sail Shawl Finished in Time
Do you ever put pressure on yourself and set a deadline for a project? I don't usually do this, as I prefer my knitting projects to be fun and relaxing. But on this occasion I knew that I wanted to wear the Sunny Sail Shawl to my cousin's wedding. So there was a deadline set in stone for this shawl.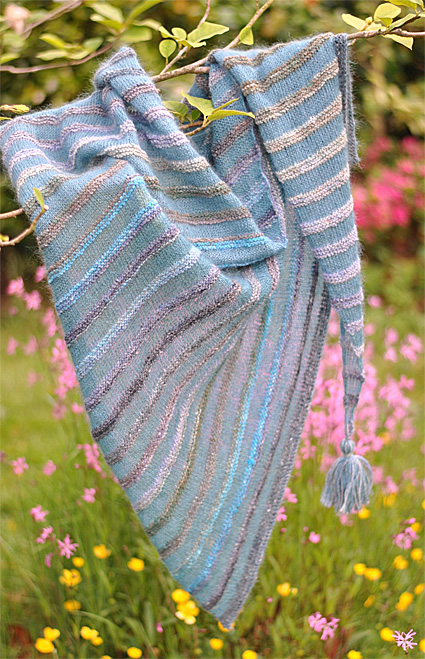 Of course, it took a late night, to finish it in time. Sitting at 2:15am making a tassel out of the remains of the yarn. I love the tassel. In the original pattern the shawl had a pompom but I didn't feel this would be elegant enough. I used both the Noro Kureyon Sock Yarn and the Rowan Kidsilk Haze for the tassel. I really love how it came out. I gathered the tip of the narrow end of the shawl and then stitched the tassel in place. The ends were secured and then threaded through the tassel and snipped off giving a lovely neat finish.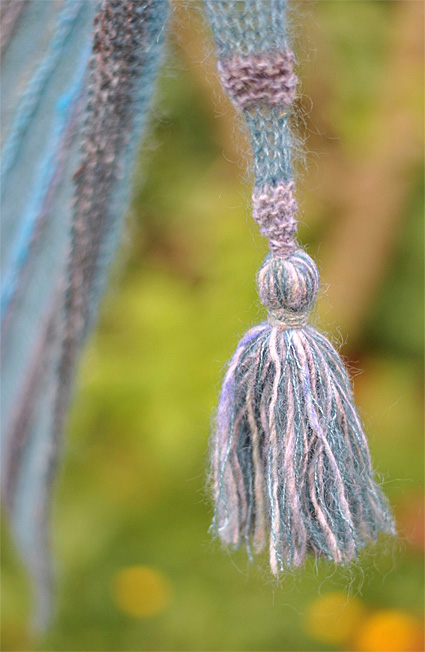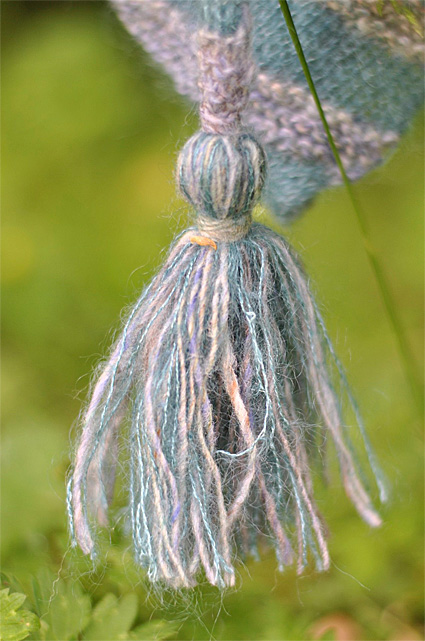 I wore the Sunny Sail Shawl in an asymmetric style, across one shoulder with the tassel draped down my back. The shawl received a lot of compliments. It felt light and airy to wear and kept my neck warm so I didn't need to bring a coat with me.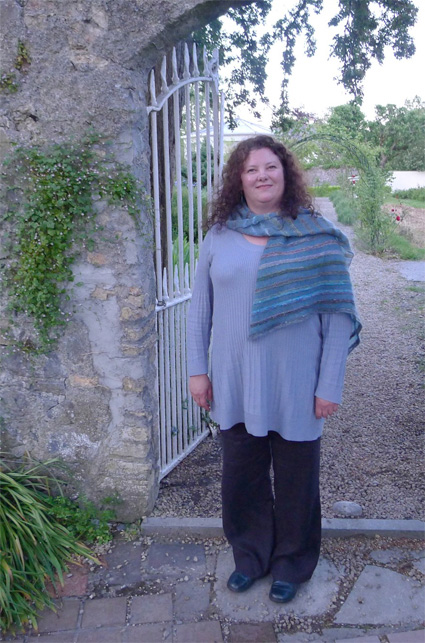 I was delighted to be wearing the shawl. Definitely one of the loveliest projects I have made. Lovely and light to wear and a bit different. It's very versatile and I spent a while draping the shawl in various ways before deciding which way I wanted to wear the shawl to the wedding.
Speaking of the wedding… my cousin was one of the most beautiful brides that I have seen. I hope she and her new husband will have a long and happy life together.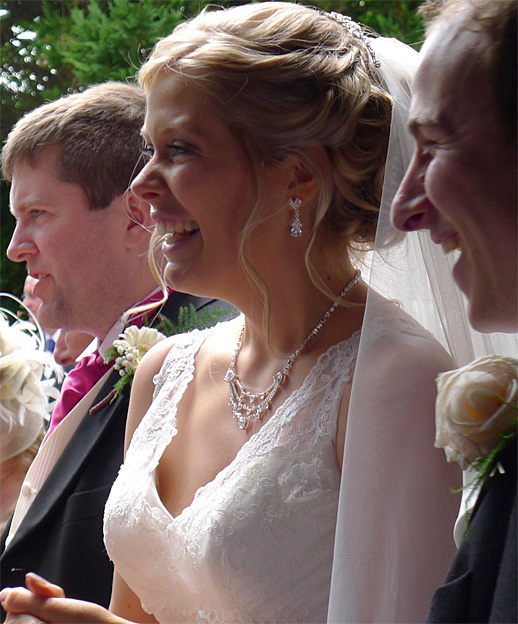 We had a wonderful time, it was great seeing so many relations who I hadn't seen for too long. We stayed overnight with another cousin and then went to a delicious late lunch the next day, the wedding celebrations continued over several days although we headed home in the early evening after the late lunch as we needed to get home to our cat who was minding the house.
The Sunny Sail Shawl is an Isosceles triangle that builds up from the narrow end, increasing on both sides every 6th row which causes it to widen very gradually and slowly. Initially, the shawl grows quite quickly, which is great. As it widens though, progress slows down somewhat.
One of the things I found annoying about the pattern was the lack of dimensions, number or stripes or any pertinent information other than where to increase the stitches. I like to be able to gauge how close I am to finishing and if I am going to have enough yarn – this is probably just a quirk of mine.
The finished dimensions for my Sunny Sail Shawl are:
177cm (69 1/2 inches) long (not including the tassel).
98cm (38 1/2 inches) the widest stripe after casting off.
2cm (3/4 inch) the narrowest stripe before the end was gathered.
My tassel is 10cm (4 inches) in total length. The top of the tassel was bound at 2cm (3/4 inch) from the top where it was tied and the bottom of the tassel is 8cm long (just over 3 inches).
The stripe counts (a stripe is 6 rows) for my Sunny Sail Shawl are:
46 stripes using the Noro Kureyon Sock Yarn, it was used for first and last stripes to give structure.
45 stripes using the Rowan Kidsilk Haze.
91 stripes in total.
Yarn quantities used for my Sunny Sail Shawl are:
I used pretty much all of 2 x 25g balls of Kidsilk Haze and 1 x100g ball of Noro Kureyon Sock Yarn.
<1 gram left over of both yarns together (separately my scale wouldn't actually give a weight).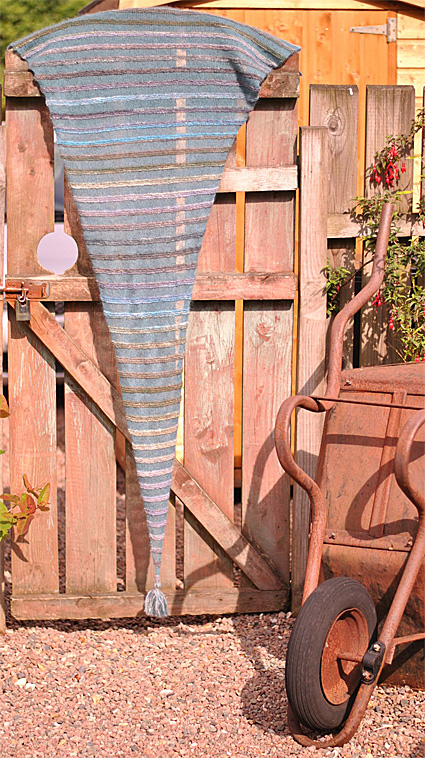 I searched for somewhere that I could hang the shawl so that the finished shape could be shown and ended up draping the top over our garden gate as the line wasn't high enough.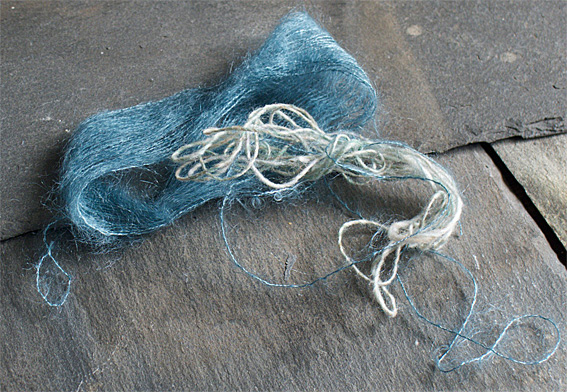 There was very little yarn left. The remnants of both yarns weigh less than a gram. So I have to admit that I was starting to really worry that I wasn't going to have enough yarn to actually finish the shawl let alone make a tassel. I knit an extra couple of rows on the last stripe of the Noro yarn before I cast off as I wanted to make sure that the shawl would drape and that the edge wouldn't curl up.
I did not block this shawl. There didn't seem to be any need, and I liked the way the edges curl in very slightly. The solid garter stitch stripes knit in the Noro give some structure to the shawl. This is the main reason I changed from knitting the shawl using the Zauberball. The Zauberball is a finer sock yarn than the Noro and wasn't giving the same structure or weight to the garter stitch stripes.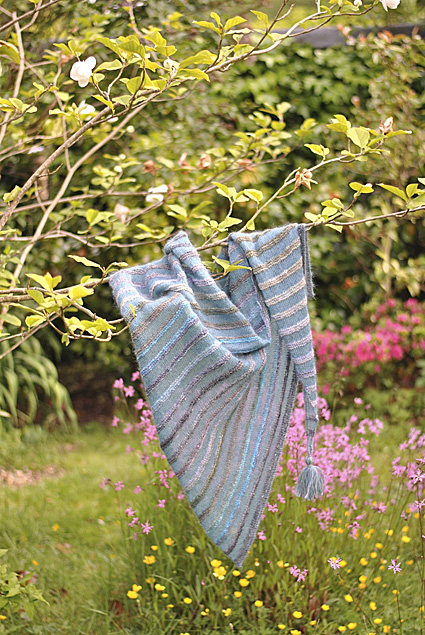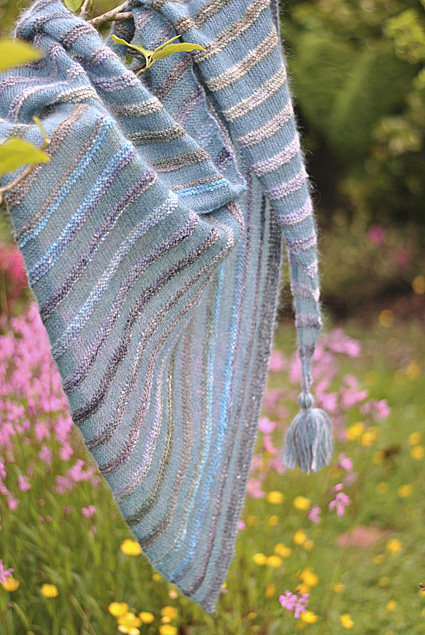 The beautiful feathery pink blossoms in the background and sometimes the foreground of the photographs are my favourite wild flower Ragged Robin. It grows wild in the hedgerows and in damp meadows (yes this does show how wet our garden can be as we have heavy clay soil and plants that don't like there roots to be in cold heavy wet soil do not last very long with us). The ragged robin is in full bloom now. I have a lovely bunch of it in my studio. So dainty and pretty.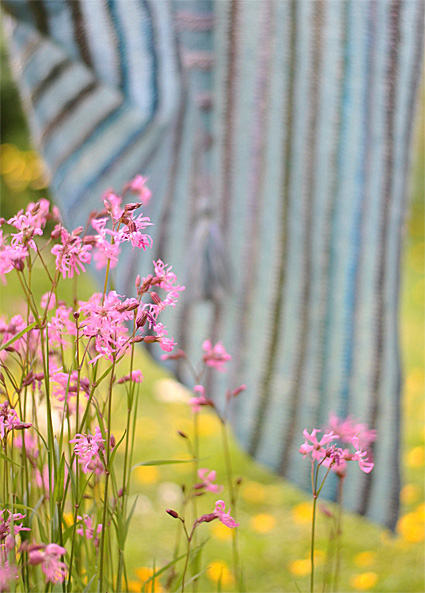 In most of these photographs I have draped the Shawl on one of the lower branches of my Magnolia Wilsonii which is flowering at the moment. It is a lovely shrub which I planted about 10 years ago and has pretty white blossoms in June.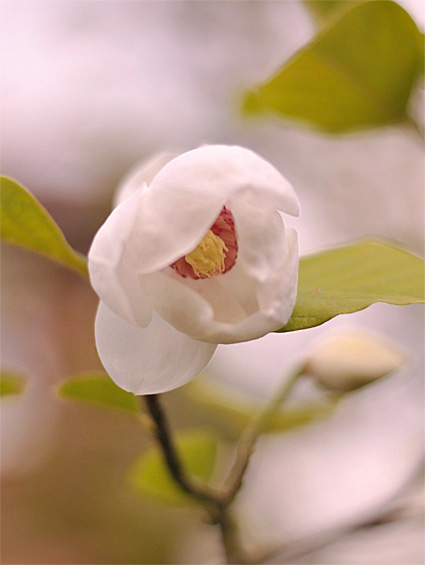 I love the Sunny Sail Shawl and am planning a variation of it using two different colours of the Rowan Kidsilk. I'll start it soon as the light weight of this project makes it a lovely one to work on when the weather is warm. The finished shawl is a delight!