I've been so excited waiting for the 3rd Opal collection of Sweet & Spicy. It was worth the wait. I haven't been disappointed. I've knit socks using two of the colours – Cocktail and Saffron. Both pairs look amazing.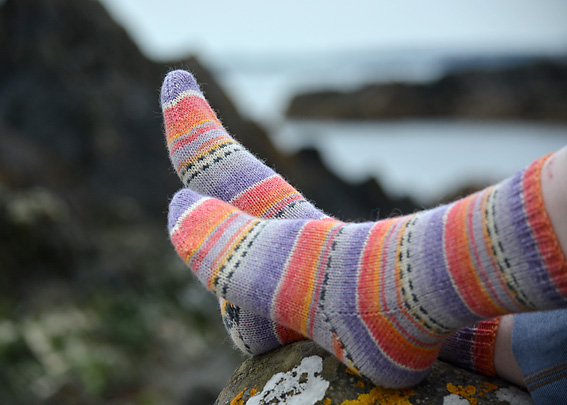 Sock Size:
I knit my socks to fit a UK shoe size 5/6 using a tension of 30 sts/42 rounds = 10×10 cm (4″x4″) which works out at 7.5 sts/10.5 rounds = 2.5×2.5cm (1″x1″) when knitting stocking stitch (stockinette stitch) in the round. The circumference of my foot is 21.5cm (8.5″). You don't want your socks to be too loose when you've finished knitting them, so I like a little bit of negative ease. At this point I'm going to talk in inches… sometimes it is just easier… so, 8.5 (foot circumference) x 7.5 (tension) = 63.75 stitches. I like my socks to have about 5% negative ease. So, 63.75 ÷ 100 x 95 = 60.56 stitches. I round this down to 60 stitches for knitting my socks.
| | | | | | | |
| --- | --- | --- | --- | --- | --- | --- |
| Foot Circumference | 19cm (7.5″) | 20.5cm (8″) | 21.5cm (8.5″) | 23cm (9″) | 24cm (9.5″) | 25.5cm (10″) |
| UK Shoe Size | 2-3 | 3.5-4.5 | 5-6 | 7-9 | 9.5-10.5 | 11-12 |
| EU Shoe Size | 35-36 | 36-37 | 38-39 | 40-41 | 42-43 | 44-46 |
| US Shoe Size | 4-5 | 5.5-6.5 | 7-8 | 9-11 | 11.5-12 | 12-13 |
| Woman's | X Small | Small | Medium | Large | | |
| Man's | | | | Small | Medium | Large |
| Total Stitches (Each Needle) | 52 (13) | 56 (14) | 60 (15) | 64 (16) | 68 (17) | 72 (18) |
The chart above shows how many stitches you would need to cast on to knit these socks for other shoe sizes. I've been working on a Basic Sock Pattern to fit 6 different shoe sizes which will be with you very soon.

Yarn:
These socks are made using one 100g ball of Opal Sweet & Spicy 3 colour Saffron 9121.
Interesting facts: okay, may be only interesting to me, but… The finished pair of socks weigh 61g, the leftover yarn in the ball weighs 33g, so I used 6g to create a matching pair of socks.
Needles:
3.25mm double pointed needle (dpn) for casting on
2.75mm set of five double pointed needles (dpns) for knitting socks.
Tapestry needle for sewing in ends and grafting the toe
Tension:
The tension for this sock is 7.5 sts/10.5 rounds = 2.5×2.5cm (1″x1″) when knitting stocking stitch (stockinette stitch) in the round.
Abbreviations:
double pointed needle(s) – dpn(s); stitch(es) – st(s); knit – k; purl – p; yarn over – yo; slip one (I always slip one purl wise) – sl 1; knit two stitches together – k2tog; pass slip stitched over – psso; repeat – rep; slip slip knit – ssk;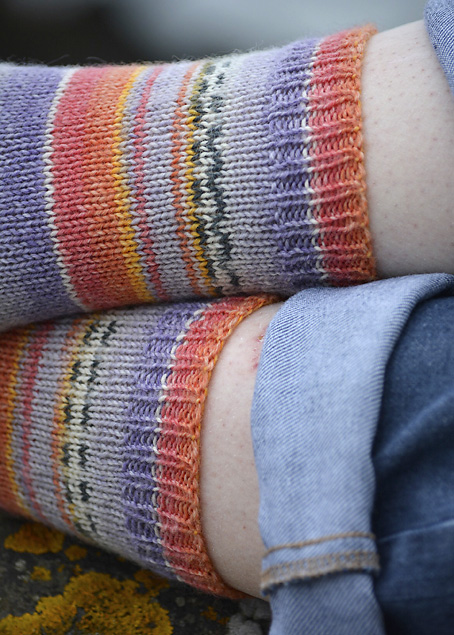 Cuff:
I chose to cast on at the intersection between the fine yellow stripe and the start of the broad orange stripe.
Cast on 60 stitches using the 3.25mm needle and the long tail cast on.
Evenly divide stitches onto four 2.75mm double pointed needles (dpns). Take care not to twist the stitches when knitting the first round. 15 sts on each needle.
k1, p1 rib for 15 rounds using 2.75mm dpns.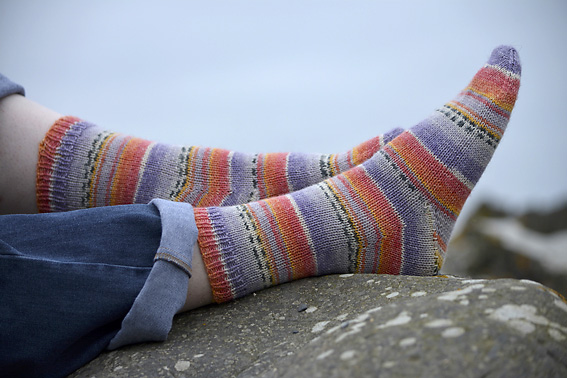 Leg:
Starting Point of Rounds:
With this sock construction from the start of the heel to the end of the toe shaping the starting point of the round is on the right hand side. Not on the centre back as I normally do.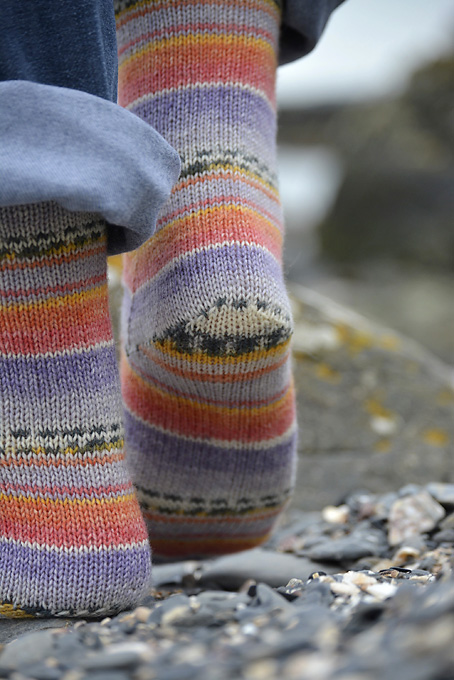 Strong Heel:
Needles 1 and 2: Are the Instep stitches
Needles 3 and 4: Heel and gusset stitches – these are the needles on which the increasing takes place.
Round 1: Needles 1 & 2: k; Needle 3: k1, m1, k to end of needle; Needle 4: k to last stitch, m1, k1
Round 2: k
Repeat rounds 1 and 2 until needles 3 and 4 each have 28 stitches on them.

Heel Turn:
Turn work to begin heel turn on a wrong side row. Only working on Needles 3 and 4.
Row 1: Needle 4: sl1, p to end of needle; Needle 3: p1, p2tog, p1, turn
Row 2: sl1, k3, ssk, k1, turn
Note that there will be a small gap between the working stitches that form the heel turn and the unworked heel stitches.
Row 3: sl1, purl to within 1 st of gap, p2tog, p1, turn
Row 4: sl1, knit to within 1 st of gap, ssk, k1, turn
Repeat rows 3 and 4 until all side stitches have been worked, and there are 15 stitches on needle 3 and 15 stitches on needle 4. Should end on a completed row 4.
The sock is easy to try on after the strong heel is finished while knitting the foot.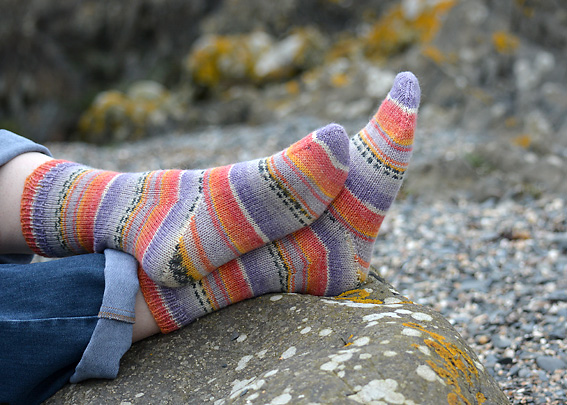 Foot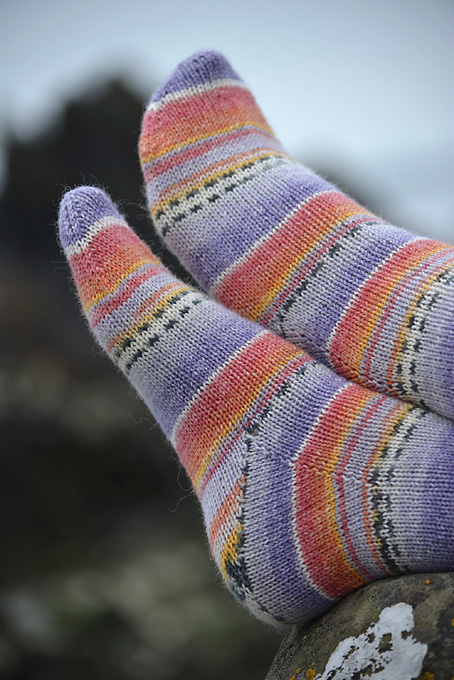 This is a variation of the Classic Toe. The Strong heel has a very clean and elegant look to it and I didn't want the toe shaping to have the broad 4 stitch shaping 'band'. So I tweaked it to give a finer decrease profile to match better with the elegant looking strong heel.
Round 1: Needle 1: ssk, k to end, Needle 2: k to last 2 sts, k2tog, Needle 3: ssk, k to end, Needle 4: k to last 2 sts, k2tog.
Round 2: k
Repeat Rounds 1 and 2 until 16 stitches left (4 on each needle).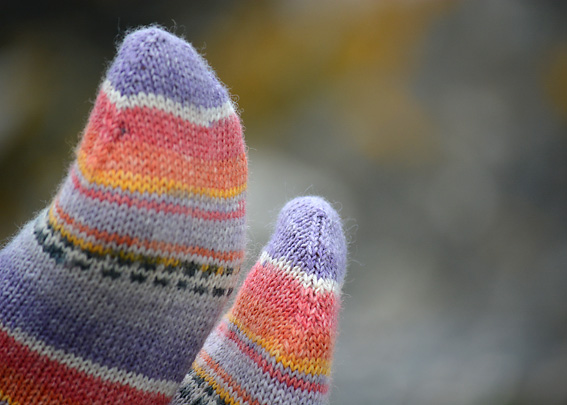 Finishing:
Finish on a Round 1. Divide the stitches over 2 needles making sure that the toe is going to line up with the heel.
Graft the stitches at the toe using Kitchener Stitch.
Weave in all loose ends.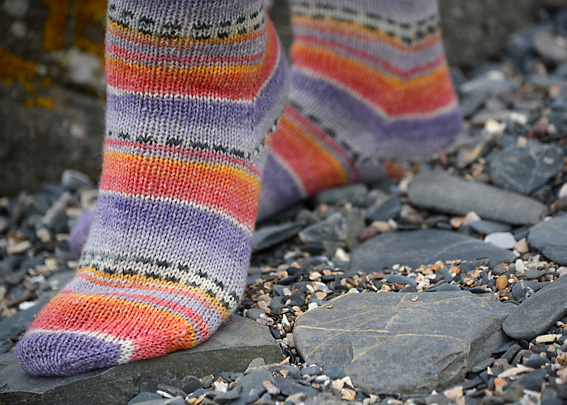 I'm having fun taking part in the BoxOSox KAL being run by Kristin of the Yarngasm Podcast. It is a year long KAL where you aim to have 1 pair of socks per month, and a minimum of 12 pairs of socks in the course of 2016. Sounds like fun. Sounds like a great excuse to knit more socks!!!
I love hearing how you enjoy knitting the sock patterns. Look forward to reading your comments here and on our Facebook page.
The Knitting Squirrel now has a Ravelry Group and I'd love you to come and join us. The more the merrier!