I've taken part in several swaps over the years. I particularly enjoyed this yarn swap a few years ago on Ravelry.
It was a secret surprise swap with no communication between the swap partners. Also, we were sending our package to a different person than the person we were receiving our swap package from. This helped ensure there would be no contact between the swap partners.
The minimum amount to spend on the package was £25 plus package and posting. The package would contain 7 individually wrapped parcels. One parcel would be opened every day for one week and the blogger would then write a daily blog post for the week.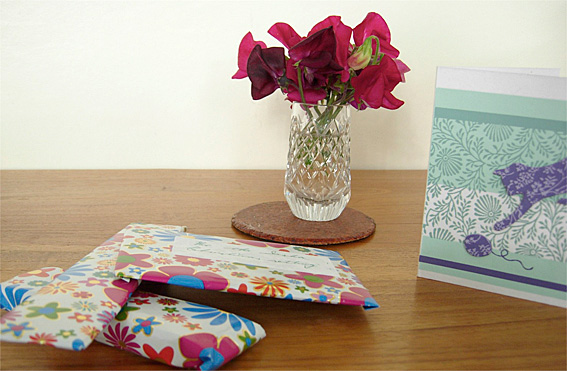 There were a few specific items that had to be included: 100g of new yarn or fibre; Some type of knitting notion; Embellishments; A pattern. This covered 4 of the parcel contents. There were a few suggestions for the remaining parcels: Something handmade; a magazine; a book; stationery; a treat; something small that would add a fun element to the photographs our swap partner would take.
So how were we to discover what our swap partner would like? What type of patterns did they enjoyed knitting?
The starting point for our investigation into our swap partners interests and tastes came from the questionnaire.
Everyone taking part in the swap filled out a Questionnaire which had some thought provoking questions to answer. I\'m going to discuss my answers on the questionnaire and what I felt about the parcel I received from my Swap Partner rather than the personal information on the questionnaire of my swap partner and what I sent her. I only feel comfortable discussing my own thoughts here.
The information on our questionnaire gave my swap partner information that would help her to put together a swap package that she thought I would love opening.
As the swap was taking place on Ravelry, we knew their Ravelry ID which allowed us to snoop through their queue and favourite menus. Along with looking at the lovely projects they had finished, photographed and their works in progress, we gradually gained a sense of what type of patterns they loved to knit as well as colours they enjoyed. Reading their Ravelry bio also helped with getting to know our secret swap partner. I also enjoyed reading her blog.
The questions included:
my favourite yarns: sock yarn, 4 ply, lace
yarns I dislike: cotton
my favourite colours: blues and purples
least liked colours: orange and yellow
crafts I love: knitting and patchwork
do I collect anything?: sasha dolls, beautiful yarns, fabric and books
any non craft hobbies?: reading, journaling, walking, day trips, photography, enjoying the garden, using my laptop
5 words I\'d use to describe myself: curious, creative, naturalist, thinker, designer
any allergies?
shoe size: EU 39-40
3 fantasy dinner guests: Miss Marple, JK Rowling, G\'Kar from Babylon 5
would I prefer to be a diplodocus or a T-Rex?: Neither. I want to be a Pterodactyl as I\'d prefer to soar free in the skies
my favourite treats: relaxing with a new book or magazine.
a forbidden pleasure: chocolate
favourite animal: magpie, squirrel and badger
what 3 favourite things do I see around me in the room I am in?: the moodboard for Sasha Amethyst Dreams collection; Sashas wearing partially completed outfits; my bookshelves and the fictional worlds I have visited and the ones I look forward to going to soon;
if I were left on a desert island what 3 items would I want to take with me?: my camera, laptop with chargers, and a journal with a set of pencils and pens
In some ways it was a little like a knitterly form of cyber stalking although I use the word stalking with trepidation. We were shadowing our swap partner.
So what happened next?
I loved deciding what to buy for my secret swap partner and posting it to her. There was great pleasure in choosing something beautiful for someone else and wondering what the recipient would make with it. The fun of wrapping… packing… posting… And in time, the doorbell rang, and I received my own package. A few minutes later, with a cup of tea and a biscuit, a pair of scissors in hand, I'm carefully opening the box.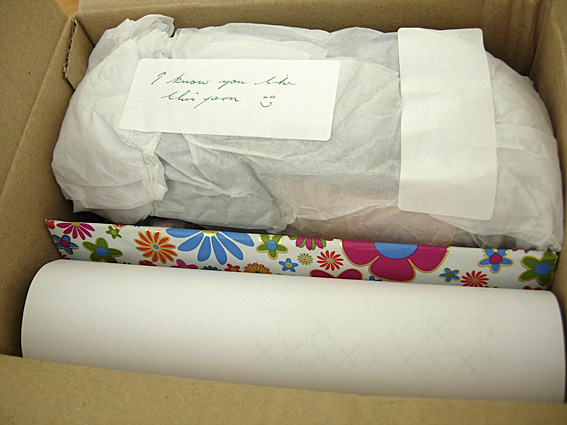 And when I opened the box, inside it was filled with neatly wrapped parcels. Of course, everything was quickly spreading out on the table.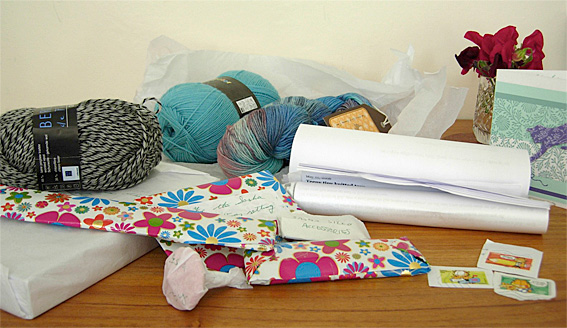 Yarn Swap Day 1
The first package that I opened and looked at was filled with glorious yarn. Absolutely beautiful. the colours were just wonderful together. Greys, turquoise, blues, dusky pinks and flecks. Utterly delicious.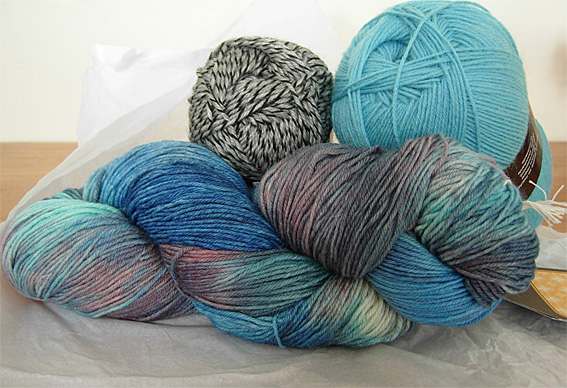 The beautiful skein was part of the swap.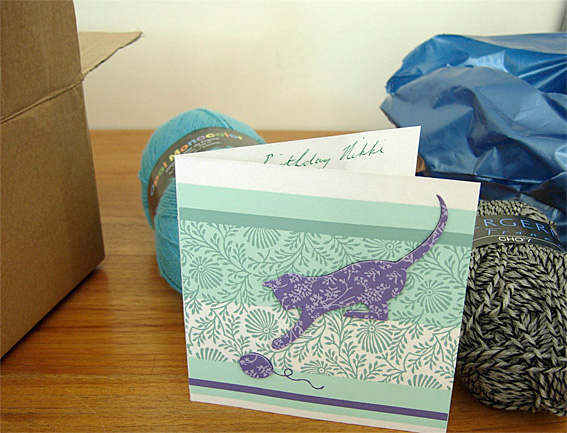 But something funny had happened. The other two balls of yarn had come in the box with a beautiful birthday card. Yes, the person who had posted the secret swap package to me, had been soxonfox who lives in Wales, and who happens to be my sister Pip who is  http://www.thesockyarnshop.com and she hadn't told me. I mean, what were the chances of that happening.
Yarn Swap Day 2
I laid out some of the little parcels and decided which one I would open today.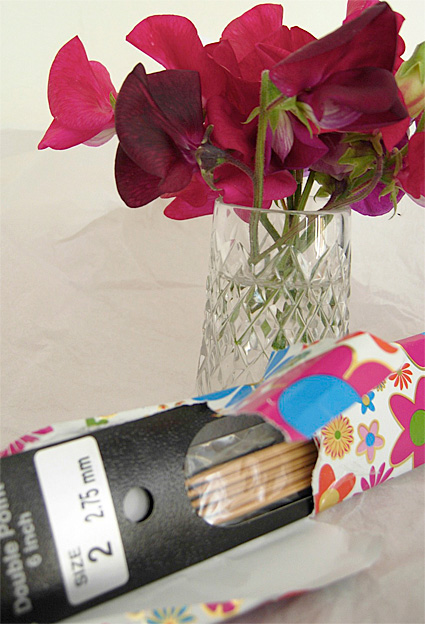 I thought the long thin parcel was probably the knitting notions after I had felt the along it with my fingers. I had long wanted a set of the bamboo double pointed needles that Pip stocks in her shop and I wasn\'t disappointed when I tore off the wrapping paper.
Yarn Swap Day 3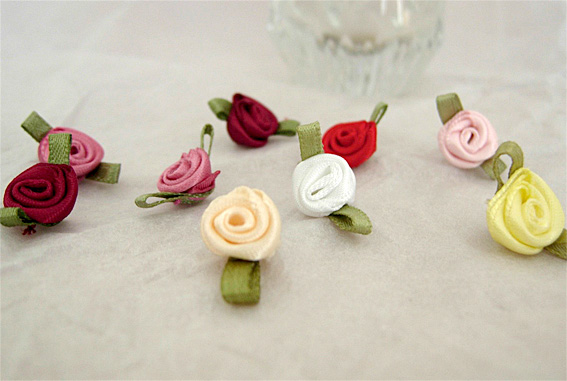 The little parcel for day 3 contained the embellishments – beautiful ribbon roses. I thought they would be beautiful decorating a knitted Sasha hat or sewn onto a pair of fingerless mittens. A lovely variety of colours.
Yarn Swap Day 4
The knitting pattern was for a turtle neck sweater and hat for Sasha.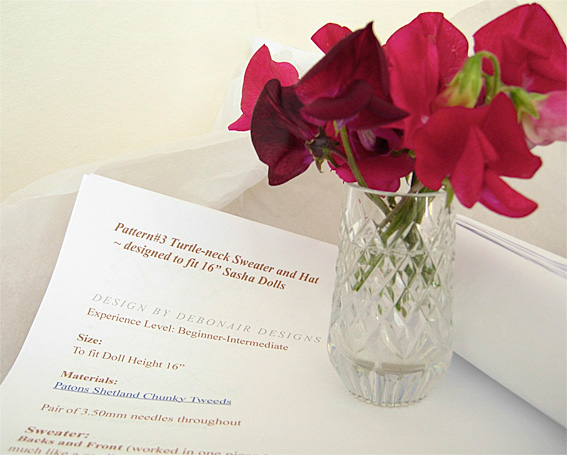 Yarn Swap Day 5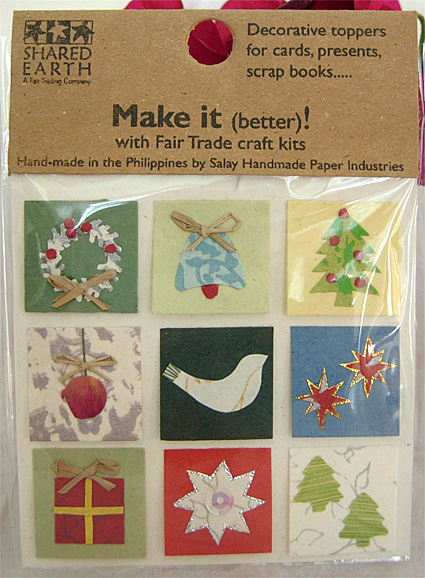 This beautifully wrapped parcel contained lovely decorative toppers for cards, presents and scrap books. They were just the perfect size to turn into tiny Sasha sized Christmas cards.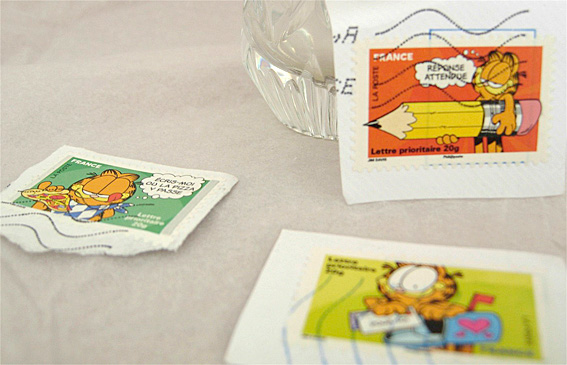 Also, inside the parcel were 3 Garfield stamps. I've always liked Garfield. He reminds me of a strong willed cat who used to live with me called Ginger. I've always felt a little sorry for the unfortunate Odie.
Yarn Swap Day 6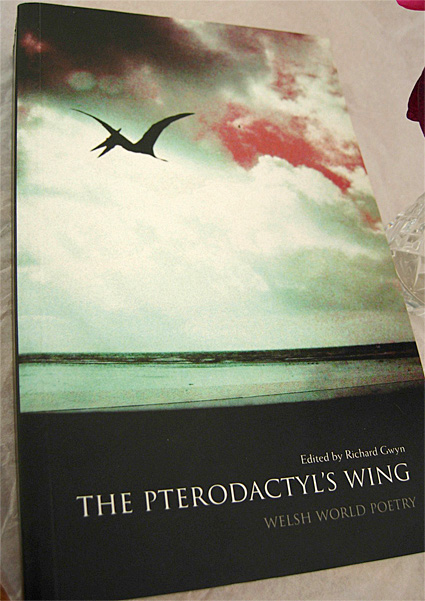 A modern anthology of Welsh poetry written by Welsh poets living both in Wales and farther afield, as they reflect on the their Welsh-ness and reflect on what poetry might be.
Yarn Swap Day 7
This small parcel contained a lovely tiny spinning top and it worked perfectly. This was the random item. Although, I'm not sure that I photographed it to its fullest!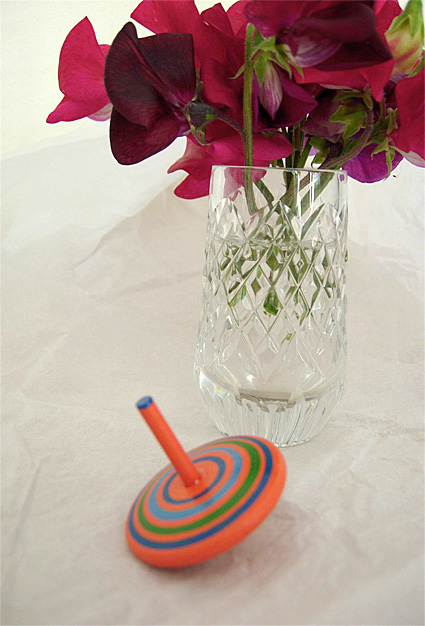 So what did I do next?
Of course, I collected my sock knitting books and spread them out around me, flicking through until a sock pattern appealed to me.
I opened my pack of new bamboo double pointed needles and cast on for a new pair of socks using the gorgeous Araucania Multi skein of sock yarn. I chose to use the I love Gansey pattern, although I did leave out the heart shaped gansey pattern, which sort of lost the meaning of the name of the sock pattern.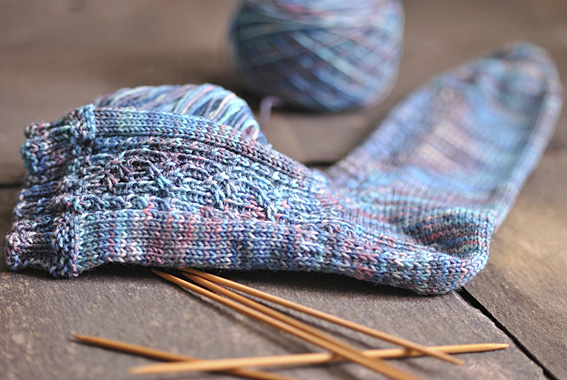 So if you have never taken part in a Yarn Swap, and you have the opportunity to do so, you should. It is a wonderful experience and a huge amount of fun. I thoroughly enjoyed reading the other blogs as other swap partners started blogging about their parcels arriving. This was great fun. It was very funny that my sister turned out to be my secret swap partner and I teased her when we chatted on the phone about how she had been able to keep this a secret from me while we discussed what our possible swap partners might like. Talk about a sneaky way of gaining additional insight! Although, of course, she already knows me well.