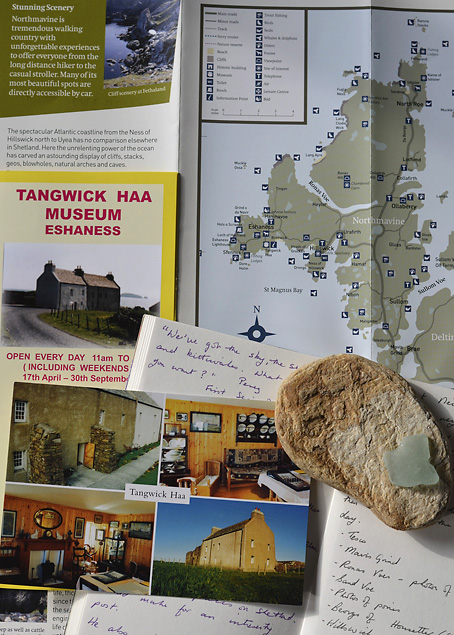 We were lucky to visit Tangwick Haa Museum, on Northmavine, when we visited Shetland in the Autumn. The changing exhibition at the Museum for 2015, was 'The Way We Did It.'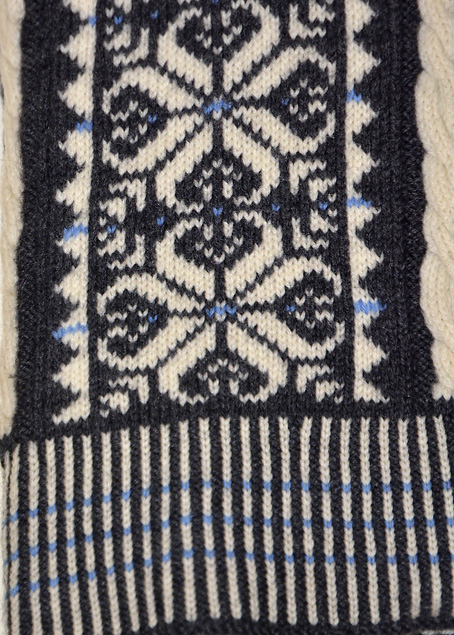 This exhibition had fascinating insight, information and artefacts on agriculture, fishing, the Shetland way of life, social life and community, and what interested me most of all, knitting.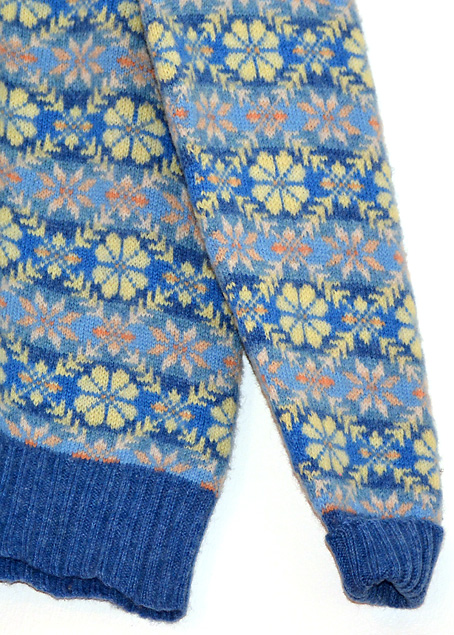 There were some wonderful examples of Shetland knitting as well as all the paraphernalia for finishing the fair isle knitting, jumper, glove and sock boards amongst other interesting things.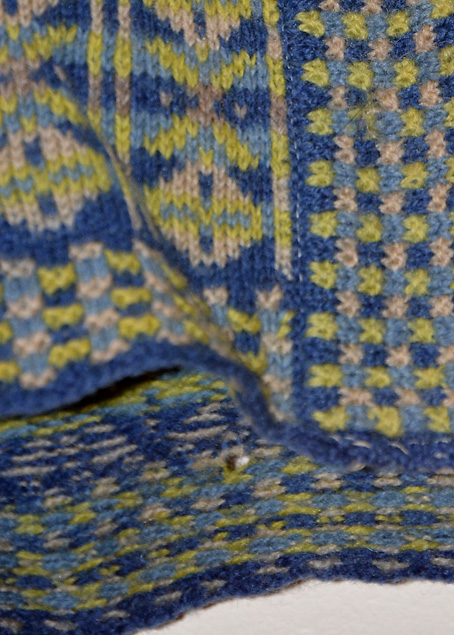 Although, I've never really done much spinning, I did industrial spinning while at University, and made a spindle many years ago when my mum was teaching a project on the Vikings in Ireland with her class in school. I spent an afternoon with her Primary 5 class while we explored spinning using the spindle. Some of the children were really good at it.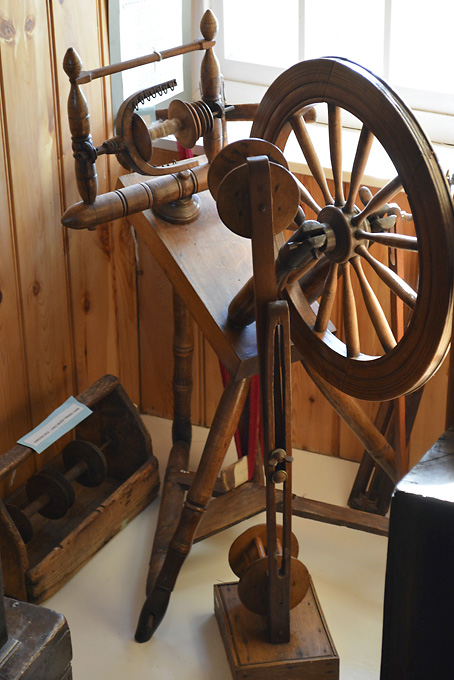 Tangwick Haa Museum had several beautiful old examples of spinning wheels. They really are a thing of beauty. Gorgeous dark wood, smooth and polished through years of use. I've always loved handspun yarns and have a few gorgeous skeins in my stash that have been spun by other people. Gosh, I'd love to try spinning on a wheel, to see if I'd enjoy it.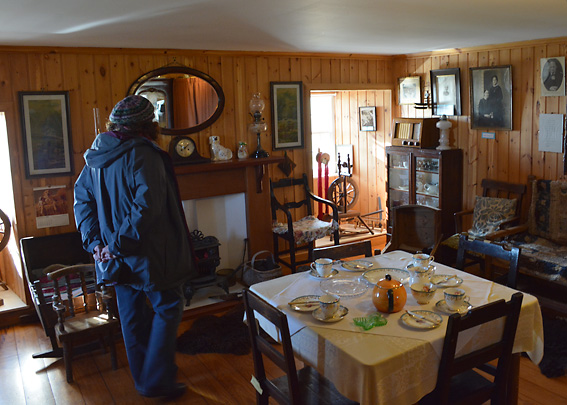 Above the picture rail all around the upstairs room gorgeous sweaters and cardigans were displayed. Fair isle with horizontal stripes, vertical stripes, combined with cables, and lace sections. The most exquisite finely worked lace knitting and an amazing cardigan knit using cobweb yarn. Extraordinary workmanship.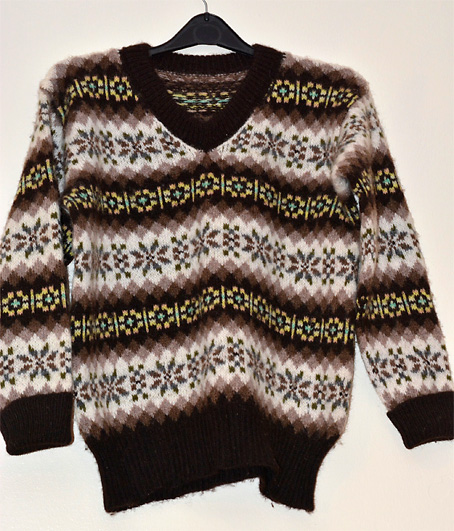 I loved the fair isle sweaters that were knit using a high contrast of natural black and white. The strong contrast caused the fair isle motifs to really stand out. Although the sweaters and cardigans have real impact, my heart is stolen by the smaller pieces of knitwear, gloves, socks, mittens, hats and scarves. I love these smaller exquisitely designed and knitted pieces.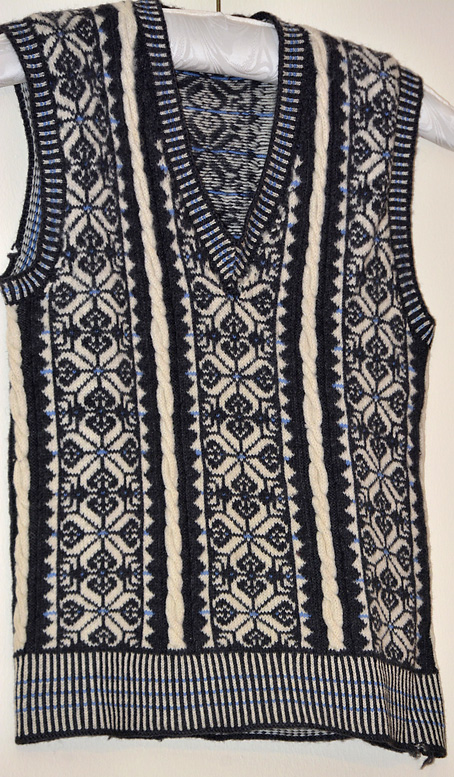 Tangwick Haa Museum was originally built in the late 17th Century for the Cheyne family. After it had fallen into disrepair for some time the local community, with a lot of hard work, turned it into a wonderful museum telling the history and hardship of life in Northmavine.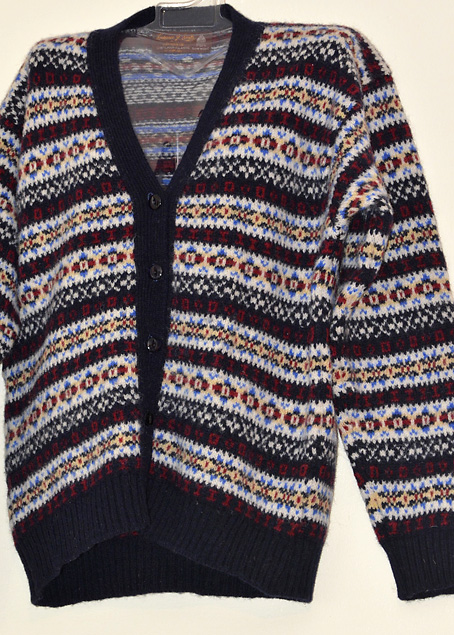 This small museum is so worthwhile visiting but as it isn't open all year round, you should check opening times before you visit.