At the end of February I asked what my nieces would like for their birthdays that are two days apart in the third week of March. After some thought, Tara asked if I would knit her a shawl.
She remembered trying on the Chadwick Shawl that I knit for my mum a couple of years ago. She was hoping for a shawl that she could drape over her shoulders when she is sitting working at her desk in her bedroom and pin in place with a shawl pin!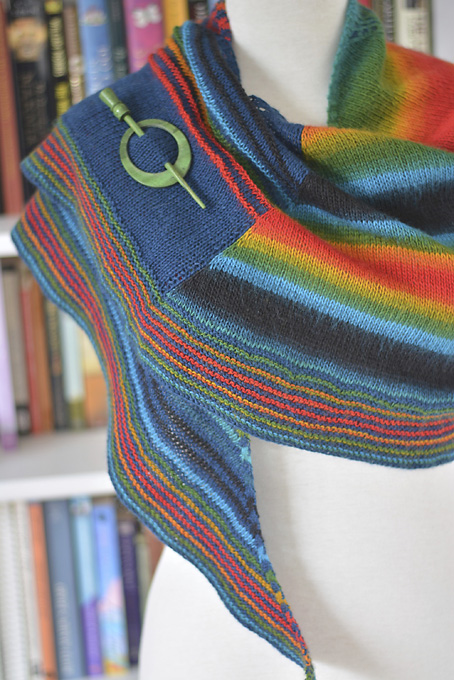 She is a very creative girl and spends a lot of time drawing, cutting, and designing things whilst sitting at her desk.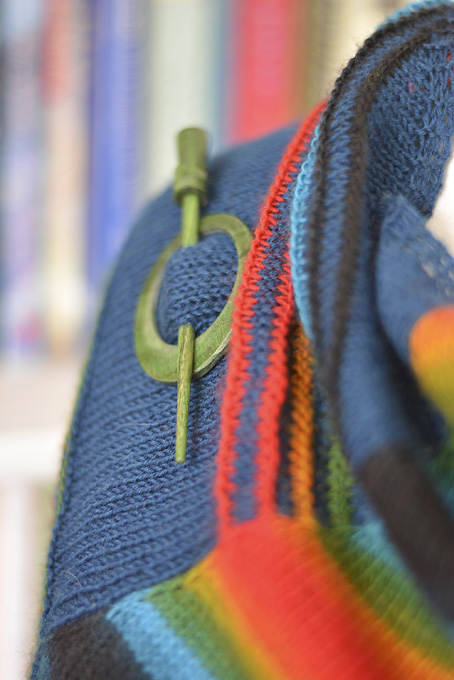 I asked what colour she would like her shawl to be and the answer came back that she'd like red, orange and yellow. These are lovely vibrant colours but I couldn't quite imagine a shawl that was only in these bright rich tones.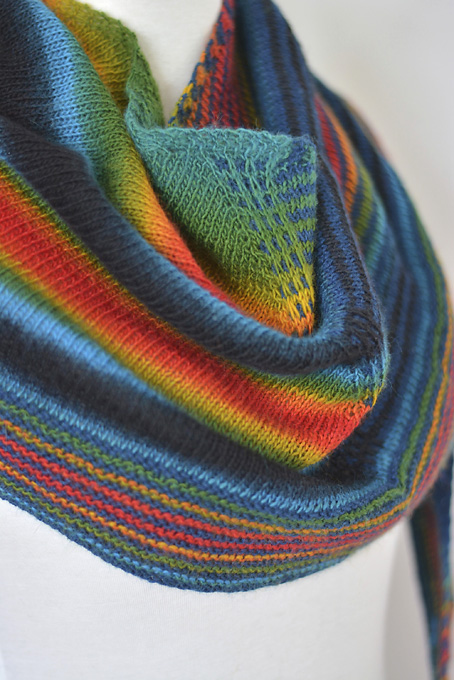 So early in March, my mum and I had a look at the different colours of yarn in the Knitting Squirrel's shop  and after several hours of narrowing down the different contenders we finally chose Zauberball 1564 Tropical Fish and contrasted it with Petrol 5187 an Opal Solid Colour that looked amazing together.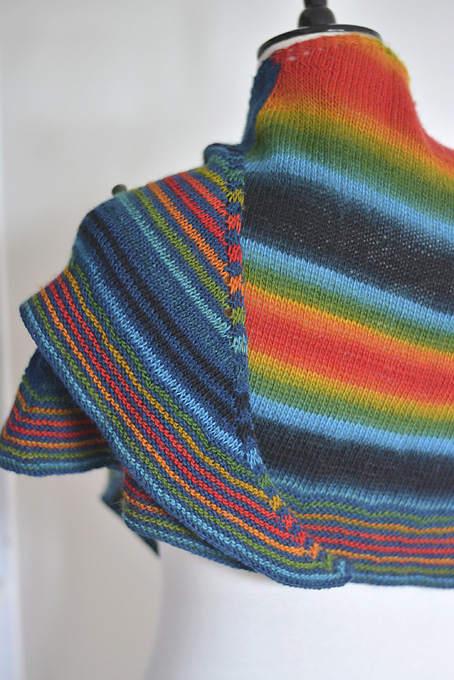 Deciding that I'd knit Chadwick designed by Stephen West of West Knits. I cast on using 3.75mm Addi Click circular bamboo needles. And knowing that this was going to be a mad dash to knit the shawl, block it and have it totally dry before posting it to Brittany to have it arrive in time for Tara's 9th birthday.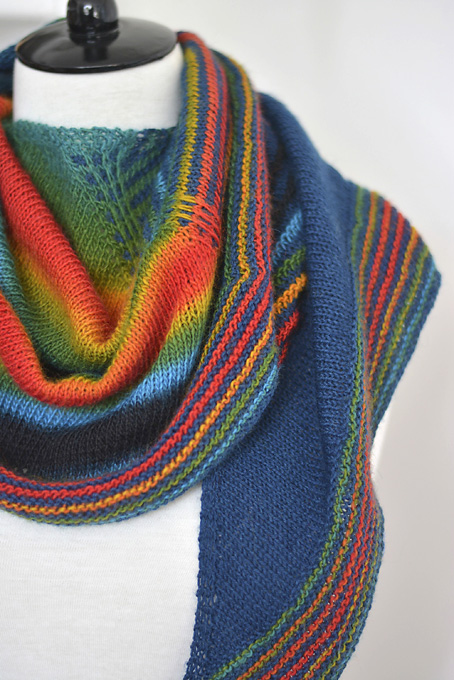 I knit Tara's Chadwick a bit larger than the Chadwick in the pattern. In Section 2 I did 7 ridge rows instead of 3 (partly because the first two ridge rows were black set against the petrol and didn't really stand out enough). I like an uneven number or rows and 7 just looked right to me. Then I continued section 2 doing additional rows here as well. I wanted to get a good balance of the plain petrol section with the garter ridges.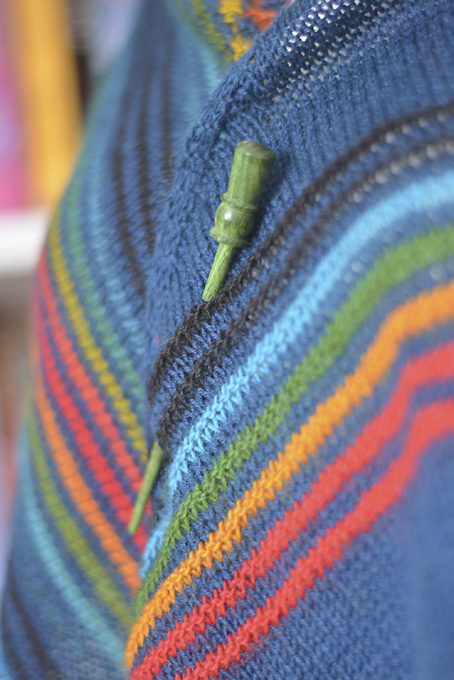 When it came to Section 3 the garter stitch border I knit extra rows of this as well. Partly because I wanted to use up as much of the Zauberball as possible, but also, I was hoping I'd be able to finish with a turquoise row before doing the last row and casting off in the petrol. I just created a nice balance to the edging. After I'd finished the shawl I had 3 grams of Zauberball Tropical Fish and 23 grams of the Opal Solid Petrol left over.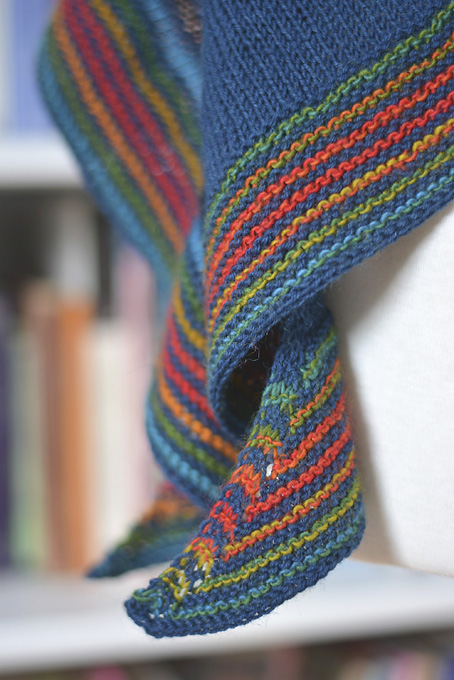 I started knitting Chadwick on Thursday afternoon and knit until the early hours… Then I got up on Friday and after Bene and I had walked on the beach for an hour and a half, I continued knitting. By Saturday morning, I was up very early as I was going out with my friend to the garden centre and I really wanted to finish knitting Chadwick.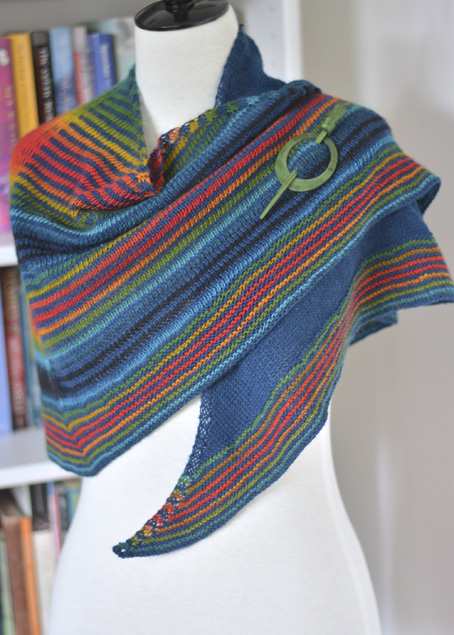 At 10:10 am I looked over at Neil and said, it just needs the final border. In the pattern Stephen says to knit Section 2 until it measures 12″ (30 cm). I knit Tara's Shawl until Section 2 measured 14.5″ (36.5 cm). Then I was ready to start Section 3 for the garter border. Knitting resumed after dinner on Saturday evening. It is surprising how long it takes to knit the longer rows in the garter stitch border.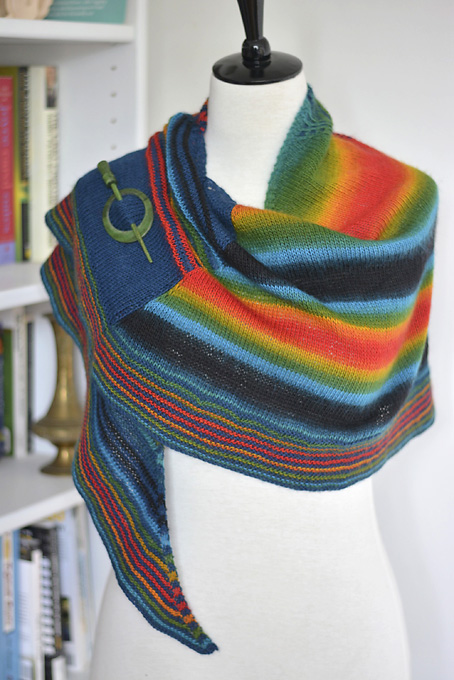 Finally, on Sunday morning (Mother's Day here in the UK) I was ready to cast off. I sewed any loose ends in and left the shawl to soak for 30 minutes in warm sudsy water. After rinsing the shawl a couple of times, I rolled it up in a towel and gently pressed most of the water out of it. I laid my mats out on the bed and carefully put my blocking wires along the top edge which I wanted to flatten out. I allowed the the tips of the shawl to curve as I love a little bit of curl at the ends of a shawl. The photo below shows where I stopped the wire going through the top edge. The outer garter stitch edge was pinned on the inside of the final garter stitch border as I wanted a smooth outer edge.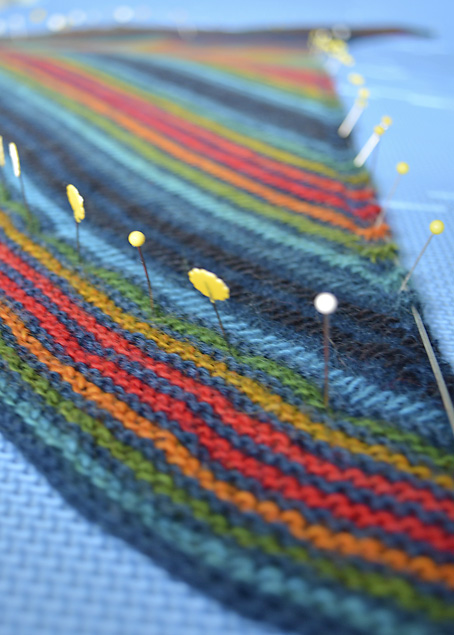 When the shawl was finished I chose a lovely green wooden shawl pin – Knit Pro Symfonie Misty Green Omega – which looked wonderful with the shawl. I thought the wooden one would be better than a metal shawl pin as I didn't want Tara to end up accidentally stabbed by it.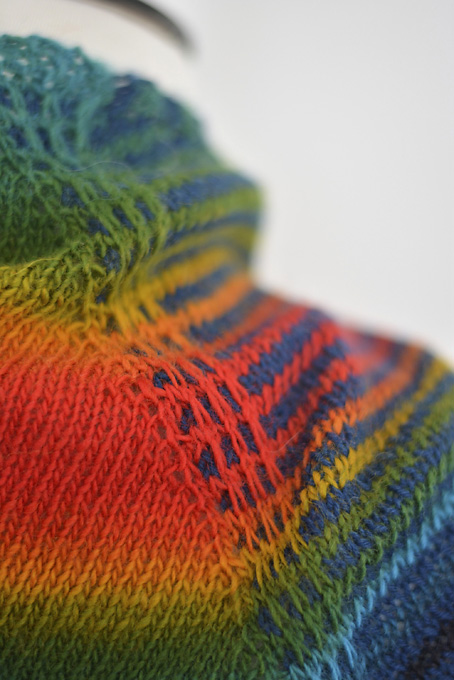 My sister was visiting Tara on her birthday and said that she really loved the shawl and tried it on in every way that she could think of holding it with the shawl pin.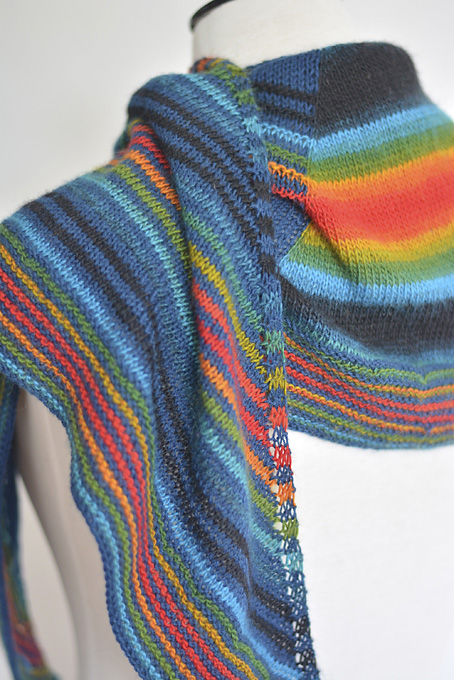 She wore her shawl to school the next day and was sad to lose the oval part of the shawl pin, but another child in a different class found it and as everyone had been admiring the shawl in the playground the missing part of the shawl pin was returned to her.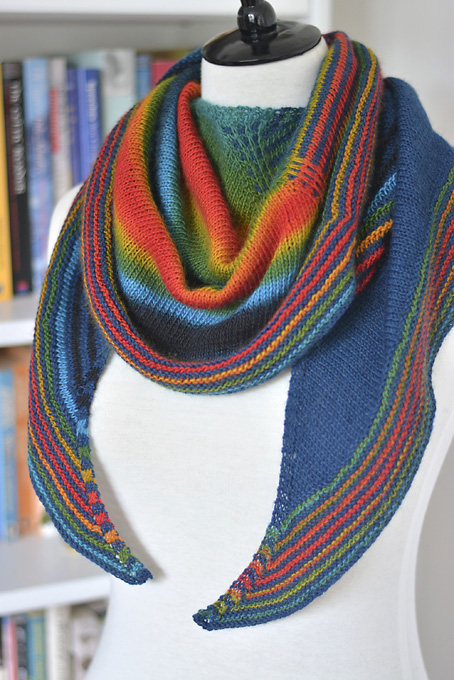 It is always nice to know that a present is really appreciated! Tara looks so happy wearing her new shawl.
Pip told me "Tara bought a lovely pin for the shawl at the fair (like a big nappy safety pin with a sparkly heart on one end) as think she's afraid of losing the other one."
Sounds perfect!
Sock yarn is a great choice for a shawl that is going to get quite a bit of wear.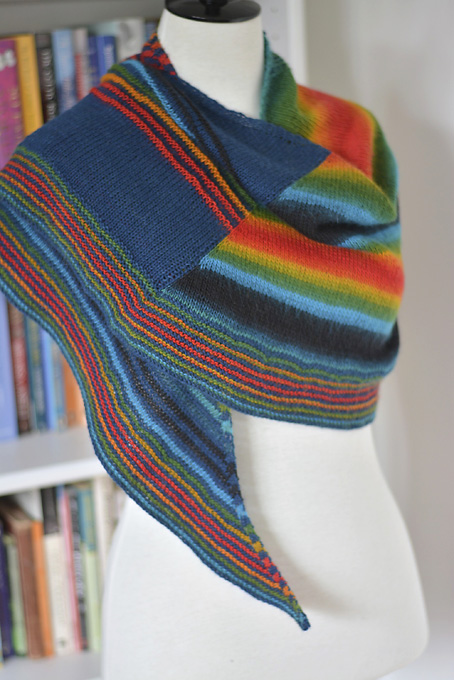 I'd love to hear about your yarn and colour choices when you've made Stephen West's Chadwick Shawl. I look forward to reading them in the comments or on Knitting Squirrel's Facebook page.