The Shop on Blossom Street is the story of four very different women who develop a friendship through the knitting club of A Good Yarn knitting shop.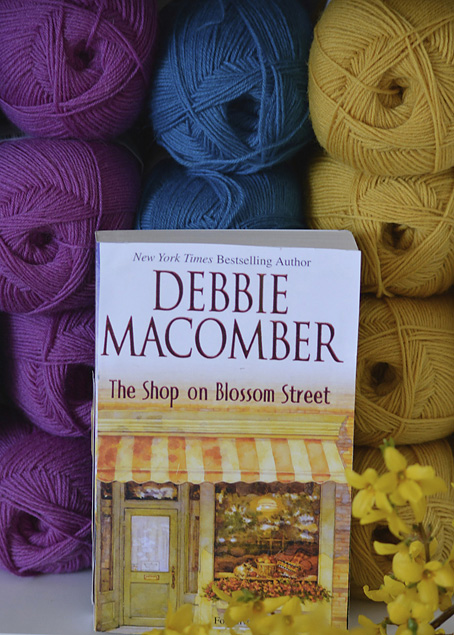 Lydia Hoffman has fallen in love with an old shop on Seattle's Blossom Street.  So she decides to fulfil her dream of opening up a yarn store and moves in to the apartment above with her cat Whiskers.  She is not put off by the redevelopment works that have closed one end of the street – it means that the rent should be lower for a while!  The little shop reminds her of a bicycle shop that her late father used to run and it just feels the right time and place to start her new business venture.
Her elder sister Margaret pours scorn on the idea.  She tells Lydia that she is squandering the money that she has put into A Good Yarn.  Nevertheless Lydia is  tired of putting her life on hold and opens the shop in early summer.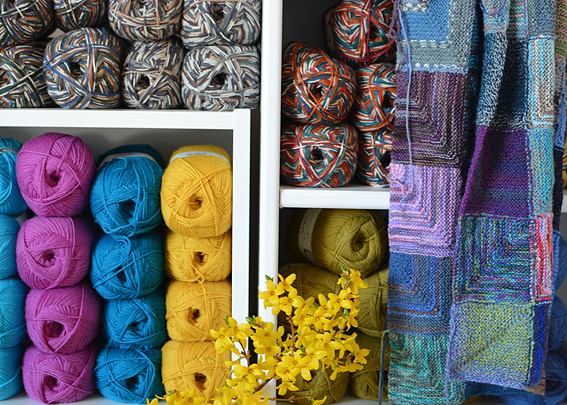 Lydia is thirty years old and not the carefree girl of sixteen she was before her battles against two bouts of cancer.  One result of her illness was that she had to undergo a lot of cancer treatments.  Another result however was that Lydia has become an accomplished knitter and has even taught knitting techniques to others.  Due to her illnesses Lydia has had no long term friendships or romances and she is somewhat inexperienced in this regard.  She decides to create a knitting club, to pass on what she knows and to make some friendships of likeminded people.  However, the three women that sign on for her first knitting class are not what she expected and could not be more dissimilar.
Carol Girard is desperately hoping for a baby.  After giving up her high-powered job in finance, and trying two courses of IVF, she knows that there is one final chance for her and her husband Doug.  That is why, when she spots the knitting club sign with its first project a baby blanket, she just can't ignore this what she believes to be a positive sign.
Jacqueline Donovan is in her mid fifties and is the wife of the architect who is managing the Blossom Street redevelopment.  It would appear, from the outside that she has a wonderful life.  She has plenty of money, a wonderful house and is a member of the Seattle Country Club.  Jacqueline's personal life, on the other hand, is miserable and lonely and she hopes by knitting a baby blanket she can start to mend bridges.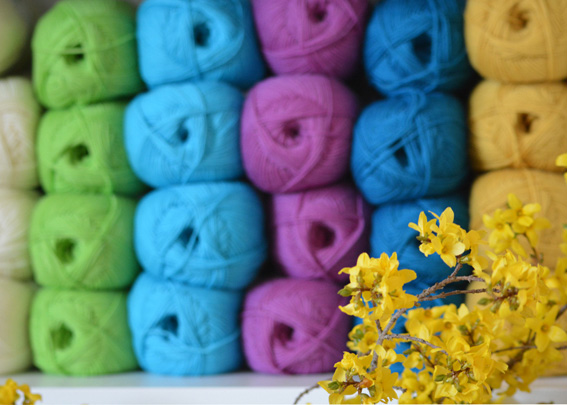 Alix Townsend is a young woman who sports spikey purple hair and a dog collar.  She works in a somewhat shoddy video shop and shares a small rented apartment both on Blossom Street.  Alix  has had a difficult upbringing and wants to use her knitting time against court-ordered community service.  She rails against the redevelopment of the area, which would put the rents out of her reach.  But it is not just this that she has against Jacqueline Donovan.  Alix and Jacqueline are so different that they do not seem to agree on anything.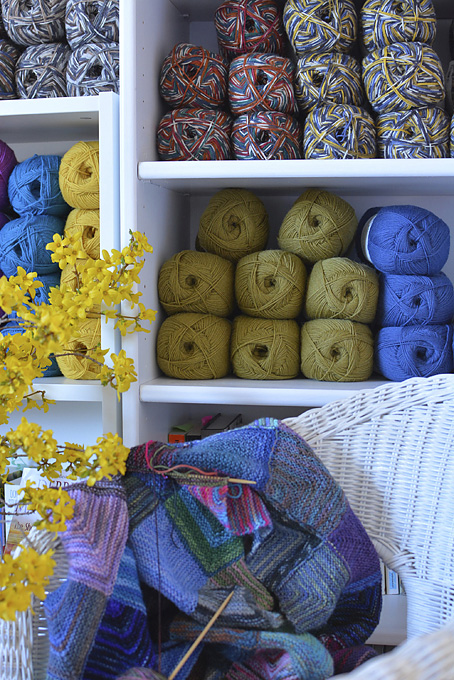 The Shop on Blossom Street is the first of a series of novels by Debbie Macomber about Lydia Hoffman and A Good Yarn.  I read the Kindle edition of this book and I really enjoyed how the main characters developed throughout the story.  Debbie has a wonderful way of understanding how different women think. The story's potential love interests are delicately portrayed by the author and I also like the way that she has referenced a real designer for her knitting project (the pattern for the baby blanket is included in the book). There is not a lot of knitting actually described in the book, although I did like the short quotes in various parts of the book from distinguished knitters.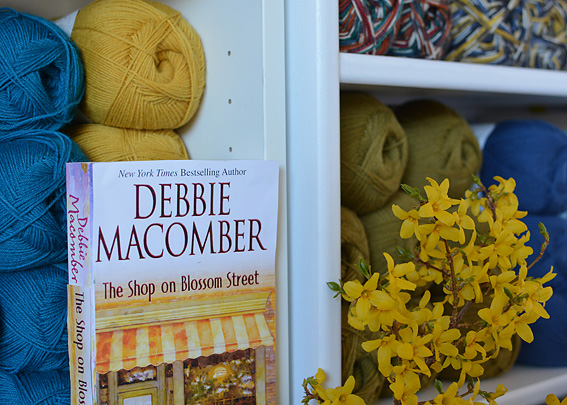 I wish I had Lydia's knack of making a successful business so quickly.  With little consideration except for an ad in the yellow pages, some local flyers and a posters for the knitting class in her shop window she sells out her entire stock in six weeks!  Of course, if she didn't sell yarn so quickly, Brad the handsome delivery man wouldn't call round quite so often!
The Shop on Blossom Street is a book that addresses real life issues as faced by today's women; it has a message of hope through the adversity that the main characters tackle in the novel.  I intend to review the rest of the Blossom Street book series.  Look out for my review of the second in the series "A Good Yarn" next month.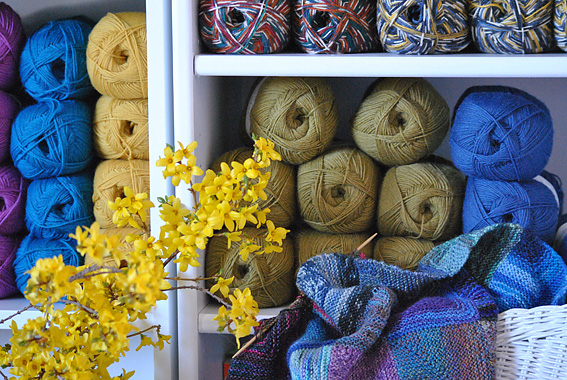 The beautiful WYS Country Birds, Spice Rack and Sweet Shop sock yarns are the lovely backdrop for these photographs. The 'baby blanket' is the mitred square blanket that I am knitting using sock yarn.