I came across a wonderful idea for a scarf while browsing Pinterest that really appealed to me. Sky Scarf involves watching the weather. A cool idea as discussing the weather is a national pastime in the British Isles. Each day you knit a stripe in colours that match that day's sky/weather.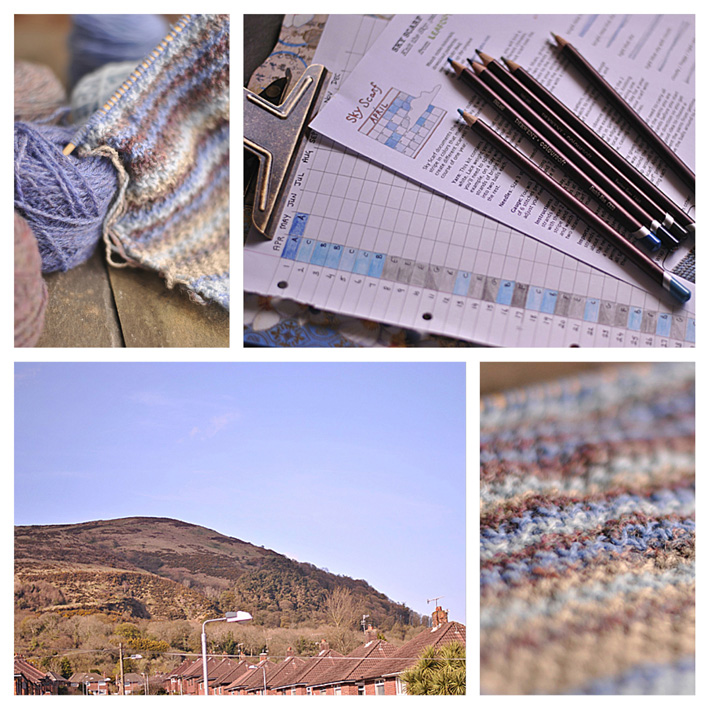 The sky can change from moment to moment let alone hour to hour here in Northern Ireland. So, I decided that I'd note how the Sky looks above the Cavehill, every morning, when I open my bedroom curtains. I colour the appropriate block on my daily weather chart. I wanted to keep the randomness of the daily weather. Although, the sky can look very different depending upon which window I look through and/or the time of the day. Then I decided that looking at the sky over the Cavehill at approximately the same time each day would be the best solution. Capturing a moment in weather time in an otherwise changeable day.
I will see the amazing changeability of the sky immortalised in my Sky Scarf. On one morning, we may have blue sky, rain, rainbows, pale blue sky with white fluffy clouds and hail stones (all experienced on the same walk a few days ago). As Belfast is situated on the coast we also frequently have fog or low lying cloud sweeping in from the sea and covering the Cavehill. I think it will give a wonderful variety of sky colours to knit. I chose the sky above the Cavehill because it is a place that is very close to my heart.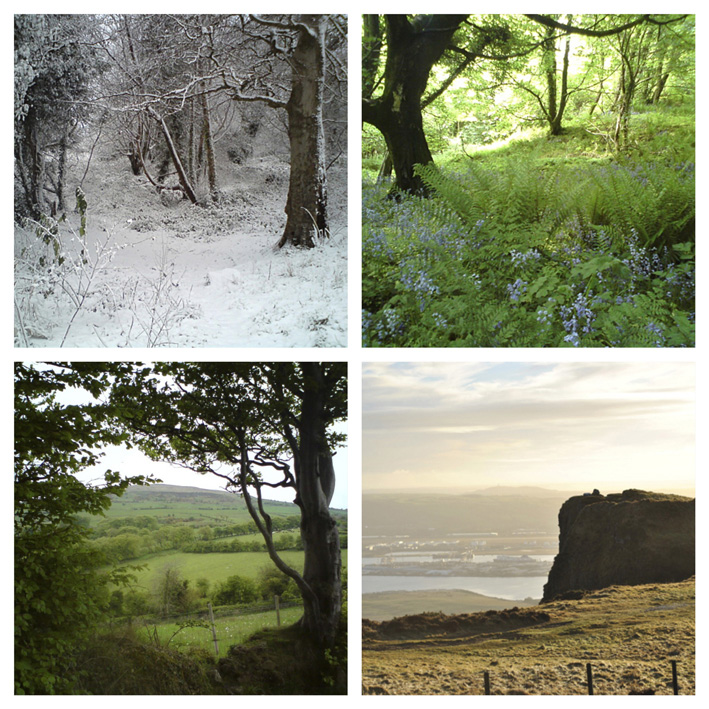 I have enjoyed many many hours walking on the Cavehill over the years. When we were children, my mum, brother, sister and I walked and climbed every old path (many of which are long grown over with brambles) through the woods; we enjoyed May Day picnics in the bluebells for my sister's birthday; clambered up into the caves; walked to the top; lay beside ancient stones gazing at the sky; walked through the old limestone quarry; sat in the ruins of long dead villages and pondered what had happened to the people who once lived and worked there; rolled painted boiled eggs down slopes; used plastic bags as makeshift sleds in the snow; looked at the view from McArt's Fort; and watched the seasons of many years pass by. So many memories are tied up with the Cavehill and I have spent most of my life living within its shadow. So, this will make the Sky Scarf over Cavehill full of memories for me. I find myself drifting into thought while I knit each row and this fits rather beautifully into the essence of the conceptual knitting project.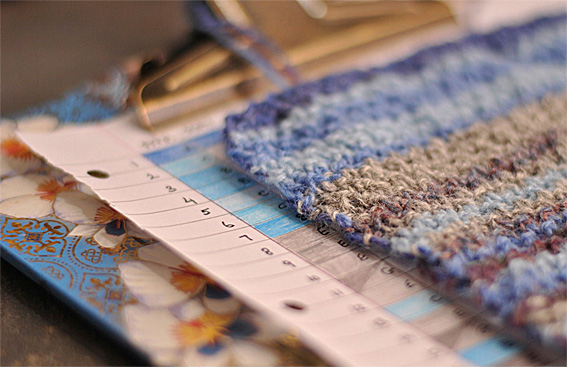 The Sky Scarf designed by Lea Redmond at Leafcutter Designs is a conceptual knitting project. I've never tried knitting a conceptual project before and wasn't completely sure what the term meant. The Sky Scarf instructions are available for free on Lea's website Leafcutter Designs.
The Conceptual Knitting patterns… are creatures of an entirely different sort… you'll need yarn, needles and basic knitting skills. But most importantly, you'll need a sense of whimsy and adventure. These surprising patterns will inspire you to look out your window… In order to knit these unique one-of-a-kind garments, you'll turn something as simple as a scarf into an unexpectedly storied object. Lea Redmond
Of course, I just couldn't resist casting on two versions of the scarf.
I am knitting one Sky Scarf using gorgeous Shetland wool from my stash. A mixture of Jamieson & Smith 2ply Jumper weight and Jamieson's Shetland Spindrift. Both yarn ranges are 100% shetland wool and come in an amazing choice of colours. I have added an additional middling shade of grey to the colour range suggested in the Sky Scarf pattern. We get so many grey days that I wanted to be able to distinguish between a dry dull grey day, a drizzly grey day, and a day with heavy rain or storm clouds. I chose grey wool with a hint of mauve as our darker grey skies often have a touch of mauve in the clouds. They are seldom just grey. I am knitting the shetland wool Sky Scarf on 3.75 mm double pointed needles.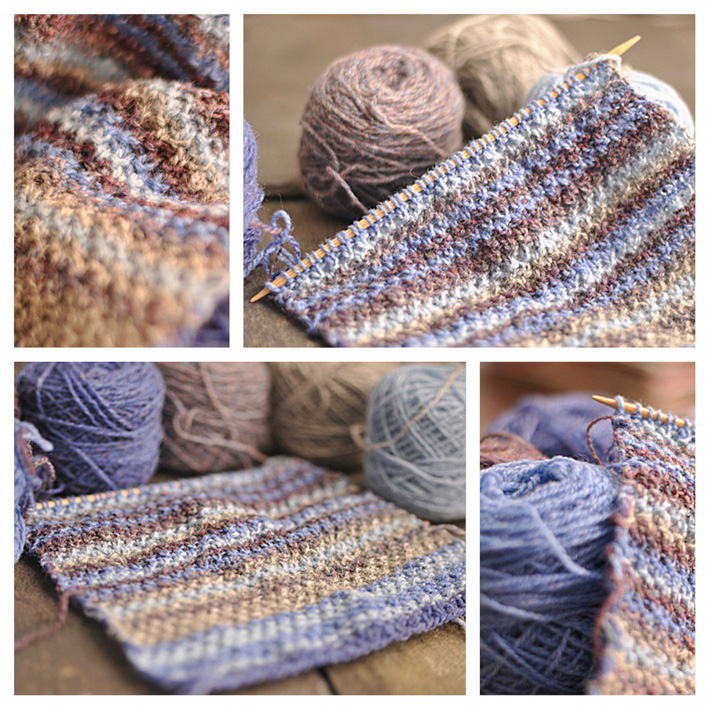 The second version of the scarf is be knit from Norwegian Garnstudio Drops Silk Tweed yarn bought from SKD Yarns (although I don't think they carry this range of yarn anymore). This attractive yarn (52% silk/48% lambswool) has been in my personal stash for several years and I really wasn't sure what to use it for as I just have one ball of each colour. It does feel rather rough to knit with and I am hoping that it will soften considerably when I wash it. I know that the Shetland wool will soften and bloom when it is washed at the end. This tweed yarn seems to be knitting as DK weight. I am using 4 mm double pointed needles for the silk tweed Sky Scarf.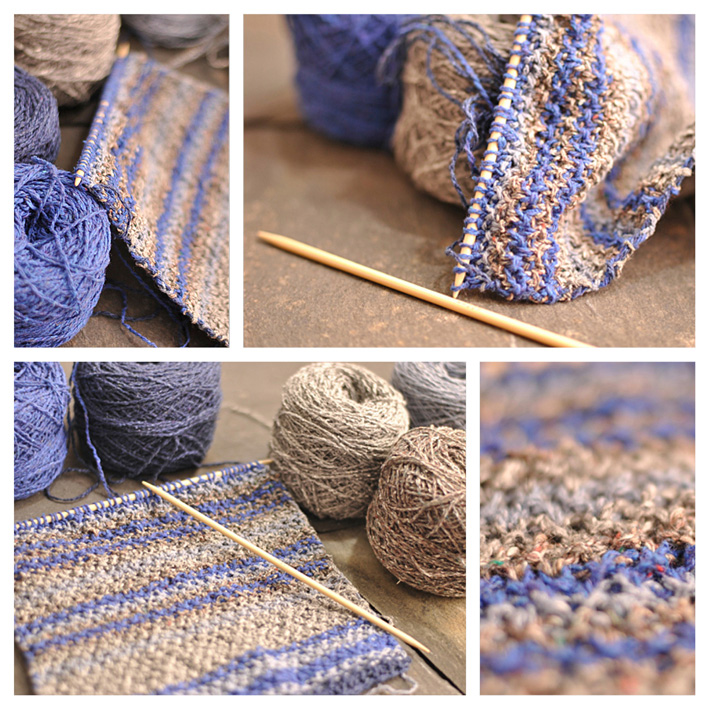 I decided to carry half of the yarns along each side of the scarf. As I'm not using the specified lace weight yarns but heavier 4ply and DK yarns, it didn't look attractive to have them all travelling up one side when I was knitting the swatches. As I needed to be able to start the next row from either side, garter stitch wasn't really suitable for the scarf anymore, so I chose double moss stitch. The great thing about double moss stitch is that it is really easy to keep the pattern correct. I am still working two rows per day in the double moss stitch. I catch the "travelling" yarns on the edge of every row. I'm using double pointed needles as this allows me to be able to work from either side depending upon which colour I need to work in next. The only slightly problematic thing about this project, is having to untangle the yarns every time I pick up the projects.
I cast on my Sky Scarves on the 1st April and the photos show them on the 30th April. I added the appropriate colour as it happened in the weather. Strangely, I have ended up with the three lighter colours being carried up one edge and the three dark colours running up the other edge. In the end, what has been tested most with this project, is NOT being able to knit lots of rows at the same time. I have realised how impatient I am to see how a project is going to look, and only knitting two rows a day on each scarf is surprisingly difficult.
On the 30th April the shetland wool scarf measures 17.5 cm (6 3/4″) long by 18 cm (7″) wide while the heavier weight Silk Tweed scarf measures 18.5 cm (7 1/4″) long by 20 cm (8″) wide. I shall knit the scarves until I run out of yarn, not sure how many months I will have. I have allowed for 9 months on my daily weather chart. So I'll revisit these scarves on the blog later in the year.
Interesting Links