Have you ever wondered what is the most comfortable basic hand knit sock?
I have.
It is a question that has often caught my imagination as I pondered it. I suspect the answer to this question may be different for each of us. Okay, I know for some of you, this may sound obsessive. But honestly, sock knitting is a little addictive to those of us who have caught the sock knitting bug.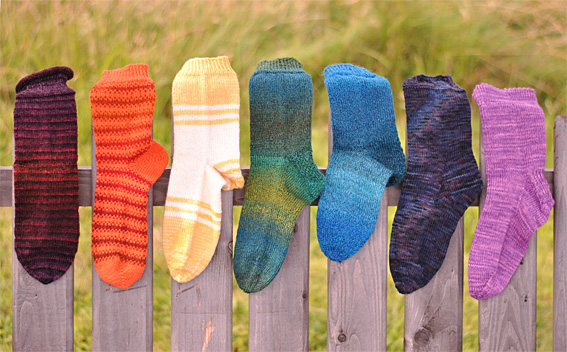 I offer no excuses. I love knitting socks. I've knit socks for my family as Christmas presents as well as knitting socks for myself. I've been knitting socks for a long time.
And if you are anything like me, you end up having favourites. Socks that once they are washed and dried, you immediately wear again, and sadly, they are also the first ones that wear out. But, I asked myself, do I keep wearing these socks because they are the perfect sock for me, or is there a better basic sock out there that I have not tried knitting?
So I set myself a goal. I wanted to try different cuff, heel and toe combinations to see if I could find the answer.
I started designing and knitting the Rainbow Socks Collection in the Summer with this question in mind.
Choosing a Colour Theme
When I decided to knit the next few pairs of socks all differently in an attempt to answer this question, I thought it would be more fun to have a colour theme.
I didn't want to knit every pair of socks using the same colours; I wanted to have my sock knitting remain interesting and fun.
Like you, I also have favourite colours. Anyone reading the Knitting Squirrel will have realised that I've a penchant for purples, violets and blues, deep teal and turquoise.
So I decided to stretch myself a little and set a theme for my sock knitting experiment. A rainbow of socks. Each pair of socks would be one of the colours of the rainbow; red, orange, yellow, green, blue, indigo and violet. And each pair of socks would be knit using a different heel and toe combination.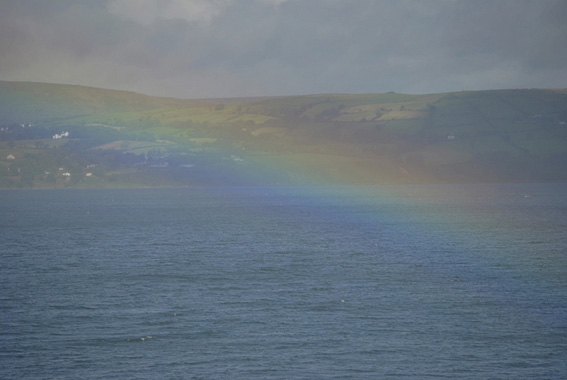 Not the bright clear rainbow colours but slightly earthier tones of the landscape viewed through the rainbow.
I struggle to use orange and yellow, partly, because they are colours that don't really suit me. But this isn't so important when they are socks.
Working on the Rainbow Socks has been a fascinating experience and I look forward to sharing my journey into finding the most comfortable basic sock pattern. I'd love to hear about your favourite basic sock patterns and which ones you find most comfortable to wear.
Choices of Yarn
"Isn't it awful that cold feet make for a cold imagination and that a pair of woollen socks induce good thoughts!" – Franz Grillparzer (1791-1892) Notebooks and Diaries 1819.
We are spoiled for choice with the amazing sock yarns that are available.
They come in a kaleidoscope of colours, solids, semi-solids, hand painted, printed, self patterning, and tweedy. Like painter's mixing their paint palette, we collect a wide selection of sock yarns in vibrant colours to choose from.
But really, although we love choosing the colour, it isn't the most important factor we should be considering when we are looking at sock yarn. The fibre content of the yarn is more important. We need to look at the yarn's twist and the number of plies.
It really is better not to use pure wool sock yarn unless it is superwash wool. The ideal sock yarn has some nylon added for extra strength. Some sock yarns blends have merino wool blended with luxurious fibres like alpaca, silk and cashmere as well as the added nylon. This can give the yarn a wonderfully soft feeling to the touch, yet retaining the strength required for knitting socks.
If you also love knitting socks, you'll have noticed that the sad fact of life is after a while, they start to wear out, shrink, colours fade, pilling occurs and the inevitable first hole appears (for me that is usually in the toe).
Socks experience a lot of wear and tear as well as frequent washing. While wearing them there is a lot of friction between our feet and our shoes as we walk around. The friction can cause felting and pilling to the knitted sock fabric. For this reason, bespoke sock yarns should be tightly spun rather than a soft single ply. This is because loosely spun yarns are more inclined to pill. The pilling can cause the socks to look scruffy and it wears away the fibres in the sock. Having said this, I do rather like using a slightly softer spun yarn along with a yarn that has a tighter twist when knitting my socks. I'm not always wondering how long my socks will last, as I enjoy knitting them and having one wear out, gives me an excellent reason to cast on for the next pair.
The right sock yarn choice can be strong yet soft and breathable. And, I must admit, I prefer my sock yarn to be machine washable.
Washing Hand Knit Socks
It is worth choosing the yarn carefully. It really is easier if your sock yarns are machine washable.
"Even if you don't intend to ever machine wash your socks, it's going to happen." – Kate Atherley, Knit Edge Magazine Issue 3
Hand knit socks get a lot of wear and tear. They are the only knitwear that we wash every time we wear them. For this reason, I prefer yarns that don't need to be hand-washed. When I first started knitting socks, I bought some beautiful hand dyed wool sock yarn, that unfortunately, needed to be hand-washed. How did this turn out for me? I thought I'd remember which ones were pure wool and needed special care. I didn't. Resulting in a selection of beautiful but shrunken and unwearable socks. Such a shame. The yarn could have been knitted into beautiful shawls, scarves, hats and fingerless mittens. Instead, they either languish in the sock drawer or have been thrown away.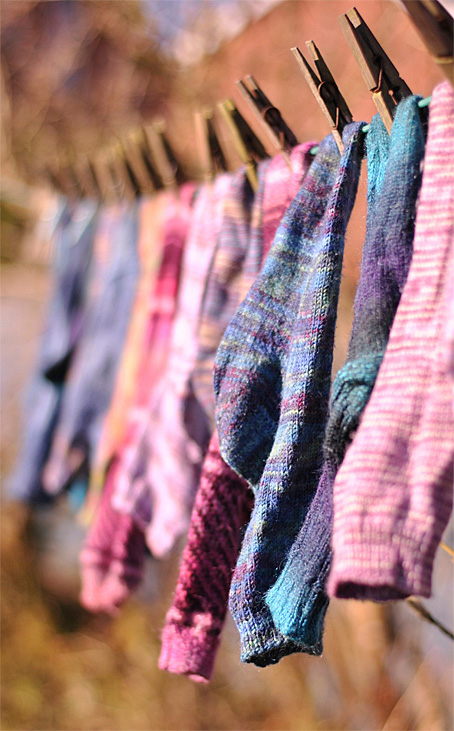 After machine washing my socks I prefer to dry them outside on the line or when it is raining (often in my part of the world) I pin them onto the clothes rack.
Never Too Many Socks
I looked at the rather scruffy contents of my sock drawer and knew I needed several new pairs of socks. This was the perfect excuse to try to find an answer to my quest for the perfect basic sock.
Yes my socks are shrinking and they are getting holes in their toes. I suppose I could start darning the hole or searching for the remains of the ball of wool (if I haven't already used it in a different project). But it is slow unpicking the toe (particularly if it is a little felted) and reknitting it. I should, I suppose, as the socks took time to knit. But as a diabetic, I have an excellent excuse for not darning the hole. Any slightly rough area that could cause rubbing on my feet should be avoided.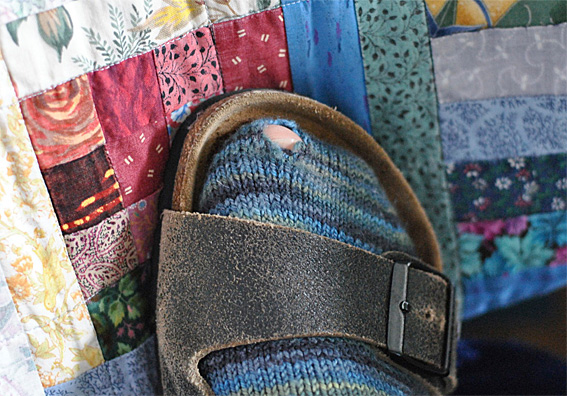 I prefer to look at the wearing out of my socks as a wonderful sock knitting opportunity. An excuse to open the boxes of sock yarn, touch it, ponder on the lovely colour combinations, choose a sock pattern and cast on. If they didn't wear out I wouldn't really have the excuse to keep knitting new ones.
"I was surprised recently to discover that the majority of sock knitters darn socks the way I do. Considering how many hours of hard work are in a pair of socks, there are not many knitters who would merely throw a pair away because they have a hole in them. Most use my darning technique, which consists of loudly exclaiming DARN and a few other choice expletives before dropping them in the garbage." – Stephanie Pearl-McPhee
I've knit lots of different styles of sock. Some have been more successful that others.
But all have been worn on a regular basis.
An Introduction to the Rainbow of Socks
I'll go through my choices of yarn, cuff, heel and toe for each of the rainbow socks. I wanted to choose combinations that looked nice and resulted in an elegant finished sock. This is why some of the socks have matching toes and heels. I opted for a less choice in the cuffs. It should also be noted that all of the socks are top down patterns.
Red Rainbow Socks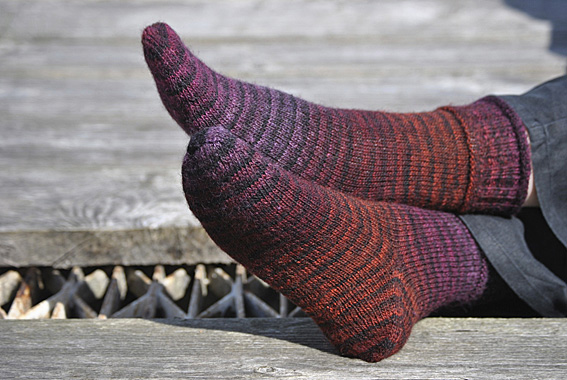 I used Lang Jawoll Magic Stripes to knit the Red Rainbow Socks. I loved the self striping pattern in this yarn and chose to knit an Afterthought Paired Decrease Heel so that the repeating pattern would not be broken. I used a matching Paired Decrease Toe for the sock as liked the balance that having matching heel and toe would bring to the socks. The Cuff curls at the top followed by a knit 2 purl 2 rib.
Orange Rainbow Socks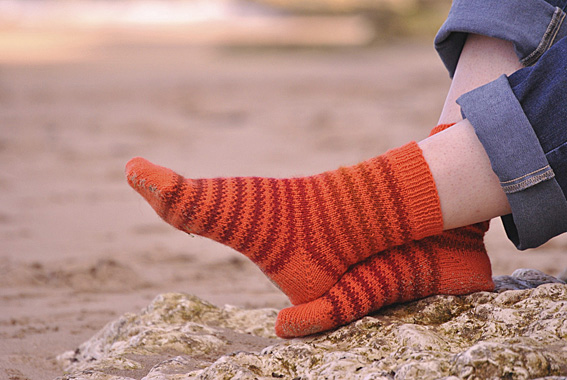 The Orange Rainbow Socks. As orange is one of the colours that I struggled with, I softened the look of the Opal Solid (Uni) Orange by knitting it with a ball of Zauberball Burnt Almonds in a simple fair isle stripe. I chose to knit the cuff, heel and toe using the orange yarn. The Cuff is a knit 1 purl 1 rib. I used a No Wrap Short Row Heel and tweaked the heel to create a No Wrap Short Row Toe. The heel had extra rows added as previous times I have used the heel it was too shallow for my heel. The sock is finished by grafting the toe stitches to the foot stitches across the top of the foot.
Yellow Rainbow Socks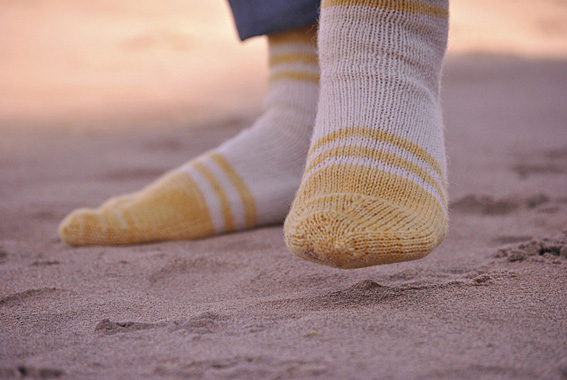 Another tricky colour for me although I love the semi-solid hand dyed yellow sock yarn that I bought a long time ago on Etsy. I didn't have enough of the yarn left to knit the socks so combined it with a 4 ply Diploma Gold in Ivory. I love the stripes. This sock starts with a knit 1 purl 1 rib for the cuff. I used an Afterthought 6 Section heel and an Afterthought 6 Section Toe based on the heel in Cat Bordhi's book 'Personal Footprints for Insouciant Sock Knitters'.
Green Rainbow Socks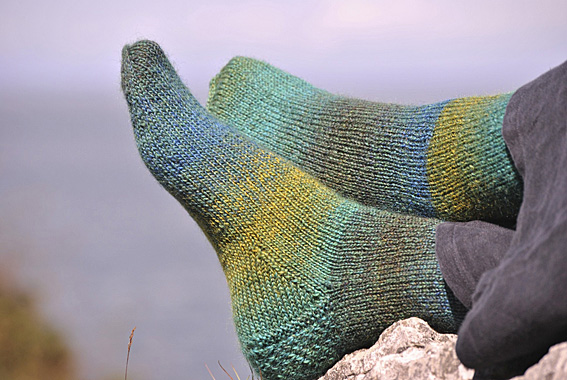 For the Green Rainbow Socks I used a Regia Hand Dye Effect 4 ply sock yarn in shades of green. The heel is an Eye of Partridge Heel Flap which is turned followed by a gusset. The toe is a Paired Decrease Toe. The Cuff is a knit 1 purl 1 rib.
Blue Rainbow Socks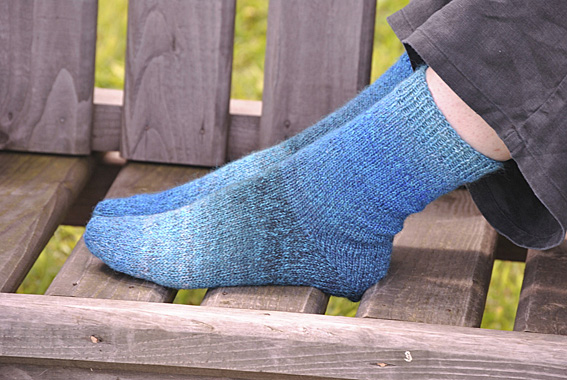 Another lovely Regia Hand Dye Effect 4 ply sock yarn in shades of blue for the Blue Rainbow Socks. These socks have a knit 1 purl 1 ribbed cuff. I used a Wrap and Turn Short Row Heel for these socks and a pretty Star Toe to finish them.
Indigo Rainbow Socks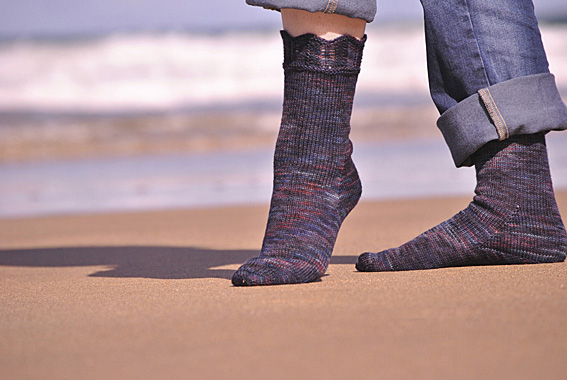 The Indigo Rainbow Socks are knit using Skein Queen's Hand Dyed Superwash Merino – Squash. I started the socks with an attractive Lace Cuff. I used the Strong Heel and finished the socks with a Swirl Toe.
Violet Rainbow Socks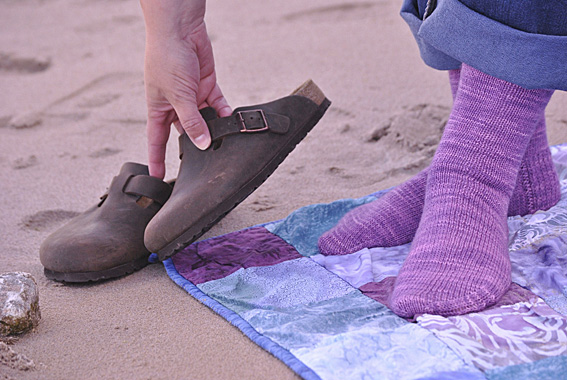 The Violet Rainbow Socks were knit using KS Sock Yarn a gorgeous violet semi solid hand dyed yarn. I chose a Picot Edging for the cuff, a Slip Stitch Heel Flap, turned heel and gusset and the sock was finished with a Classic Toe.
Over the next few weeks watch out for the posts about each individual pair of Rainbow Socks.
Related Rainbow Sock Collection Links
The photographs of the socks were taken at Fallowvee near Waterfoot and at White Rocks both in Co Antrim, Northern Ireland.