I have been pondering a comment that was made to me at a knitting group recently. While I was knitting a sock I was asked the question
"What are you knitting?"
"A sock" I smiled.
She looked at me took a sip of coffee and said,
"I don't do utilitarian knitting, it's a waste of time."
I nodded and went back to knitting my sock.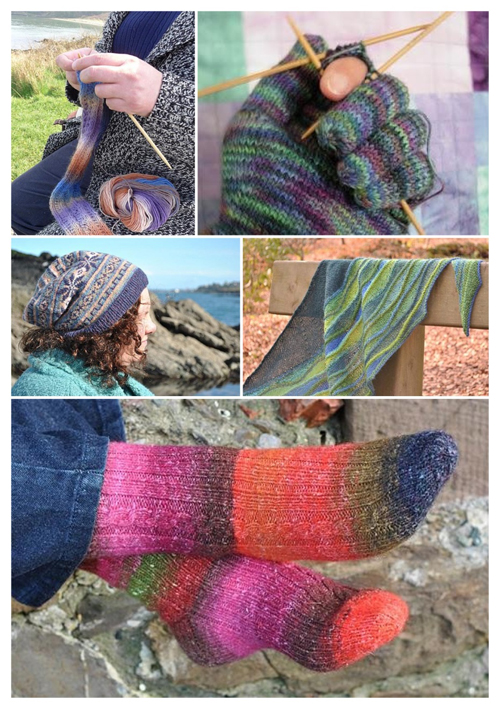 I have been contemplating this small interchange for a few weeks since it happened.
So is life too short to spend my time doing utilitarian knitting?
If you enjoy knitting socks comments from knitters and non knitters can become par for the course. But I've been thinking about what exactly utilitarian means. The dictionary describes a utilitarian object as one made for useful ends as opposed to display or show purposes. A useful thing that is fit for some practical purpose.
So taking that meaning into account I would be happy to come to the decision that I do enjoy utilitarian knitting projects. I enjoy knitting socks. I love knitting something practical. Hand knit socks are useful. They keep my feet warm in the winter. Wick sweat away from my feet in the summer and cushion them as I walk through my life.
But looking at this meaning utilitarian knitting would be any practical and useful knitted object.
A warm woolly hat keeping my ears warm in the winter. A soft scarf swirled around my neck. Gloves keeping my fingers warm. Fingerless mitts to keep my hands warm while I take photographs on the beach in the cold weather. A cabled sweater. An elegant cardigan. Even a knitted toy could be considered utilitarian if you're knitting it for a child to play with. A dishcloth. A hot water bottle cover to cuddle on a cold night.
And the ultimate luxurious utilitarian object a knitted afghan or blanket to snuggle under while reading a fun novel and holding a mug of jasmine tea which is being kept warm wrapped in a knitted mug hug.
So the answer for me is that my life would be too short not to do utilitarian knitting and love every moment that I spend doing it.
Practical knitted objects will make my life and the lives of the people around me more comfortable and cosy. Which is exactly the reason why I do knit.  Every moment of utilitarian knitting is for me time very well spent.