It is wonderful to hand knit a garment which looks beautiful on you.  So, how do you choose colours that enhance your skin tone and look attractive? I find that it is great fun finding which colours look wonderful on you.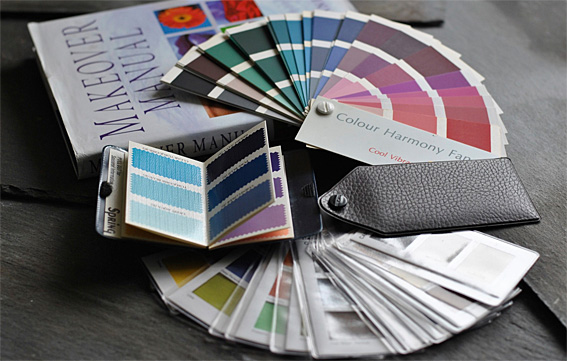 It is particularly important to find out which colours look best on you when you are knitting a new scarf, hat or cowl which will be worn next to your face. There is nothing more disappointing than choosing a beautiful yarn in a fabulous colour, spending many hours knitting the new accessory, sewing in the final ends, washing and blocking the new scarf, standing in front of the mirror and putting the scarf on for the first time… and instead of making you feel wonderful… something just isn't quite right… The new scarf joins your other unworn projects and is then given away as a gift.
No amount of working on mood boards, keeping a colour notebook or learning colour theory is going to help if the beautiful piece of knitting that you are working on, never gets worn, because the colour doesn't suit you.
Think about any garment that you have worn till it was threadbare.
Which garment or colour do you always get compliments when you wear it?
What are your favourite items of clothing?
What are your Favourite Clothes?
Take your favourite clothes out and lay them out on your bed.
Make sure you are wearing no makeup.
Then choose a neutral tee shirt that suits you. For me I find black or white works. You may find that wearing ivory or grey is better for you.
Stand in front of a mirror with natural daylight lighting up your face.
Then drape, in turn, your items of clothing across your shoulders, so that you can see how the colours look next to your face.
It is important that it is day time with plenty of natural light, although dull light rather than bright sunlight is better.
Be really honest with yourself. Write notes of your thoughts and feelings throughout the process.
Does the colour make your skin tone glow?
Does it cause your skin to look dull?
How do you feel looking at your reflection in the mirror?
Do you feel amazing?
For every colour that makes you feel wonderful set the garment into a new pile.
Choose Clothes you Dislike
Like me, you will probably have some items that you put on, then within 10 minutes you are taking it off and choosing something else instead.
Drape this across your shoulders.
What effect does it have on your skin tone?
Does it make your skin look red?  Or sallow?  Or washed out?
Why is the garment unflattering?
Lay the colours that don't make you look good into a separate group.  You could consider donating the items that are particularly unflattering.
Colour Style Image
You may have a set of colour swatches if you have had your colour assessed by a Colour Style Image Consultant.  Many years ago I was assessed and found that I was a Cool Vibrant (Winter colouring).  It was a fascinating process that I was given as a birthday present. Since then I have read a few books on the subject as colour has always been an interest. Most of the books on the subject of colour style analysis show the colours that are within each of their colour families. Each system has a slightly different way of describing the colour seasons.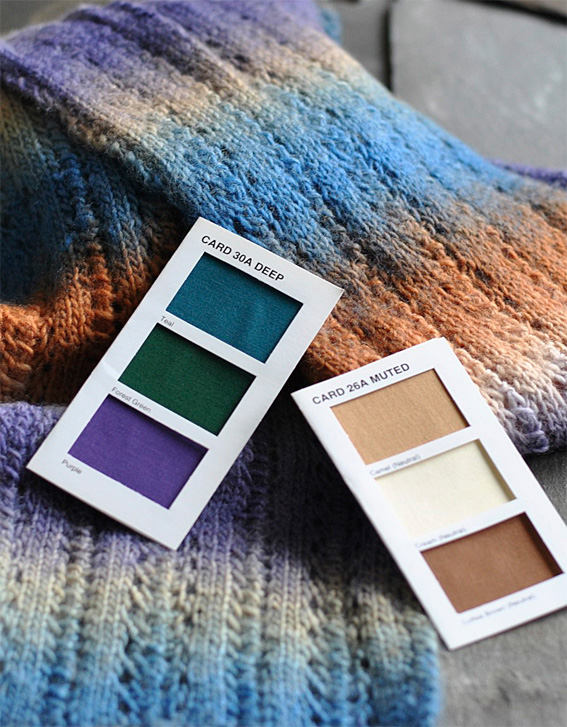 The example in the photograph is the lovely Lace Scarf knit using two balls of Mini Mochi shown with two of the colour cards from my mum's Autumn Palette.
Colour Me Beautiful List
The Colour Me Beautiful colour palettes are:
Light Spring, Light Summer
Deep Autumn, Deep Winter
Cool Summer, Cool Winter
Warm Spring, Warm Autumn
Soft Summer, Soft Autumn
Clear Spring, Clear Winter
A Fun DIY Colour Analysis
Of course, this will not go into the detail of a professional appointment with a Colour Style Image Consultant. However, it is a great way of obtaining a large selection of colours.  Visit a DIY store and pick up a collection of paint sample cards.  In the UK, Dulux  produce a wonderful range of colours on stripe cards.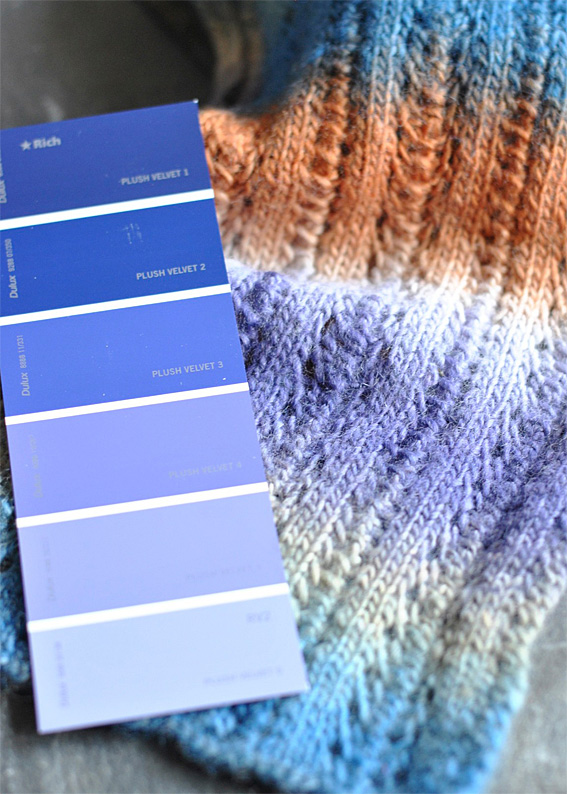 Look at the garments that have been the best colour for you, and match the colour to the colour stripe card (mark the actual colour with an x).  I don't usually cut it out as the tints, tones and shades of a colour are often excellent for you as well.
If you want to take the analysis one step further, once you have a selection of these colour stripe cards you can compare the colours to the lists shown in one of the colour style books (many are available new or used on Amazon and I list the three books that I own at the end of this post). It is easy to see which season your colours fit best. It is worthwhile buying one of these books as they cover many other elements of style, choosing shapes that flatter your figure and hints on makeup choices.
You are looking for what your dominant colouring is.  This determines what shades complement your natural colouring most.
Discover Your Personal Colour Sense
I always have carry a small notebook with me in my bag and it is easy to add these colour stripe cards (or the particular colours that you like most) into the notebook so that when you are choosing new clothes you can see which colours will look best on you.
Working out which colours really suit you is just the first step.  Next, you want to explore these colours. If you are a winter or cool vibrant, deep forest greens, deep blue toned reds among others are amazing on you. There will be little point in exploring pale daffodil and zesty orange in your mood board and colour sketchbook (unless of course, you are knitting a gift for the "Spring" person in your life).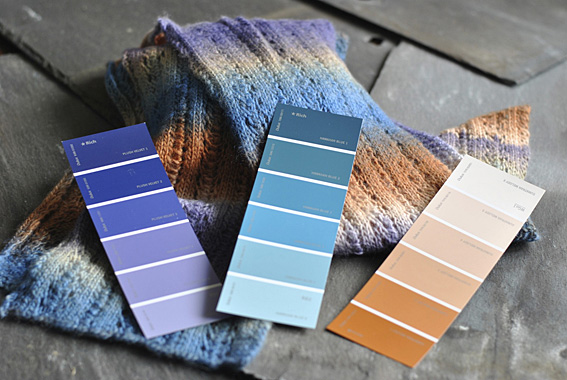 Your colour sketchbook is a personal exploration into the colours that you love. The colours that make you feel amazing every time you walk out of the door. Your "sketchbook" can be a drawing pad, a folder, a box file or loose pages stored in a box. As you will be adding bulkier items such as buttons, swatches, yarns etc you may prefer not having it within a bound book. Separate pages can be taken out and easily referred to when you are planning your new project.
Of course, you can always knit socks, gloves or fingerless mittens using the colours that are not perfect for you. But you will not want to wear them next to your face as they will not enhance your natural colouring. Also, they will not coordinate well with the rest of your wardrobe.
If you are going to invest time, effort, thought and money into knitting a new accessory, the most important time you give to the project is choosing a colour or colours which will really make you feel great every time you wear it.
Reading List
Colour Me Beautiful: Change your look – Change your life by Veronique Henderson and Pat Henshaw published in 2010
Color Me Beautiful: Discover Your Natural Beauty through the Colors that make you look Great and Feel Fabulous by Carole Jackson published in 2007
Makeover Manual – From Color Me Beautiful by Mary Spillane published in 1998