Happy Mother's Day!
Hot on the heels of knitting my Sockhead Slouch Hats using 4ply sock yarn, I decided that I'd like a thicker DK weight hat for the cold morning walks on the beach with Bene. Even though we're into March, the morning walks are seldom above 2 degrees celsius and often in driving rain.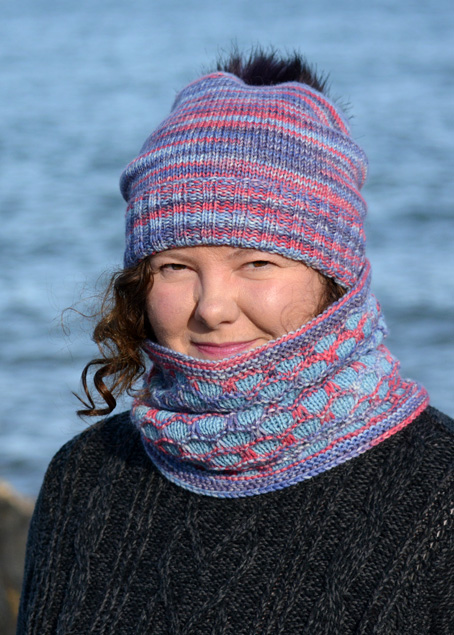 I love all the colours in the Opal Winter Moon 8ply sock yarn collection but decided that I'd like to use 8925 Jingle Bells. When I first cast on, I thought it was a straight forward colour combination of tones of blue and red.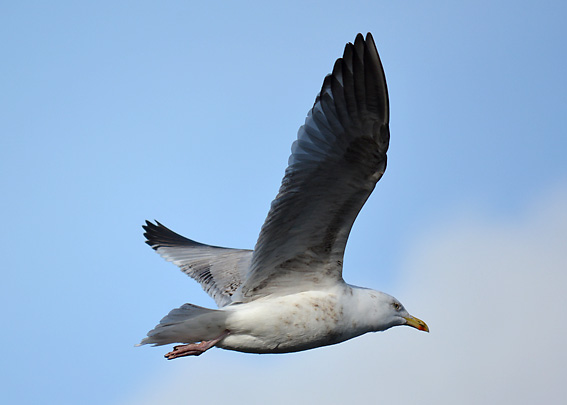 As the hat progressed I decided the darker tone of blue had a really beautiful aubergine tinge to it. Giving the whole colour scheme a lovely depth of colour.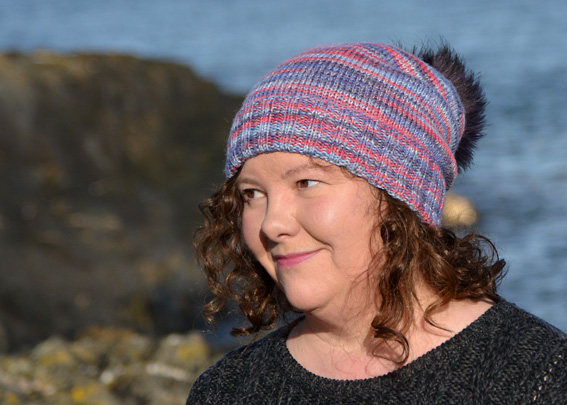 The yarn comes in a generous 150 g ball and I wanted to see what I would be able to knit using most of the ball of yarn.
This is a very straight forward hat, with a turned up brim and a little slouchiness.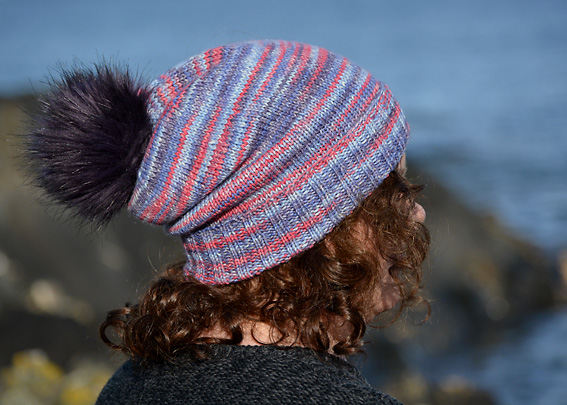 Winter Moon 8ply Slouchy Hat
1 x 150 g ball of Opal Winter Moon 8ply Sock Yarn (I used 8925 Jingle Bells)
3.5mm 40cm/16″ bamboo circular needle
4mm 40cm/16″ bamboo circular needle
A set of 4mm bamboo double pointed needles
3 stitch markers
Tapestry Needle
Large faux fur pom pom
My tension knitting in the round measured on stocking stitch after blocking using 4mm bamboo circular needle is 23 sts x 30 rows = 10cm x 10cm (4″ x 4″)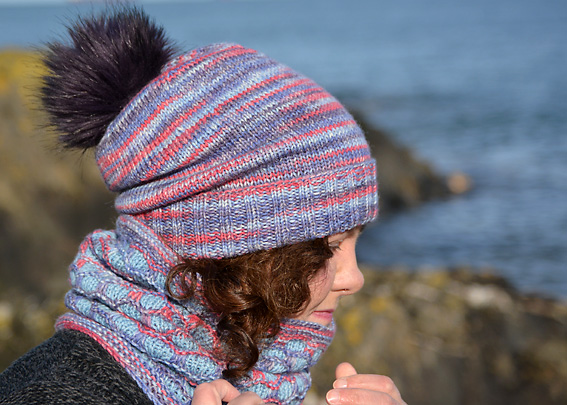 Brim
Cast on 108 stitches using 3.5mm circular needle.
K2, p2 rib for 21 rounds (6.5cm/2.5″)
Knit 1 round. This is to create a fold line for the brim.
Continue with the k2, p2 rib for 18 rounds.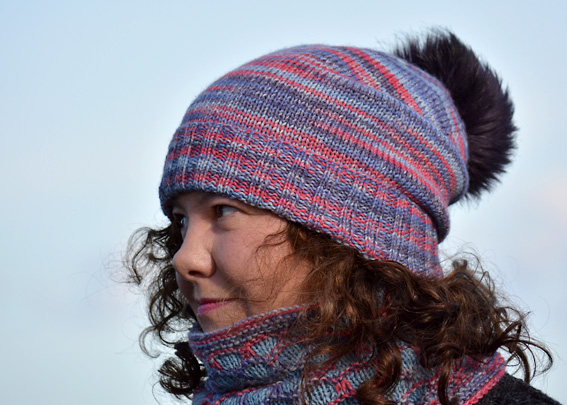 Body of Hat
Change to 4mm circular needle. Knit stocking stitch (stockinette) for body of hat until it measures 15.5cm/5 3/4″ from the end of the ribbed brim section. I knit 44 rounds.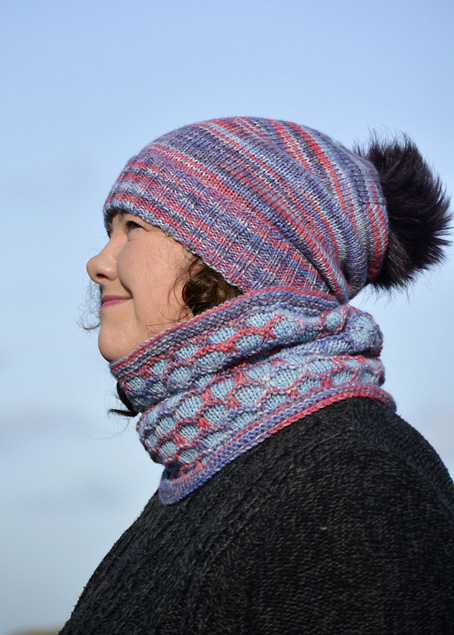 Crown Shaping
I changed to the 4mm double pointed needles when I started the shaping for the crown of the hat. I divided the stitches equally over 3 needles and knit with the fourth.
Round 1: (k16, k2tog, place marker, k16, k2tog) 3 times.
Round 2 and all even rounds: k
Round 3: (k15, k2tog, slip marker, k15, k2tog) 3 times
Round 5: (k14, k2tog, slip marker, k14, k2tog) 3 times
Round 7: (k13, k2tog, slip marker, k13, k2tog) 3 times
Round 9: (k12, k2tog, slip marker, k12, k2tog) 3 times
Round 11: (k11, k2tog, slip marker, k11, k2tog) 3 times
Round 13: (k10, k2tog, slip marker, k10, k2tog) 3 times
Round 15: (k9, k2tog, slip marker, k9, k2tog) 3 times
Round 17: (k8, k2tog, slip marker, k8, k2tog) 3 times
Round 19: (k7, k2tog, slip marker, k7, k2tog) 3 times
Round 21: (k6, k2tog, slip marker, k6, k2tog) 3 times
Round 23: (k5, k2tog, slip marker, k5, k2tog) 3 times
Round 25: (k4, k2tog, slip marker, k4, k2tog) 3 times
Round 27: (k3, k2tog, slip marker, k3, k2tog) 3 times (24 stitches)
Round 29: Remove stitch markers during this round. (k2tog) repeat to end (12 stitches)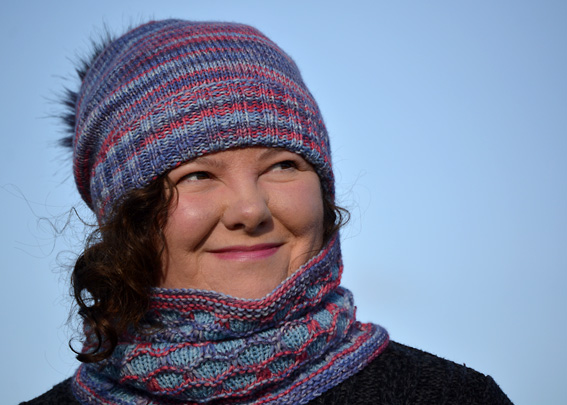 To Finish: Using the tapestry needle gather the 12 stitches tightly, then sew in the end securely.  Sew in the end at the brim. I washed and blocked my hat over a partially blown up balloon. I just gently pull the hat over the balloon so that the top of the crown is smoothed over the top of the balloon and set the balloon on top of a small pyrex bowl so that the ribbing on the brim isn't stretched out of shape. My balloon has gone a bit squishy now as I've used the same balloon for blocking the last 5 hats.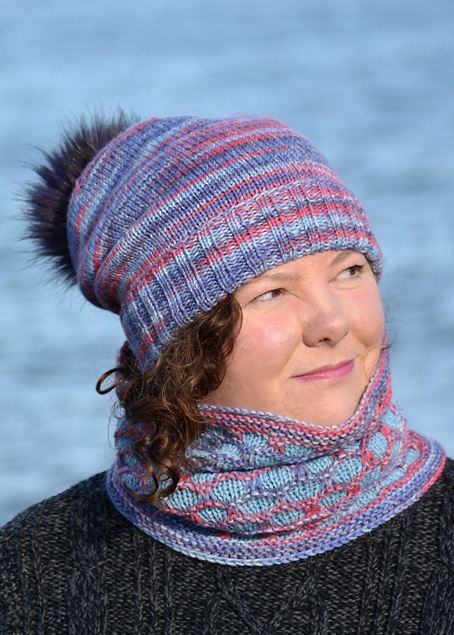 I sewed a large aubergine coloured faux fur pom pom onto the top of my hat. I bought my hand made pom poms from an excellent seller I found on Etsy – AchillesOriginalArt. I couldn't have been more pleased with the service or the pom poms that I chose. The order arrived very quickly from Prague in the Czech Republic.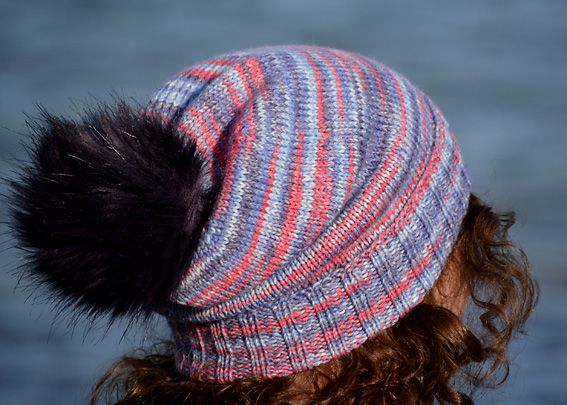 If you are a fan of the original Star Trek series you'll know what a tribble is – when I opened my bag of pom poms – it was like having 9 tribbles sitting on my desk. Exactly the same gorgeous long hair fluffiness! Sadly they don't replicate themselves and I've already used 3 on hats.
Cochal Cowl
Goodness, it actually feels like I've reached the end of the post.  But I haven't…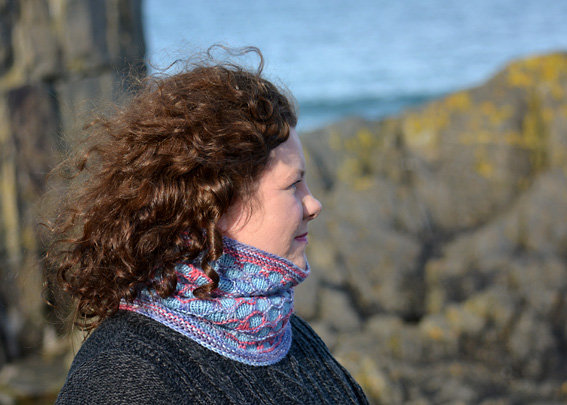 The second part of this post is about the Cochal Cowl. This beautiful Honeycomb Pattern cowl is from Kate Davies book Buachaille – At home in the Highlands. I have all of Kate Davies books, as much as for the awesome photography as for the patterns. I don't really knit sweaters so this book of patterns for accessories to accompany her new range of Scottish Wool – Buachaille really appealed to me. I bought the book for Christmas and then waited to order some of her lovely wool, but every time I looked the colours I wanted weren't in stock. (I have since bought the colours I wanted – she restocks every Sunday).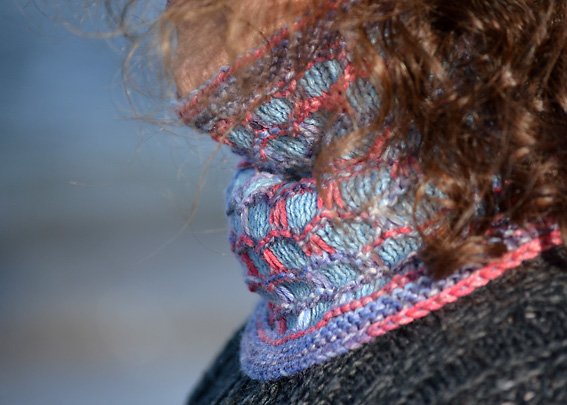 So not to be put off, I cast on the Cochal Cowl with the remains of the Winter Moon Jingle Bells. I knew I wouldn't have enough of the yarn to knit the whole cowl so I chose a pale blue hand dyed sock yarn and knit the contrasting colour in the cells using two strands of this yarn to give me a DK weight. Other than using a different type of DK weight yarn I followed the Cochal Cowl pattern exactly and did the longer length cowl. After casting on and knitting the garter stitch edge I weighed this and then towards the end of the cowl I would weigh what was left of the ball of Winter Moon so that I knew I would have enough to do the garter stitch edge and cast off.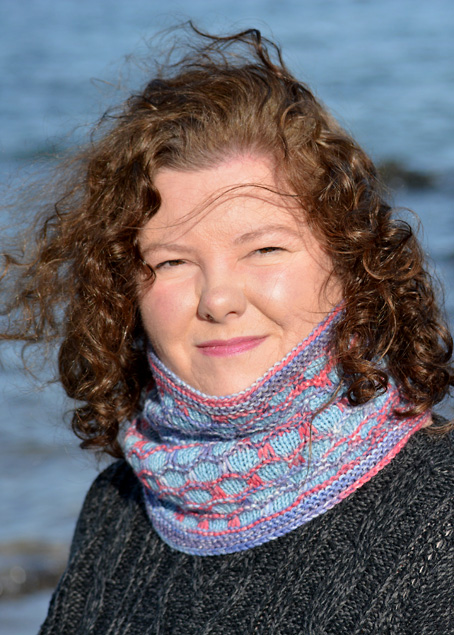 I absolutely love it! So warm and cosy. Easy to pull up over my mouth and nose when the wind is blowing rain in my face. And along with the hat covering my ears, I am positively cosy!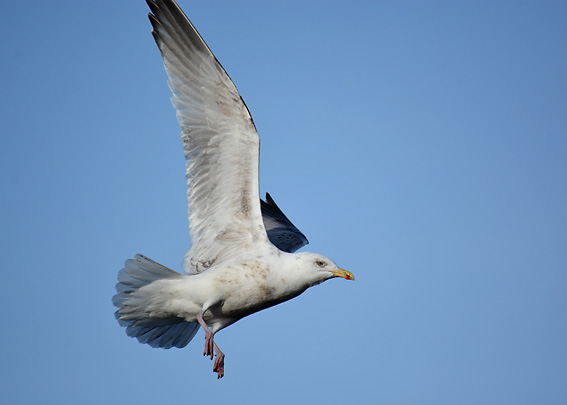 I couldn't resist a few photos of this young Herring Gull. He spent ages watching us from high above on the wall until finally taking flight.