Whitehead is a seaside town that was a popular holiday destination in Victorian times. Although it isn't very far from Belfast, I'm ashamed to say, I had never visited Whitehead before, which is odd because I do love a lighthouse!
The festival was spread over 4 venues: Whitehead Community Centre; Church of Ireland Parochial Hall; Methodist Church Hall; and, Lighthouse Yarns. This actually improved the day as it was lovely to walk around the centre of Whitehead and to wander between the venues.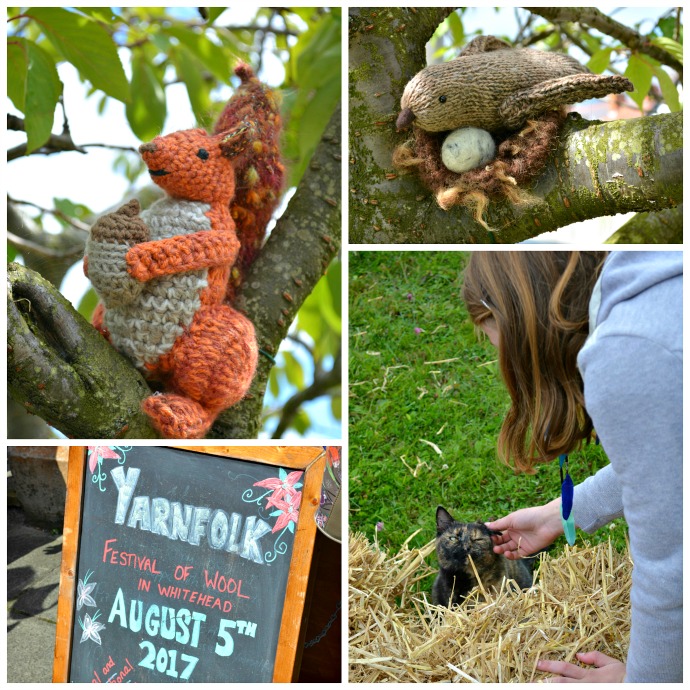 Someone, had been working extremely hard to yarnbomb Whitehead for the Yarnfolk Festival of Wool. Their efforts were extraordinary. Outside the Methodist Church Hall there were bales of straw for visitors to sit on to relax and enjoy the yarnbombing. While we were sitting for a few minutes my niece befriended the local cat! The tree had a cool crocheted squirrel and a very cute bird sitting on a felted nest. The main theme here was The Hungry Caterpillar until he turns into a beautiful butterfly. These were woolly works of art!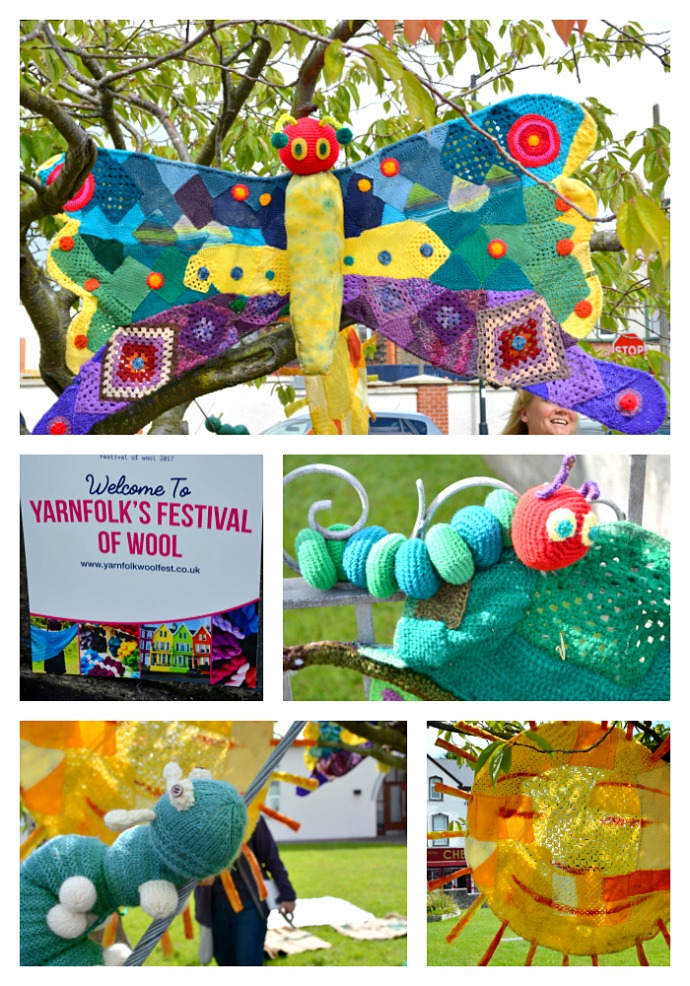 Most of the venues sported some type of yarnbombing as well as signs to show visitors that they were in the right place. The festival was popular and there were lots of people wandering around and browsing the well stocked stands.
The organisers had suggested that visitors should come by train because of lack of parking in Whitehead. We came by car and succeeded in parking near to the Community Centre. But we did take a walk down to the Victorian railway station to look at the yarnbombing which turned out to have a nautical theme.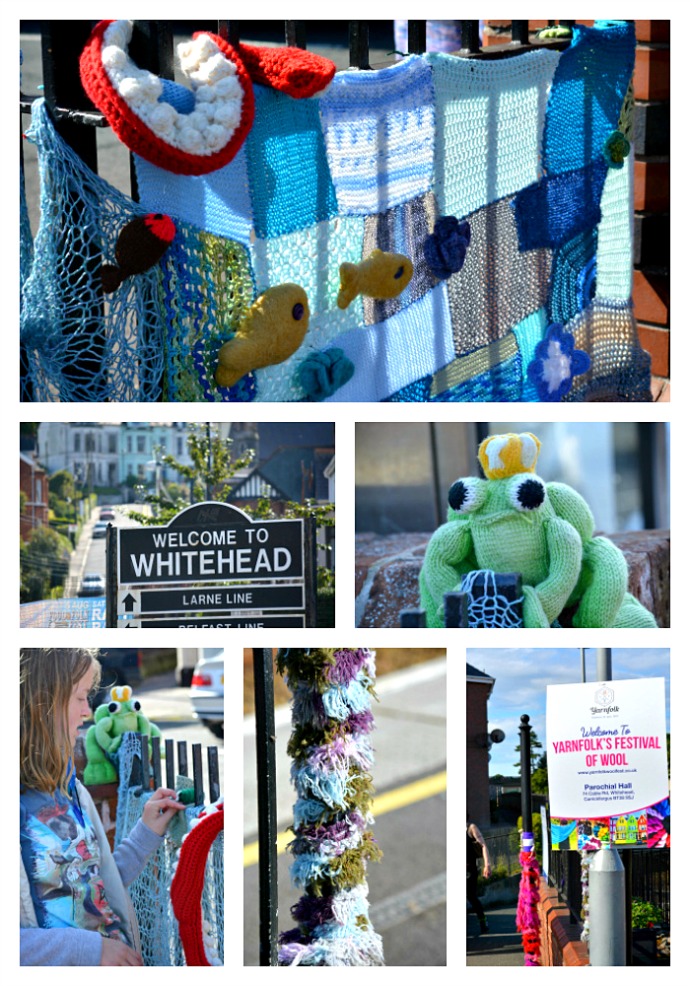 There was a wonderful amount of interactivity at the festival which my niece loved. There were workshops held upstairs although we hadn't booked to attend any of them, but as we walked around the stands, we saw demonstrations of spinning on spinning wheels, machine knitting and dyeing. All of the vendors were very chatty and friendly. My niece had the opportunity to try spinning wool using a drop spindle and she spent a while making 3 beautiful stitch markers with Meadowbank Beading.
Outside Lighthouse Yarns there was a fabulous yarnbombed bicycle! Lighthouse Yarns is running a kal for knitting the exclusive Brooklands shawl pattern designed by Carol Feller using her new Nua Yarn. The shawl will be available on Ravelry in a few months.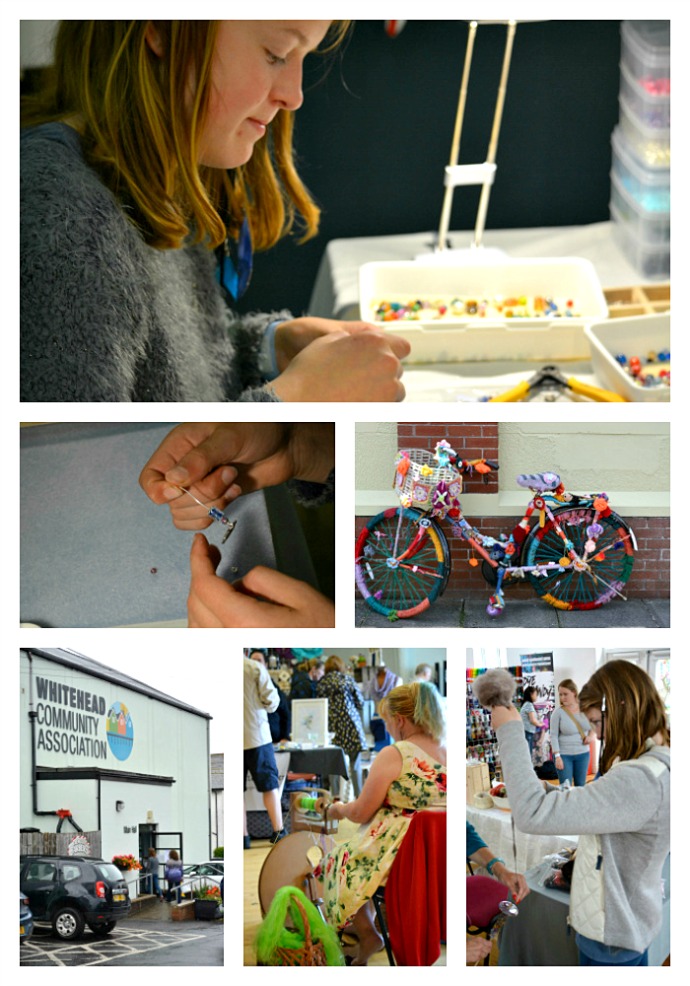 The first Yarnfolk Festival of Wool took place in Whitehead on 5 August. It was arranged by Louise (owner of the local yarn shop Lighthouse Yarns) and Terri (owner of Fine Fish Yarns). They did a wonderful job. I first heard about the yarn festival when I was contacted in February but wasn't able to arrange to be a part of it at that time. When the tickets became available in April, I ordered 5, as I knew my nieces would be visiting Belfast in the summer. As it turned out only 3 of us were able to attend as one of my nieces was hobbling around on crutches after a fall at the trampoline centre and we thought that the day may involve too much walking for her to manage.
We had such a lovely day and apart from one very heavy spell of rain, while we ate lunch in the cafe, the weather stayed mainly dry. We are already looking forward to the next Yarnfolk Festival of Wool in 2018.