I first read about the Strong Heel in a discussion a few years ago on the Socknitters Group on Yahoo. As I love to try different ways of knitting heels, I thought it would be fun to try this one. The Strong Heel is named after the lady who designed the heel Gerdine Crawford-Strong. The heel technique was first published in Knitter's Magazine, Fall 2003, Issue 72. This issue seems impossible to find.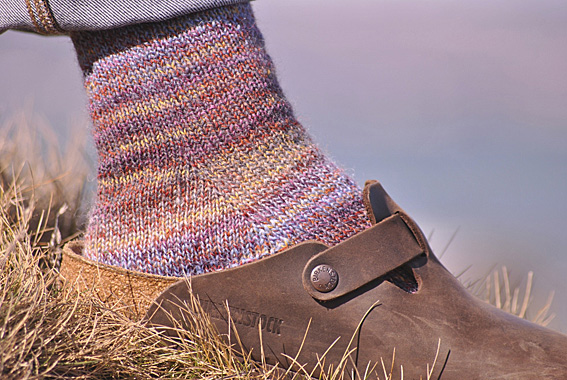 Later I read the pattern Uzu by Mary the Hobbit published in the online magazine Knitty. On reading this I was a little disappointed to find it was a toe up pattern and I wanted cuff down instructions for this heel. Continuing my search, I found the clearly written instructions Easier Socks with the Strong Heel by Aaron Clark. These instructions were written for Fibre Camp Boston where he taught a class.
I love knitting socks, but hate picking up stitches for the heel. This is my favorite heel because of its simplicity, requiring no picking up. Presentation will include hands-on possibilities for those who bring their projects. – Aaron Clark
I was delighted to find his clearly written instructions for the heel. The instructions are for a cuff down sock which was exactly what I was looking for.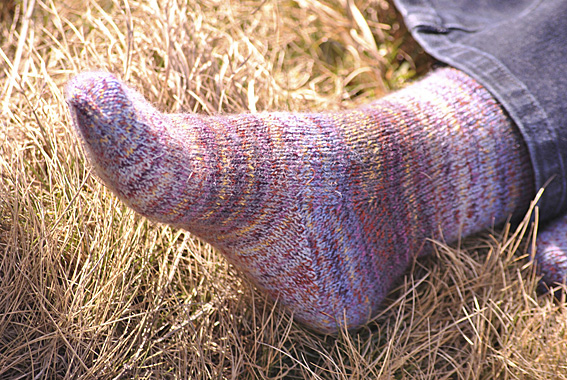 There are a few interesting points that I have noted in my journal while knitting this heel. When knitting this heel I noted that it is indeed, a wonderfully easy heel to knit, once started you don't even need to keep counting.
In the main, it was how the heel looked as I was knitting it and how the finished sock felt when I was wearing it that I made notes on.
I find my socks knit using the strong heel, I have made (5 pairs+ at this point), to be comfortable to wear. I have diabetes and this sock construction and heel is very smooth with no lumps and bumps to rub against my foot. I have a couple of provisos regarding the strong heel though. It is not as structured in fit, perhaps because, in comparison to the slip stitched heel flap, which I think helps give the heel structure, this heel can twist a little when I am wearing them. The heel also feels a little 'slouchier' around the ankle. For this reason, I wouldn't use a cotton or cotton rich sock yarn to knit a sock with the Strong Heel. I think it works best with a wool or wool/nylon sock yarn which has a bit more 'elasticity' to it. I have wondered if this could be improved if I was to work an area in the centre of the heel using slip stitch I usually use on the heel flap. I shall experiment with that.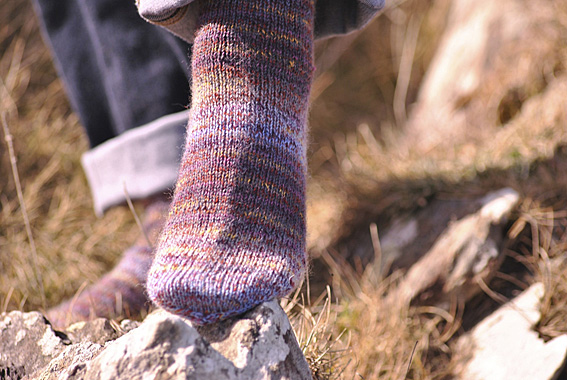 Where the heel really comes into its own is when you want to continue the patterning down the back of the heel and across the foot, when knitting a Fair Isle sock. I used this when I was knitting my Broken Fair Isle Stripe Socks and adore the result.
You do get used to where you expect to see the 'gusset shaping' on a sock. With the Strong heel the 'heel flap' and 'gusset shaping' are worked at the same time, then the heel is turned using short rows. This is an easy process to work, but the sock just looks different. When I showed off some of my socks sporting the Strong Heel at Christmas, I to my mum and sister, there subdued reaction, made me glad that I had knit their Christmas sock presents using the heel flap that they are used to receiving from me. Personally, I like how they look. I love that they are a bit different.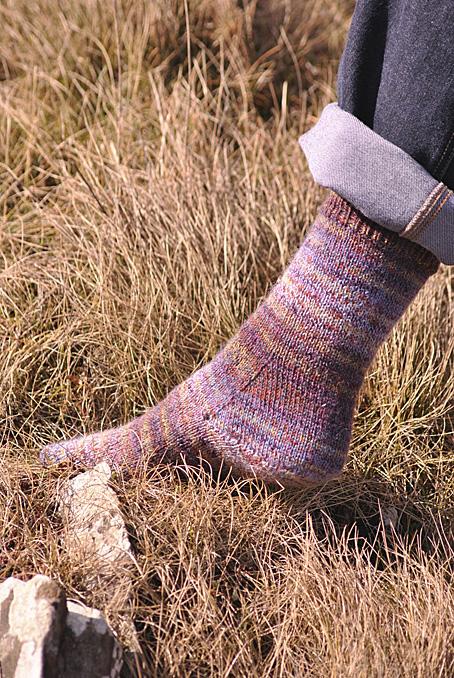 For myself, I like wearing my socks with the strong heel. I find them more comfortable than the short row or afterthought heels and when there is a sudden need for replacing socks in my sock drawer, quicker to knit than the heel flap/gusset heel. So there will always be a place for this heel style in my sock drawer and I know I will knit more of them.
I have washed and worn socks using this heel construction many times since discovering the Strong Heel construction and continue to be pleased with the socks made using this method.
Heather Socks Featuring the Strong Heel
I used a 100g ball of Wendy Roam Fusion in colour 2020 for knitting this pair of socks. My pair of socks used 65g of yarn.
A set of 5 double pointed needles in size 2.75mm
I used a set of 5 double pointed needles in size 2.5mm for knitting the toes.
Abbreviations: k  – knit; k1  – knit 1 stitch; p1  – purl 1 stitch; m1  – make 1 stitch; sl1  – slip 1 stitch (purlwise); p2tog  – purl 2 stitches at the same time; ssk  – slip 2 stitches then knit the 2 slipped stitches at the same time;
This is the first time that I have knit a pair of socks using Wendy Roam Fusion. It is a 4 ply sock yarn, 75% wool/25% nylon, but it feels like a thicker yarn and has 370m on the 100g ball, where many of the sock yarns have closer to 400m. I have not washed these socks yet.
I loved the colours in this yarn which is why the socks ended up being called Heather Socks while I was knitting them. The yarn reminded me of the colours of the heather that surrounded us when we walked on the North York Moors while on holiday a couple of years ago.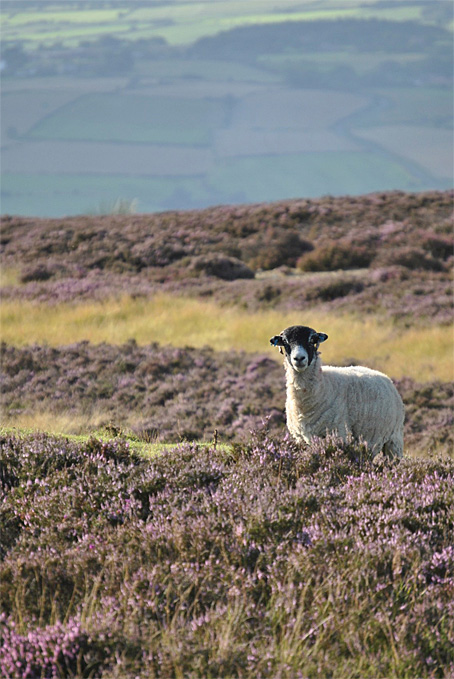 It can be very hard to improve upon a basic pair of plain socks for wearing on a day to day basis.
I cast on 60 stitches spread over 4 needles and worked 15 rounds of knit 1, purl 1 rib.
Then I worked 47 rounds of stocking stitch for the leg (all rounds knit).
Then I started the Strong Heel.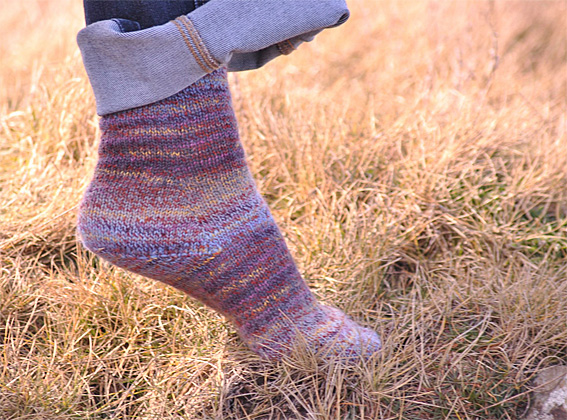 Strong Heel
Needles 1 and 2: Are the Instep stitches
Needles 3 and 4: Heel and gusset stitches – these are the needles on which the increasing takes place.
Round 1: Needles 1 & 2: k; Needle 3: k1, m1, k to end of needle; Needle 4: k to last stitch, m1, k1
Round 2: Needles 1 & 2: k; Needle 3 & 4: k
Repeat rounds 1 and 2 until needles 3 and 4 each have 28 stitches on them.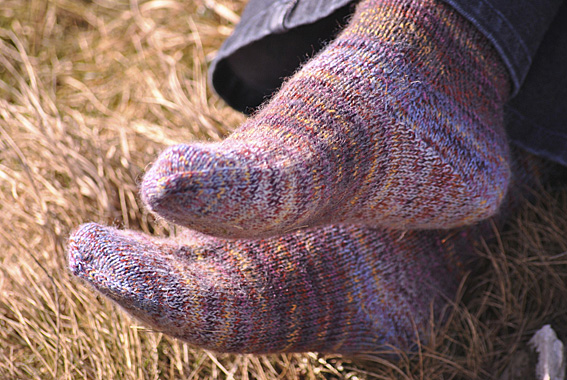 Heel Turn
Turn work to begin heel turn on a wrong side row. Only working on Needles 3 and 4.
Row 1: Needle 4: sl1, p to end of needle; Needle 3: p1, p2tog, p1, turn
Row 2: sl1, k3, ssk, k1, turn
Note that there will be a small gap between the working stitches that form the heel turn and the unworked heel stitches.
Row 3: sl1, purl to within 1 st of gap, p2tog, p1, turn
Row 4: sl1, knit to within 1 st of gap, ssk, k1, turn
Repeat rows 3 and 4 until all side stitches have been worked, and there are 15 stitches on needle 3 and 15 stitches on needle 4. Should end on a completed row 4.
Then continue knitting the foot of the sock as normal. I knit 40 rounds for the foot.
Toe
I did the paired decrease toe. Starting with a decrease row and using the 2.5mm needles.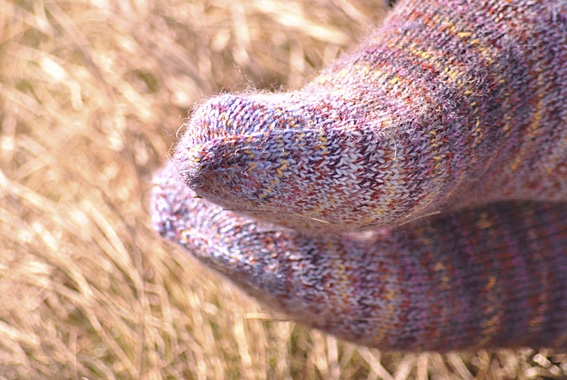 Round 1 is the decrease round for shaping: Needle 1, k to last 3 sts then k2tog, k1; Needle 2, k1, ssk, k to end of needle; Needle 3, k to last 3 sts, then k2tog, k1; Needle 4, k1, ssk, knit to the end of needle.
Rounds 2, 3 and 4: Knit
Round 5: Repeat round 1 the decrease round
Rounds 6 and 7: Knit
Rounds 8 to 10: Repeat round 5, 6 and 7 once
Rounds 11: Repeat round 1 the decrease round
Round 12: Knit
Round 13, 14, 15 and 16: Repeat rounds 11 and 12 two times.
From round 17 work the decrease round on every round until there are 2 stitches on each needle. Next slide the stitches from Needle 2 onto Needle 1, and the stitches from Needle 4 onto Needle 3.
I used kitchener stitch (these instructions by Theresa Vinson Stenersen for Knitty are wonderful) to graft the toe stitches together.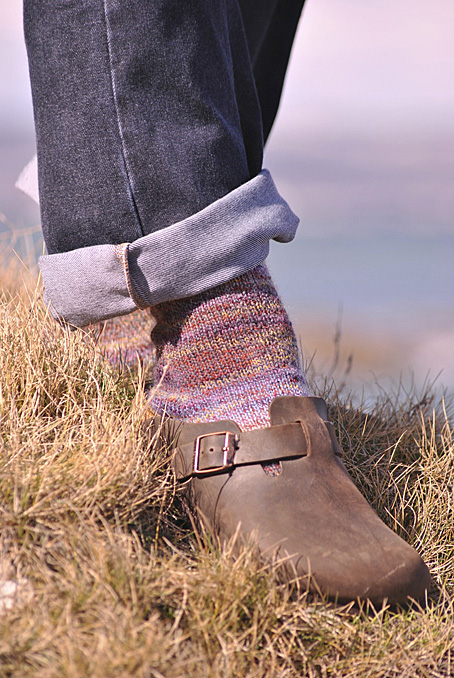 A comfortable warm pair of basic and very quick to knit socks. The Strong Heel is easy to knit as it requires no picking up of stitches and the knitting of the sock flows very smoothly from the ribbed cuff to the grafting of the toe.