This is the second part of our visit to the Yarnfolk Festival of Wool in Whitehead. Find part one which is all about the beautiful yarnbombing of Whitehead here.
One of the wonderful things about attending a yarn festival like Yarnfolk Festival of Wool is the opportunity to chat to people, both visitors and vendors. I enjoyed chatting to Kate of the Hawthorne Cottage Craft and meeting Bernie and Eric of Bear in Sheep's Clothing (both of whom have podcasts that I listen to).  The Belfast SnB group had a relaxing seated area on the stage in St Patrick's Parochial Hall and if I'd been coming to the yarn festival with other knitters or on my own, I'd probably have brought a sock wip and spent a while taking in the atmosphere, but I wasn't and I wanted Neil and Maya to really enjoy the day too!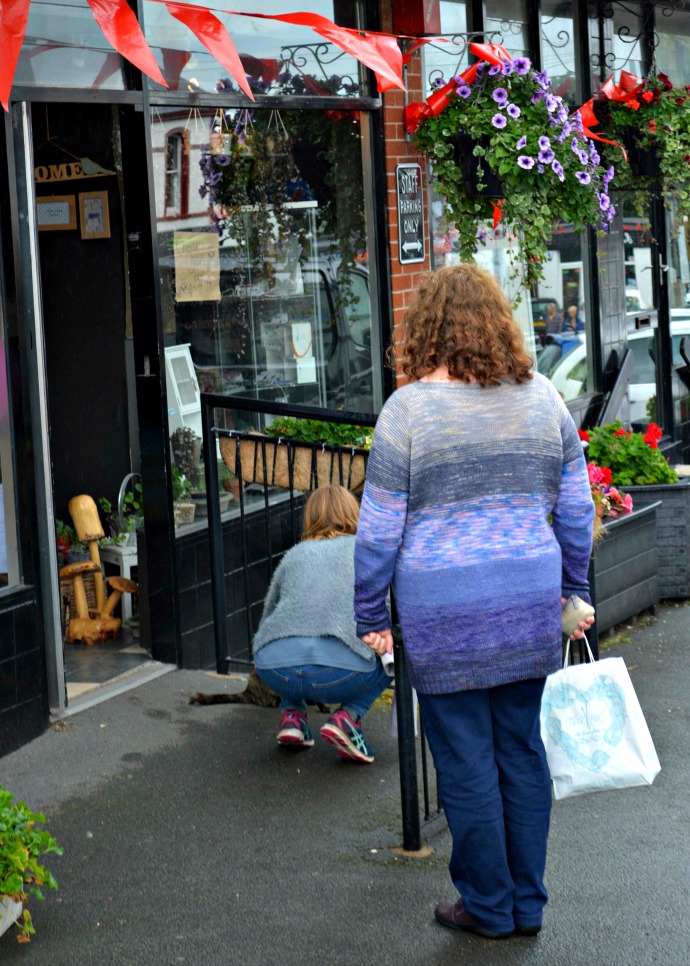 Of course, if you are going to attend a yarn festival, you usually want to be wearing one of your own knitting projects. This is my So Faded sweater which is the first jumper I have ever knit for myself. At Christmas, my New Year's resolution was to knit a sweater for myself during 2017. This is mine! I used 6 colours of my own Knitting Squirrel hand dyed yarns and the project was a pleasure to knit. I saw a few other So Faded sweaters as I walked around the show.
Maya had met the friendly local cat again! She is a sociable cat and seemed to really enjoy all the visitors who were walking around Whitehead looking at each others lovely knitwear. It was a case of recognising some of the patterns. I saw a particularly beautiful version of the Exploration Station which is a shawl pattern that has been on my to knit list for a while!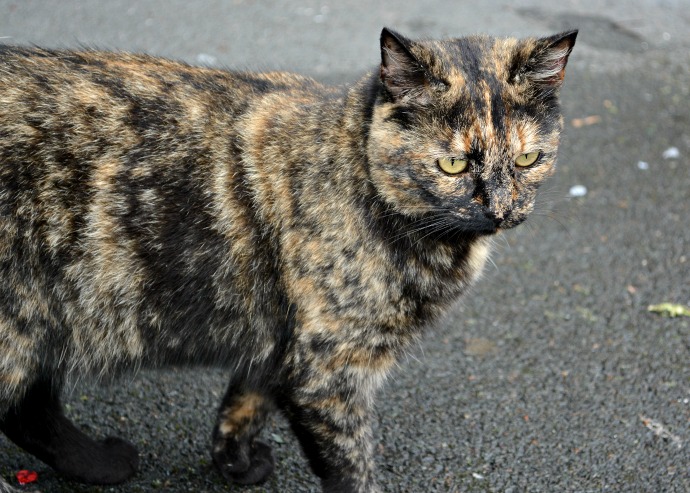 There were so many different types of knitting, spinning, and crochet related stands that I was rather glad they were separated into the 4 different venues as it meant that it wasn't completely overwhelming! I enjoyed watching the talented spinners spinning on their spinning wheels. This is something I have always wanted to try but haven't had the opportunity. A spinning wheel would be an investment and unless I know I'd be good at it, really isn't something I could think about buying. But seeing how beautiful the yarn they were working on looked was inspiring.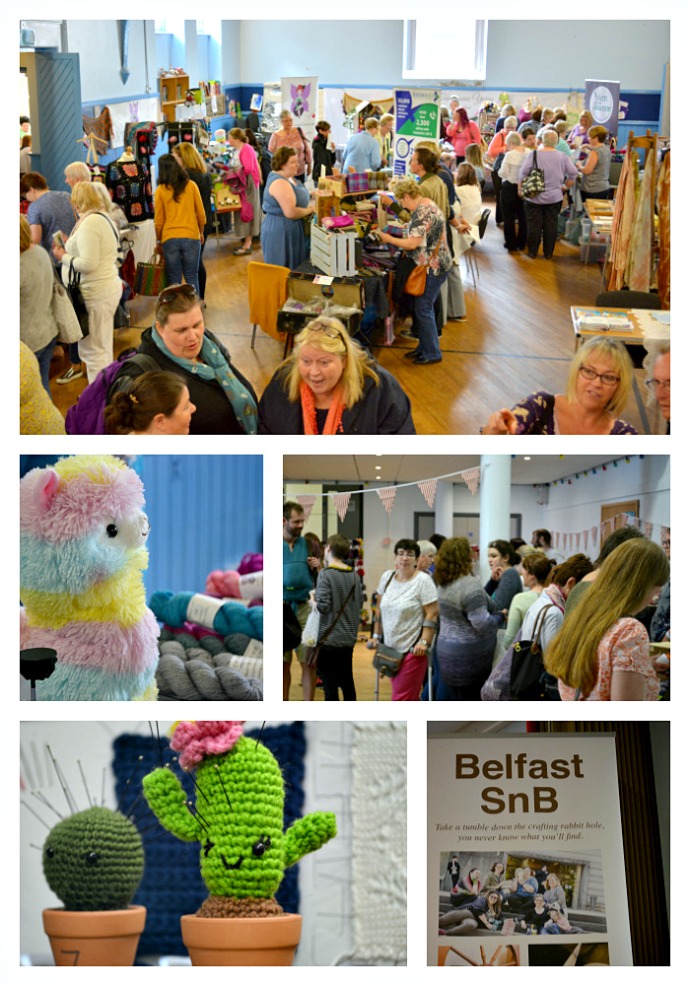 As usual, I was particularly interested in the yarn dyers and there were quite a few of them! I had set a budget and brought cash to the show, and other than a delicious lunch for the three of us, and two bags of dried lavender, it all went on hand dyed yarn! Setting a budget (if a reasonably generous one) is a great way of not over spending and it made me actually have to choose which skeins I wanted. I started off by walking around all the displays before deciding what I wanted to buy. This did mean that I missed out on the odd skein that I would have liked but it is nice to have a chance to look at all the beautiful yarnie choices available. I've added a link to Vince Vlogs wonderful youtube video of the Yarnfolk Festival of Wool which will give you a real feeling of what it was like to be there.
Wonderful tour of the Yarnfolk Festival of Wool 2017 filmed by Vince Vlogs
I wish I could have bought yarn from all the vendors but that understandably wasn't possible! But it is great to be able to see all the gorgeous colour combinations and feel the beautiful yarns that they are creating. There were wonderful yarn dyers from Northern Ireland, Ireland and the UK. Most of the skeins I bought were either Merino, or a merino blend. They were all 4ply and sock yarns except for one single ply skein. I haven't got a project in mind for any of them and just chose skeins that appealed to me for some reason. Looking at my choices now, they do have a similarity to each other.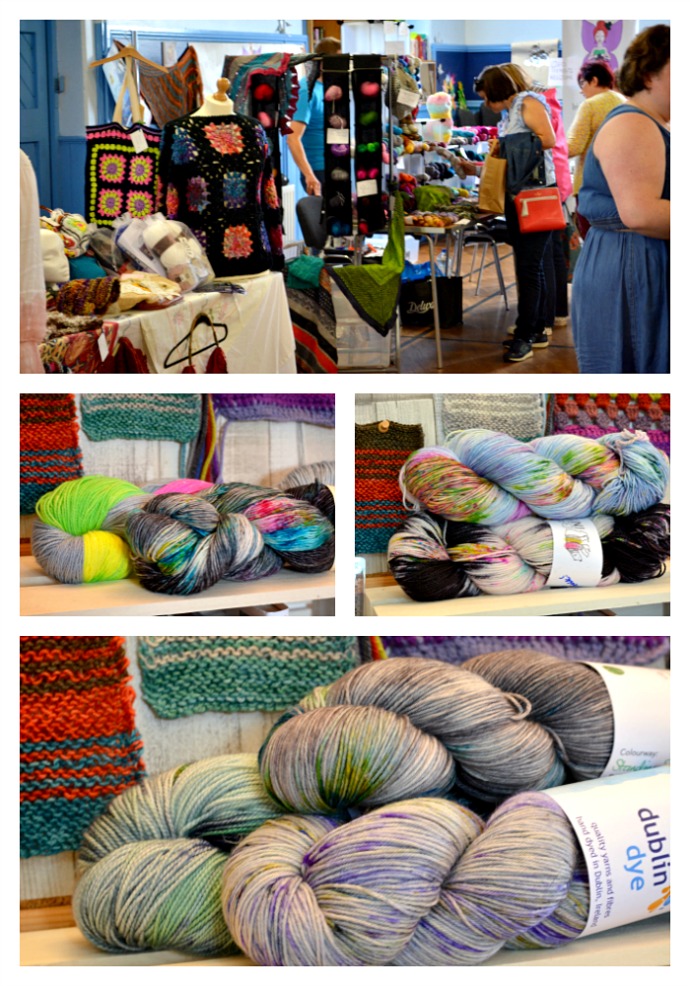 The two yarns in the middle left photo are from UK hand dyers: Unbelieva Wool in the colourway Time Warp has a little silver sparkle; and, Skein Queen Yarns fabulous Heavenly Nightmare colourway on a merino single ply.
The yarns in the middle right photo are from Northern Irish hand dyers: Secret Stash, which is dyed by Nikki (who is one of the founders of the Belfast SnB knitting group), this is a very soft merino/nylon sock yarn in the colourway Club Tropicana; and, the Bear in Sheep's Clothing skein is a lovely BFL sock in the colourway Yarnfolk are the Bestfolk!
The bottom photo shows the yarns hand dyed by Irish dyers: I knew I wanted the Standing Stones colourway from Green Elephant hand Yarn although I did spend quite a while browsing her wonderful selection; Dublin Dye's colourway Tin Soldier also came home with me; and, finally, the glorious Town House Yarns MCN in the colourway Aqua Nora which reminds me of my morning walks on the beach with Bene.
There were other dyers I would have liked to buy yarn from such as Fine Fish Yarns, Ewe Momma, Giddy Aunt Yarns and Dye Candy to name a few, but these purchases will have to be on another day… and they do all have online stores that I can peruse at my leisure!
Yarn dyeing is definitely alive, well and thriving. It is also utterly addictive once you start down that particular rabbit hole!